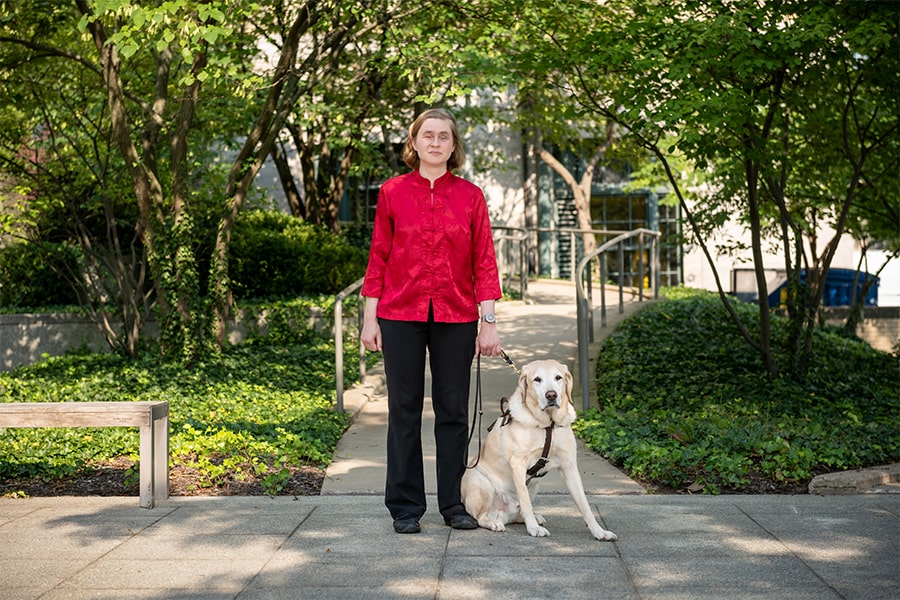 July 28, 2021
For Students with Disabilities, Getchell Works to Level the Playing Field
By Kelly Saavedra ksaavedra(through)andrew.cmu.edu
Catherine Getchell empowers students with disabilities to do things they, or others, didn't think they could do.
As director of disability resources at Carnegie Mellon University, Getchell provides a vital university-wide service, developing and implementing plans for students' accommodations at all CMU locations; offering training, advocacy and resources to the campus community; and spearheading initiatives that make campus more welcoming and accessible.
"The greatest challenge for many students with disabilities is talking about their needs," she said. "Many face a high degree of stigma and feelings of shame around disclosing they have a disability. So, often the first major hurdle they overcome is taking that first step of reaching out to our office." 
Getchell holds a bachelor's degree in linguistics from Yale University and a master's degree in rehabilitation science from the University of Pittsburgh. She has been interested in working with people who have disabilities since adolescence.
"I have a passion for helping them develop skills, confidence and independence in areas of employment and education," she said. "Over the years, I've had students tell me that if it wasn't for our office, they would not have graduated. Or thanks to our office, their grades reflected all their hard work and understanding of the course material.
"We're not here to give students an unfair advantage, and that's not what they're looking for either," she added. "They just want an equal opportunity to show what they know and access all the resources their peers without disabilities have, and I am so proud to be able to empower them in that way." 
Getchell believes students with disabilities should be held to the same high standard as students without disabilities, and that accommodations should be seen as a way of leveling the playing field so they can meet or exceed that high standard. 
She says faculty at Carnegie Mellon are extremely supportive of our students, and students don't need to discuss the specifics of their disability with their professor. They only need to have a conversation about the accommodations in order to get them implemented.
"Sometimes students are afraid faculty will think less of them or ask personal questions about their disability as part of the process," she said. "Faculty can help by making it clear to all students that they are welcome to talk with them privately about their approved accommodations. The reverse is also an effective form of outreach, in other words, when a faculty or staff member whom the student already knows and trusts connects a student with our office."
The number of students receiving accommodations has doubled since Getchell arrived in 2016, and she says they are seeing students with increasingly complex needs. Sometimes they have to get creative to find solutions, and often they rely on collaboration with other departments and units.
"The collaboration across departments and units here is really fantastic!" she said. "More times than I can count, I've come up with an idea and approached another department about working together to make it a reality. Almost every time, the response is 'Yes, let's do it!' That's really a lot of fun, and it keeps me motivated to try new things."
One new thing Getchell has tried is learning Arabic, which she says has been "an absolute joy." A trip to Qatar sparked her admiration for Arabic language and culture, and inspired her to enroll in Arabic courses focusing on culture, communication and dialect.
Outside of work, Getchell enjoys hiking, biking, kayaking and cooking. She is an avid trumpet player since childhood, and currently plays in the East Winds Symphonic Band, the Edgewood Symphony Orchestra and Unity Brass Quintet.