December 08, 2021
Personal Mention
President Farnam Jahanian, who has been helping to shape the national conversation on U.S. investment in research and innovation, participated in a Conference Board panel on November 18 on this topic. The panel assembled by the Conference Board, a global, non-partisan business think tank, also included private sector leaders such as Reece Kurtenbach, chief executive officer at Daktronics, as well as Mark Muro of the Brookings Metropolitan Policy Program. During the panel, Jahanian, who led the National Science Foundation's Directorate for Computer and Information Science and Engineering from 2011 to 2014, advocated for the U.S. to pass bipartisan legislation that would increase research funding to higher education institutions, invest in domestic and international talent, elevate the role of universities in the innovation ecosystem and expand the map of U.S. innovation. His remarks build on his Congressional testimony before the House Science, Space and Technology Committee this past April, as well as his op-ed in The Hill. Watch Dr. Jahanian's Conference Board panel discussion.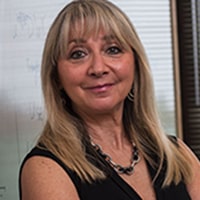 Irene Fonseca, the Kavčić-Moura University Professor of Mathematics, has been elected as a fellow of the European Academy of Sciences (EurASc). The EurASc is an independent international association of distinguished scholars that recognizes and elects prominent European scientists with an aim to strengthen science and scientific cooperation, both within Europe and internationally. Fonseca, who joined the CMU faculty in 1987, is director of the university's Center for Nonlinear Analysis (CAN). One of the few centers in the United States to receive significant federal funding for research in applied mathematics, the CNA focuses on research, education and training in applied mathematics at the intersection of math and the physical sciences and engineering. She also directs the Partnerships for International Research and Education project, a NSF-funded, multi-institution initiative that addresses issues in applied mathematics and mechanics arising from materials science. A leading researcher, Fonseca's work lies at the interface of applied analysis with materials and imaging sciences. She focuses on the mathematical study of a variety of novel man-made materials, including ferroelectric, magnetic and magnetostrictive materials, shape memory alloys, composites and liquid crystals. She is widely recognized for her achievements, and in 2012, she became the second woman to be elected president of the Society for Industrial and Applied Mathematics, one of the world's largest organizations dedicated to mathematics and computational science. Learn more about Fonseca.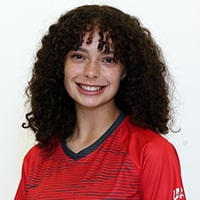 Alex Adams, a junior forward on the women's soccer team, was named an Academic All-American by the College Sports Information Directors of America and an All-American by the United Soccer Coaches for the second straight playing season (2019 and 2021). Adams, a mechanical engineering major with a 3.95 GPA, led the Tartans in scoring this year with 12 goals, including a goal in the NCAA Division III Women's Sectional Semifinal against eighth-ranked MIT. After two seasons, Adams, a two-time all-region and two-time All-University Athletic Association selection, is eighth on the Tartans' all-time scoring list with 61 points and is tied for seventh in goals with 26. Her 10 career game-winning goals puts her third all-time. As a freshman, Adams set a season record for points with 34 and tied the goal scoring record and game-winning goals record with 14 and seven, respectively.