Paws for the Cause: CMU's Pet-a-Palooza Supports United Way Campaign
CMU staff members donated more than $129,000 to support United Way of Southwestern PA's services and programs this year. Some also had their pets contribute to the cause.
As part of this year's campaign, members of the campus community were invited to participate in donation-based virtual events, including step challenges, lunch & learns, a campus-wide trivia tournament and a "cutest pet photo" contest. ICYMI, Nancy Snyder's "Teddy" won first place, Jessica McDonald's "Toby" took second place and Missy Carrozza's "Abner" finished third in the Pet-a-Palooza photo contest.
Sponsored by the Office of Human Resources, the CMU United Way Campaign was led by co-chairs Jim Garrett, provost and chief academic officer, and Angela Blanton, vice president for finance and chief financial officer, as well as campaign lead Todd Rosignoli, HR Senior Director of Learning and Development, and team captains from across the university.
Faculty Earn Grants Through Google's Research Scholar Program
Six Carnegie Mellon University faculty members received grants through Google's inaugural Research Scholar Program. The program provides up to $60,000 to support the research efforts of early career professors. The recipients are:
In 2020, Google announced the creation of the Research Scholar Program and the Award for Inclusion Research Program to bolster its support for the research community. This year, the company awarded 77 grants to 86 professors from 50 universities in more than 15 countries. Nearly half of the grants went to professors identifying as a historically marginalized group within technology.
Obituary: Vartan Gregorian was a Steward of Andrew Carnegie's Legacy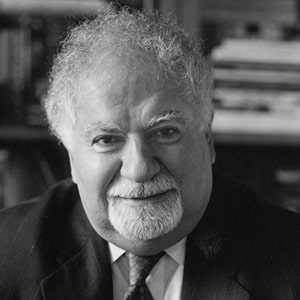 Vartan Gregorian, president of the Carnegie Corporation of New York, and influential steward of Andrew Carnegie's legacy for more than two decades, died on April 15. He was 87. 
A legendary educator, scholar and philanthropist, Gregorian started his career in academia at Stanford, and later served on the faculty of San Francisco State College, UCLA, the University of Texas at Austin and the University of Pennsylvania. He served as Penn's provost from 1978 to 1981, when he became president of The New York Public Library, leading it through a critical period to cement its status as one of the nation's top scholarly and cultural repositories. In 1989, he was appointed president of Brown University, and in 1997, he took on the leadership role at the Carnegie Corporation of New York, a grantmaking organization established by Andrew Carnegie in 1911.
"Dr. Gregorian was a luminary and a visionary who has made an immeasurable impact on society," said Carnegie Mellon President Farnam Jahanian. "I am grateful to have had the opportunity to get to know him over the years and to draw on his remarkable kindness, experience and depth of knowledge. While his legacy lives on, he will be deeply missed." 
Gregorian was a champion for education, democracy, world peace and immigration. Under his leadership, the foundation's grantmaking continued its mission of addressing contemporary problems with strategies that drew strength from deep knowledge and scholarship.
Gregorian has been a key partner and advisor to multiple CMU presidents, including President Jahanian and President Emeritus Jared Cohon, who serves as a member of the Carnegie Corporation's Board of Trustees.
"Vartan Gregorian was a brilliant scholar and a highly effective philanthropist, but he was also a humble and kind man who touched so many lives across higher education, and beyond," Cohon said. "While his passing is a tremendous loss, I take comfort that his legacy is one that will live on for generations."
Gregorian received numerous awards for his leadership, service and philanthropy. In 2004, President George W. Bush awarded him the Presidential Medal of Freedom, the nation's highest civilian award and President Clinton awarded him the National Humanities Medal in 1998. He also received an honorary doctorate in Humane Letters from CMU in 2006.
Today is Take Our Children to Work Day
Carnegie Mellon's Take Our Children to Work Day Committee welcomes you and your children to check out the pre-recorded videos on its website to virtually celebrate National Take Our Children to Work Day. Video topics are:
Pathways to Careers in Software;
Take Your Working Dog to Work;
Journey to Finance Careers;
Working in the Arts - Behind the Scenes at Miller ICA;
A day in the Life of a Chemist;
Celebrate Pi Day by Making a Pie;
Chair Yoga;
A CMU Police Demonstration;
Looking Up: An Astronomy Journey;
Spotlight on Drama: Props; and
So What is Computational Biology.
There are other resources to explore on the website in addition to other sites, including the Gelfand Center and the National Take Our Daughters and Sons to Work website.
30 Staff Council At-Large Reps Elected
Thirty Staff Council at-large representatives have been elected and will serve for the 2021-23 term, beginning July 1. Nearly 25% of staff participated in the recent voting process.
Congratulations to the new at-large reps. Read their bios.
Jennifer Bett
Tamaira Binion
Caedyn Busche
Dana Chaffin
Desiree Chronick
Natalie Chronister
Matthew D'Emilio
Laura Everhart
Liz Fox
Carloz Gil
Precious Jones
Adam Loucks
Ray Mizgorski
ShiouWeei Ong
Kaycee Palko
Carole Panno
Andrew Scott Ramey
Noah Riley
Jaime Rzepecki
Mandi Semple
Kym Jordan Simmons
Daniela Somaroo
Joel Tachoir
Colin Titus
Lisa Vento
Lauren Vereb
Jen Weidenhof
Shannon Wetzel
Tom Wilk
Tony Young
Swartz Center Seeks Applicants for Innovation Fellows Program
The Swartz Center for Entrepreneurship is seeking applications for the 2021 Innovation Fellows program, a year-long entrepreneurial program offered to graduate students, postdoctoral fellows and research assistants working with faculty investigators on university research. The goal of the program is to support researchers in exploring the potential for creating a successful company based on their technology.

Along with cohort-based educational workshops and expert one-on-one mentoring, Innovation Fellows will receive a $50K contribution from the Swartz Center, with a required $50K match from another source, to assist them in the process of commercializing university research. 
Further details on the program and eligibility can be found on the Swartz Center website. Questions can be directed to Melanie Simko at msimko@andrew.cmu.edu. The deadline to apply is Monday, May 3. 
New Home Buying Benefit for the CMU Community
Members of the CMU Community can take advantage of a new home buying benefit provided through Module, a Pittsburgh-based company.  Module builds new construction homes to Zero Energy Ready Homes standards, as set by the United States Department of Energy.
The Module Preferred Homebuyer Program gives CMU members first access to presale for new Module housing developments, a $2,500 dollar closing credit when buying a Module home and access to furniture discounts.
Interested CMU staff and faculty are invited to register for an informational webinar on April 29 from 12 - 1 p.m.  This one-hour webinar will include an overview of the Module Preferred Homebuyer Program, a session on sustainability in housing construction, including factors to consider when purchasing or renovating a home, and time for questions. 
Visit Module's website to learn more about current and upcoming housing construction, or explore available home models.
Who's New at CMU?
Carnegie Mellon welcomes the following new staff members this week.
Kathy Boyd, Sponsored Research Administrator, Robotics Institute;
Emily Nicole Bodnar, Sponsored Research Administrator, CIT Research; and
Elizabeth Carow Juozitis, Vaccine Procurement, Storage, Handling, and Preparation Nurse, Central Operations.