September 23, 2020
News Briefs
Four Alumni Win TV's Highest Honor

Watch Cherry Jones' acceptance speech.
Four Carnegie Mellon alumni took home statues as part of the 72nd Emmy Awards.
The Academy of Television Arts and Sciences honors individuals for their artistic, educational and technical achievements in the television industry. Late last week, the academy announced the Creative Arts Emmy Awards.
Eugene Lee, a production designer who graduated in 1962 from the College of Fine Arts, won for Outstanding Production Design for a Variety, Reality or Reality Competition Series for his work on "Saturday Night Live."
Alana Billingsley, a 2004 CFA grad, won for Outstanding Production Design for a Variety Special as an art director for "The Oscars."
Cherry Jones, a 1978 CFA alumna, won for Outstanding Guest Actress in a Drama Series for her role in "Succession."
Javier Grillo-Marxuach, a 1991 graduate of the Dietrich College, won an Emmy for Outstanding Children's Programming for co-executive producing "Jim Henson's The Dark Crystal: Age of Resistance." (Tied for the win with "We Are The Dream: The Kids Of The Oakland MLK Oratorical Fest.")
This year, 18 CMU alumni earned 19 nominations in 13 categories. Lee has won five Emmys, Jones has won three and Billingsley and Grillo-Marxuach have each won two. Carnegie Mellon alumni and faculty have received more than 130 Emmy Awards to date.
CMU's Roborace Team Competes in Wales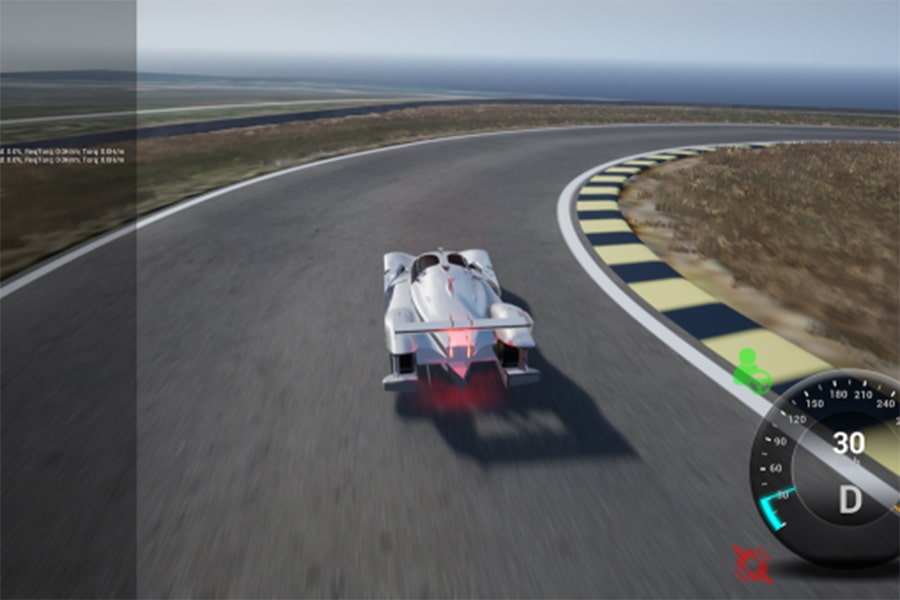 An autonomous car programmed by a Carnegie Mellon student team will race for the first time Sept. 24-25, when Roborace, an international competition for autonomous vehicles (AVs), begins its season on the island of Anglesey in Wales.
In Roborace, each team prepares their own artificial intelligence algorithms to control their race car, but all of the teams use identically prepared AVs, compute platforms and venues. To prepare for this month's race, the CMU team spent the summer working on the fundamentals of driving and on building an optimal driving path. But this week was the first time they had the chance to run their computer code on a hardware simulator.
"Our minimum goal is to be able to get the car to start driving crash-free for now," said Anirudh Koul, an alumnus of the Language Technologies Institute's Master of Computational Data Science (MCDS) program and the team's coach. But the CMU team, the first U.S. team in Roborace, is confident that it will soon be competitive with other teams that have previous experience in the racing series.
"We are true to the CMU spirit — underpromise, overdeliver," Koul added.
GSA Organizes CMU Community Book Club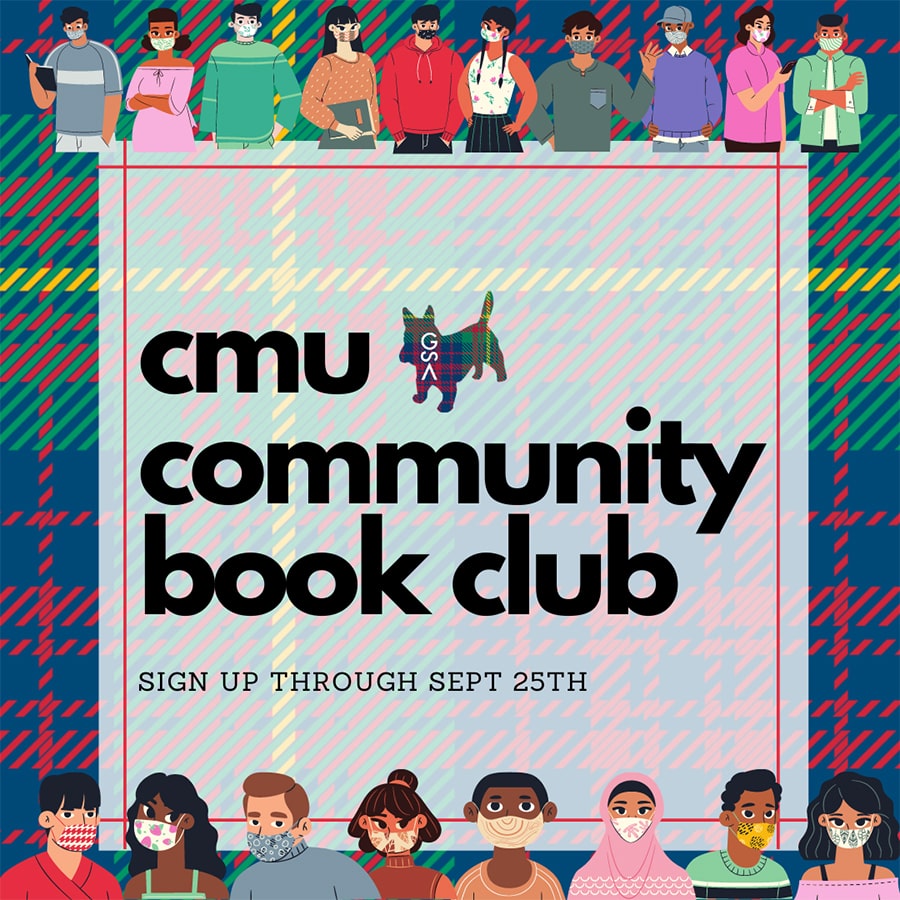 The Graduate Student Assembly (GSA) is organizing a community-wide book club and is inviting all students, faculty and staff across all CMU locations to participate. The first book for discussion is "Caste: The Origins of Our Discontents" by Isabel Wilkerson, who explores through stories about real people how America today and throughout its history has been shaped by a hidden caste system, a rigid hierarchy of human rankings. Goodreads says, "Beautifully written, original and revealing, Caste: The Origins of Our Discontents is an eye-opening story of people and history, and a reexamination of what lies under the surface of ordinary lives and of America life today."
"We hope to highlight that the diversity of our community makes us stronger, and with that in mind, we hope you take a chance to broaden your thinking and open yourself up to connection through the perceived differences," said Maggie McGrann, GSA vice president of Graduate Student Life. "We hope you will join us in this self-reflection as we strive to be a more equitable and inclusive community."
Interested in joining? Complete this form by Friday, Sept. 25. Those registering will be notified of the upcoming discussion in early October.
National Search for Vice Provost for DEI is Underway
The national search for CMU's inaugural Vice Provost for Diversity, Equity and Inclusion and Chief Diversity Officer has officially begun in partnership with the executive search firm Spelman Johnson.
The position announcement and job prospectus are now available via Spelman Johnson's website to a network of diversity, equity and inclusion professionals spanning the United States. CMU's search committee, chaired by Eric Anderson and Linda Babcock, encourages members of the CMU community to share the position broadly and direct inquiries, nominations or sources of potential applicants with Jim Norfleet (jmn@spelmanjohnson.com) or Michel Frendian (mrf@spelmanjohnson.com) of Spelman Johnson.
Tartans to Play Five Football Games This Spring
Carnegie Mellon will play five football games this spring as a member of the Presidents Athletic Conference's South Division. The schedule begins Friday, March 19 with a home game against St. Vincent College.
"We are excited to have a spring football season to look forward to, and we are hopeful that the landscape will allow us to get back on the field safely in March," said Director of Athletics Josh Centor. "We continue to explore scheduling options for other fall championship sports and hope to have more details on those plans in the coming weeks."
Carnegie Mellon's Game Schedule:
Friday, March 19 – Saint Vincent
Friday, March 26 – at Waynesburg
Friday, April 2 – Bye
Friday, April 9 – at Washington & Jefferson
Friday, April 16 – Bethany
Friday, April 23 – Crossover Game vs. North Division Opponent
Tartans Named to UAA Scholar-Athlete Team
Carnegie Mellon had 14 student-athletes named to the 12th Annual University Athletic Association (UAA) Presidents Council Scholar-Athlete Team. The 14 Tartans represening men's cross country, football, men's and women's golf, softball, and men's and women's tennis, received the prestigious honor along with 142 other student-athletes representing all eight UAA member institutions.
To achieve this recognition, a student-athlete is required to earn first team All-UAA honors and must carry a 3.50 or greater cumulative grade point average through the playing season of their sport.
See who earned UAA Scholar-Athlete honors.
CMU a Host Institution Sponsor for Global Sustainability Conference
Carnegie Mellon has been selected as a host institution sponsor for the Association for the Advancement of Sustainability in Higher Education's (ASHE) Global Conference on Sustainability in Higher Education, Oct. 20-22. As a host institution sponsor, CMU students, faculty and staff can register for free.
The event will deliver inspiring content, engaging networking opportunities, and thought-provoking keynote speakers and presenters. This year's virtual format provides an opportunity for an even larger global audience of innovative professionals committed to a more sustainable future.
"Our host institutions champion sustainability advancements in higher education. We are grateful to work with these select colleges and universities that directly contribute to the success of the conference and the sustainability movement as a whole," said AASHE Executive Director Meghan Fay Zahniser. 
"The provost's Sustainability Initiative is committed to educating, empowering and aligning the campus community around the world to address the Sustainable Development Goals," said Steve Guenther, university engineer, assistant vice president for Facilities Management and Campus Services, and co-chair of the Sustainability Initiative's Steering Committee. "With our host institution sponsorship providing free registration for all students, faculty and staff, the Global Conference on Sustainability in Higher Education is an excellent opportunity for the entire community."  
This year's theme, "Mobilizing for a Just Transition," will focus on a shift from an extractive economy to a regenerative economy. Conference speakers and presenters will encourage higher education sustainability leaders to reflect and act on the Just Transition Principles articulated by the Climate Justice Alliance and to spotlight inspirational examples of institutions championing this work.
Register here and enter the code CMU091420 to gain free access.
Reminder: Virtual Provost Office Hours Next Wednesday
Provost Jim Garrett will host virtual office hours for students, faculty and staff from 5 - 6:30 p.m. ET on Wednesday, September 30. Participants can register for a timeslot within the designated hours. To sign up, email provost@andrew.cmu.edu to receive the meeting ID and timeslot.
Register for the Webinar Series on Digital Accessibility
Carnegie Mellon's Digital Accessibility Committee is partnering with Perkins Access to offer a series of webinars on digital accessibility, part of the university's commitment to equity and inclusion. The sessions are open to students, faculty and staff. 
Topics include:
Creating accessible content;
Accessible design;
Accessible coding and development;
PDF training; and
Multimedia accessibility.
Become a More Effective Communicator; Learn About the MAPW Program
The English Department's master's degree in professional writing has been a popular choice for many CMU staff seeking to become more effective communicators. Join the department for a Master in Professional Writing (MAPW) Information Session on Thursday, October 15, to learn about pursuing this degree as a CMU employee.
The MAPW teaches professional students to create and execute verbal and visual information strategies (including for print, online, and social- and multi-media) and develops their skills for careers as writers, communication specialists and information designers. The deadline to apply for fall 2021 is January 6, 2021. RSVP here by Monday, October 12.
Find out more about the MAPW program.
Who's New at CMU?
Carnegie Mellon welcomes these new staff member this week.
Julie Sweet, Early Childhood Teacher, Children's School;
Harley Chang, Learning Engineer, Eberly Center; and
Andrea Davis, Research Associate I, Robotics Institute.