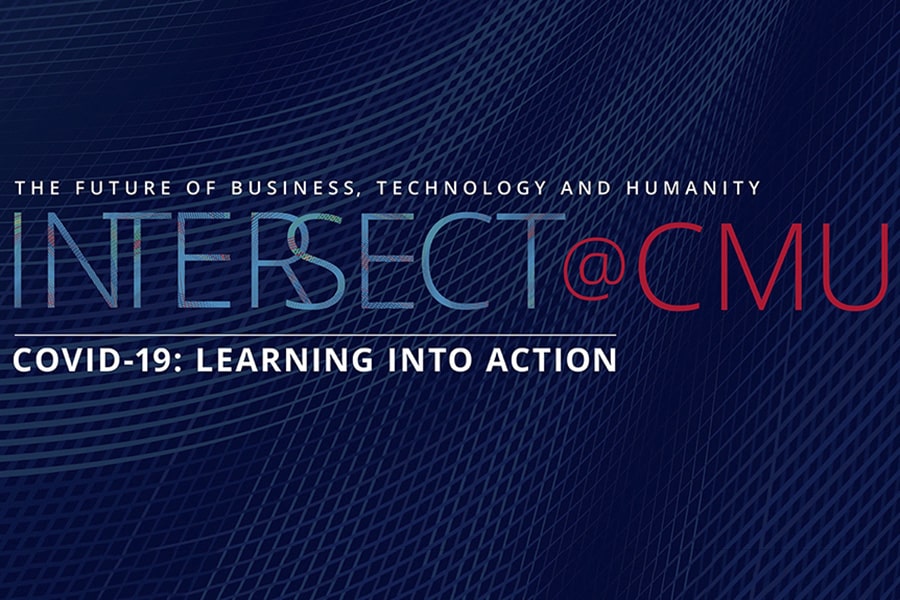 September 09, 2020
News Briefs
INTERSECT@CMU To Share COVID-19 Lessons for Future Action
As all things adapt to the coronavirus pandemic, so has Carnegie Mellon University's third annual INTERSECT@CMU Conference. The event, which brings together CMU professors, researchers, students and alumni with industry leaders and innovators to discuss the future of business, technology and humanity, appropriately chose the theme "COVID-19: Learning into Action" for its 2020 virtual gathering.

INTERSECT is a university-wide effort supported by all seven colleges at CMU. Sessions begin on Sept. 10 and will be held from Sept. 10-13, 18, 25 and Oct. 2. The conference is free and open to all, and all participants must register.
"INTERSECT has grown every year, through the hard work, support and participation of people across CMU," said Alan Scheller-Wolf, the Richard M. Cyert Professor of Operations Management in the Tepper School of Business and one of three co-chairs for INTERSECT'S program committee. "We embrace the idea of working across schools, disciplines and boundaries to collaborate to try and solve society's largest problems. INTERSECT is a very tangible embodiment of this."
Each week of the conference will address a different subtheme, beginning with health. The event will kick off with a "A Conversation on the Data Revolution and the Future of Health Care" between speakers Glen de Vries, a CMU alumnus, co-CEO of Medidata and author of "The Patient Equation: The Precision Machine Revolution in the Age of COVID-19 and Beyond"; and Rebecca Doerge, the Glen de Vries Dean of the Mellon College of Science.
Tepper Economists Receive Grant to Research Economic Impact of COVID-19
As the coronavirus pandemic continues to uproot and impact our daily lives — the way we work, shop for groceries, socialize, and more — economists at the Tepper School are researching ways to identify and categorize emerging patterns of consumer behavior.
In Allegheny County, where Pittsburgh is located, masks are mandatory for individuals before entering all businesses. Restaurants are open for in-person dining but limited in capacity; fans are not yet welcome to gather at live sporting events; and while movie theaters are beginning to reopen, theaters also will be at limited capacity. The way we enjoy a meal outside of our homes or a night of entertainment out on the town has changed, and it's not just because of government mandates and restrictions.
At least that's what Tepper School economists Laurence Ales, Rebecca Lessem, Chris Telmer and Ariel Zetlin-Jones aim to prove through their micro- and macro-economics research project, "Developing a Pandemic Consumption Expenditure Index," which received a $50,000 research grant from the RK Mellon Foundation this summer.
"This project represents Tepper economists of various backgrounds and areas of expertise stepping up in an extraordinary moment, to come together and ask, what can we do to contribute to the situation we find ourselves in?" Telmer said.
SCS Launches Educational Equity Office with $3M Grant
There's no question that the world needs more computer scientists. But how do universities reach students early enough to spark interest in the field? How do they encourage a broad swath of students who may be underrepresented in computer science or whose lack of resources put pursuit of the subject out of their reach? And, more urgently, how do they do this amid a global pandemic?
A three-year, $3 million grant from the Hopper-Dean Foundation will allow Carnegie Mellon to tackle those big problems through the creation of the Carnegie Mellon Computer Science Pathways program. Dedicated to diversity, equity and inclusion, the office will support students who are underrepresented, underresourced or both.
"This work has been happening here for years, but now we're institutionally committing to it thanks to the generosity of Hopper-Dean," said Ashley Williams Patton, director of the new office, which focuses on giving high school students access to computer science.
"We're working on the digital divide and infrastructure issues to provide more equitable access to technology," Patton said. For instance, CS Pathways recently helped provided WiFi to students learning remotely in Coraopolis, Pennsylvania, through a partnership with Meta Mesh Wireless Communities.
Patton's team is also tackling access to devices and is working with Homewood Children's Center to rethink what it means to engage with computer science and STEM education during a global pandemic.
Swartz Center Seeks Teams for its NSF I-Corps Training Program
The Swartz Center for Entrepreneurship is currently recruiting teams for its fall 2020 NSF Innovation Corps (I-Corps) customer discovery training program. CMU faculty, staff, students and recent alumni are eligible to apply.
Teams can be reimbursed up to $2,500 for eligible customer discovery expenses to assess the commercialization potential for their STEM technology. Further details on the program and eligibility can be found on the Swartz Center website. There have been over 160 teams in the program since fall 2014 and they have received more than $60 million in additional funding for their ideas.
The deadline for teams to apply is Monday, September 14 at https://bit.ly/fall_i-corps2020.
Dietrich Offers Diversity, Equity and Inclusion Courses for Fall
Whether you're attending classes in-person or remotely this fall, the Dietrich College is offering opportunities to delve into topics like intersectional feminism, the American Civil Rights Movement and ethical questions surrounding social structure and public policy. See the list of Dietrich's Diversity, Equity and Inclusion courses for fall.
Architecture's EX-CHANGE Showcases Student Work
The School of Architecture's 2020 EX-CHANGE celebrates more than 350 works of students, from first-years to Ph.Ds. Inaugurated in 2017, the annual publication and interactive exhibition represents an ongoing opportunity to shine new light on the school's programs and to position the work within larger questions of research and practice.
Every year EX-CHANGE is designed and produced by a team of talented faculty and students. This year's EX-CHANGE was led by Sarah Rafson, Talia Perry, Jeremy Ficca, Lola Ben-Alon and Meredith Marsh. Rachel Lu, the 2019–20 Editorial Fellow, edited the catalog, and students Lydia Randall, Jason Garwood, Mohammed Rahman, Christoph Eckrich and Sam Losi, among others, helped build the exhibition.
Student Registration Open for Scott Institute's Virtual Energy Hackathon
Registration is now open for the CMU VentureWell Virtual Energy Hackathon Sept. 29-30. Hosted by CMU's Scott Institute for Energy Innovation, the event provides students with the opportunity to win up to $1,000, generate new ideas, and gain exposure to real-world energy challenges presented by The World Bank Group, Duquesne Light Company and Giant Eagle. 
Registration is limited and is on a first-come, first-served basis. Learn more and register by 11:59 p.m. EDT on Wednesday, Sept. 23.
The hackathon is also seeking student mentors and volunteers to help make it a success. As a student mentor, you'll have the opportunity to work one-on-one with teams, share your data science and energy engineering expertise and interact with technical experts from participating organizations.
Final Call for Honorary Degree Nominations
Honorary degree nominations are due Friday, Sept. 11. The CMU honorary degree is one of the highest distinctions the university bestows on an individual, Nominees must be distinguished individuals who meet at least one of the following criteria:
Achieved pre-eminent levels of distinction in their fields and demonstrated extraordinary achievements, with a preference for those with a clear affiliation or connection to CMU;
Established record of exemplary service to the world, to our nation, to our region, or to society; or
Displayed an extraordinary commitment of service to Carnegie Mellon University, with a demonstrable positive impact on the university and its community.
Recipients serve as an inspiration to the Carnegie Mellon community, especially to members of the graduating class. Recognizing them reinforces the significant scope of the university and enhances the commencement ceremony by highlighting the importance of the university in the world.
Please submit nominations no later than September 11, using the online form. If you have any questions, please contact Cathy Light, secretary of the corporation and adviser to the president, at 412-268-5345 or via email at calight@andrew.cmu.edu.
Last Call: Andy Award Nominations Due Friday
Nominations for the Andy Awards, the university's staff recognition program, are due Friday, Sept. 11. Now more than ever, we encourage you to take the time to nominate your colleagues whose outstanding work is deserving of this special recognition.

Award recipients will be announced and recognized this fall. The Andy Awards planning committee is currently exploring alternative options for the award ceremony, including hosting the event virtually.

For more information, including details about the nomination process, award category descriptions and criteria and past winners, visit the Andy Awards website.
Who's New at CMU?
Carnegie Mellon welcomes these new staff member this week.
Laura Meany, Contracts Officer, Associate Vice President for Research & Academic Administration;

Andrew Charnovich, IT Service Desk Consultant/Endpoint Support Consultant, IT Service Desk (Comp Services); and

Catherine Roman, Early Childhood Teacher, Children's School.