September 08, 2020
Creating More "Places to Pause" on Campus
By Bruce Gerson bgerson(through)cmu.edu
New outdoor spaces are popping up across campus giving students, faculty and staff a place where they can take a break between classes, check email, enjoy the weather and even host a small group meeting — wearing facial coverings and staying 6 feet apart, of course.
Ten large 20-foot-by-40-foot tents and 15 smaller canopies are being set up on the Pittsburgh campus. The tents have a roof covering — no side panels or electrical power — and include 20 folding chairs and a chair rack for storage. The canopies are big enough to safely hold between 8-10 on the lawn. Each tent will have hand-sanitizing stations and will be cleaned with electrostatic sprayers daily.  
In addition to the tents and canopies, other outdoor spaces are being converted into landing spots for community members. Seating areas have been set up under the vaulted ceilings at the north and south ends of the Purnell Center for the Arts and Cohon University Center. Stone benches along the tree-lined walkway in the Tepper Quad have been turned into quasi coffee tables with a chair at either end. Under the Purnell Center and Cohon Center loggias, chairs have been placed between the pillars along the lawn. 
"People are finding these chairs. They are set up in places where people want to be, in the shade, under cover and with Wi-Fi," said Don Coffelt, associate vice president for Facilities Management and Campus Services (FMCS). "They're good places to pause, places to touch down."
FMCS is purchasing new outdoor furniture — 90 small tables, 150 lounge-type chairs and 75 picnic tables are on the way — and is reallocating more than 200 chairs to outfit the spaces.  The lounge chairs will be placed on campus lawns to complement the Adirondack chairs donated by the Osher Lifelong Learning Institute at CMU.
"More than 600 outdoor seats will be added by Labor Day," said Steve Guenther, university engineer and assistant vice president of FMCS. "When COVID-19 hit, we had to reduce seating, so we took a couple hundred chairs out of circulation and put them into storage. Now we're putting them to use to give people a place to safely pause outdoors."
Indoor spaces also are being transformed. For example, Schatz Dining Room is now a break room for students and iNoodle in Newell-Simon Hall has been converted into a physically distanced seating area.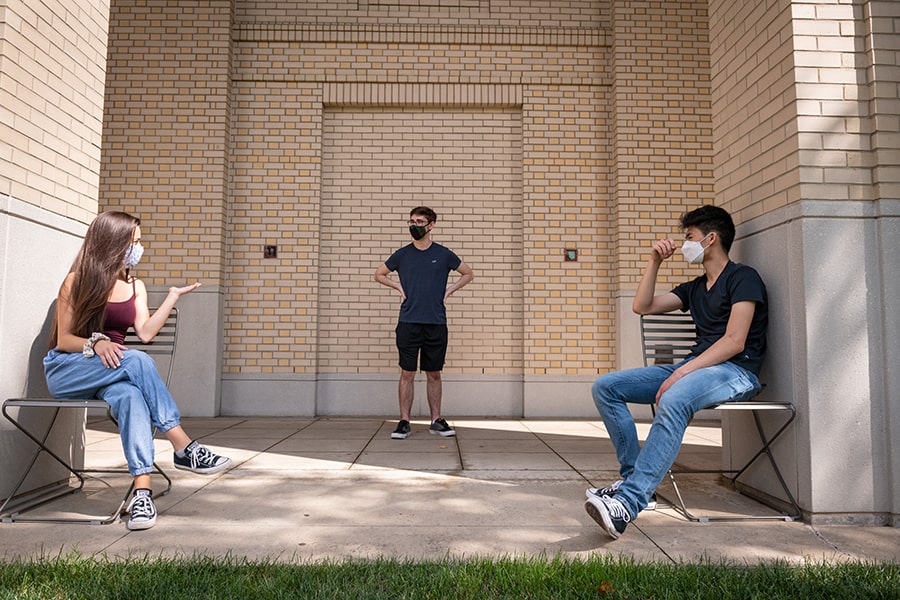 Chairs have been placed between the pillars along the lawn under the Cohon Center (above) and Purnell Center loggias. 
While use of the canopies and converted spaces are on a first-come, first-served basis, seats in the tents can be reserved individually or for small groups using CMU's 25Live scheduling application. Guenther said the tents are large enough to accommodate up to 25 people standing, the maximum number allowed for gatherings. Individuals must wear facial coverings, keep 6 feet away from others and follow the university's public space guidelines, such as being courteous of others sharing the space and maintaining appropriate noise levels.
"We've heard from faculty who are interested in finding a safe place to get a small group together to begin to make those strong connections with students early in the semester," Guenther said. "They see the outdoor tents as a great place to do that."
Tents are located on the Baker Hall lawn; the Cohon Center's Merson Courtyard; the FMS building patio; the Tepper Quad; and outside Hamburg Hall, Hamerschlag Hall, Wean Hall, and the Gates and Hillman centers.  Two tents have been placed on the College of Fine Arts lawn.
Coffelt and Guenther predict some of the converted spaces will remain post-pandemic.
"The stone benches will never go back to being benches," Coffelt said. "These will always be tables moving forward. You sit in a chair and put your laptop on the bench. Students love it."
Guenther imagines a new look between the pillars under the Purnell Center and Cohon Center loggias.
"After COVID-19, we'll take the new tables we bought, put them in the middle of two chairs, and we'll have café seating all along the sidewalk," he said.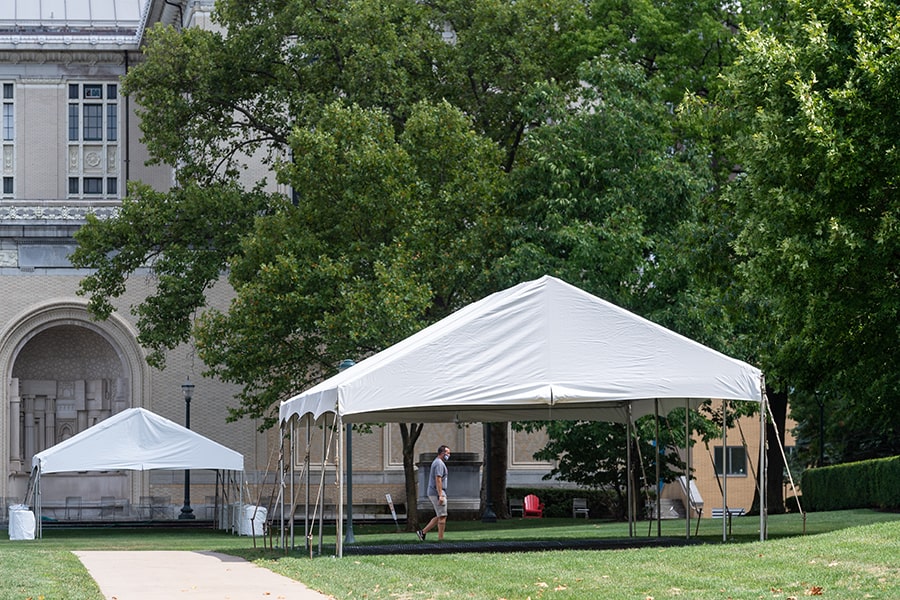 Tents have been placed across campus where students can take a break between classes, check email and even host small group meetings.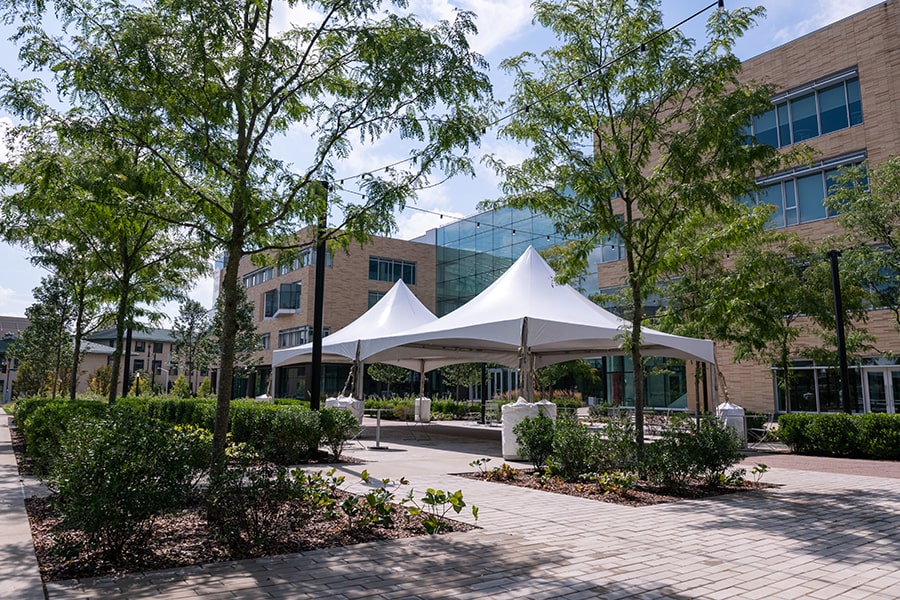 Tents can be reserved using the 25Live scheduling application.