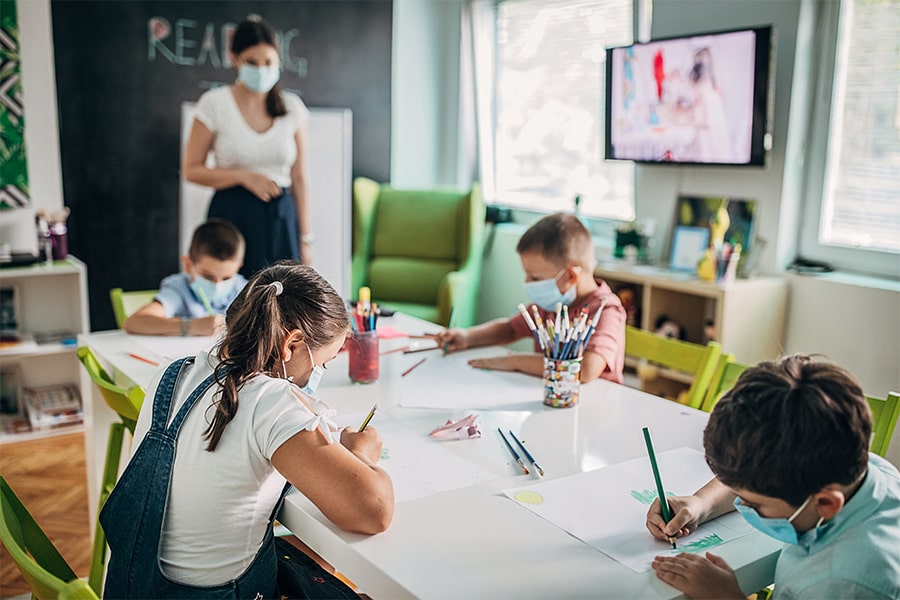 September 17, 2020
CMU Offers New, Temporary Child Care Options
By Kelly Saavedra ksaavedra(through)cmu.edu
Working from home in the pandemic may be a dream come true for some introverts or people with long commutes. But for many parents with young children, it's been a significant challenge.
"Children need their parents and their parents are needed at work. It's very stressful and it has created a lot of anxiety on both sides, for the child and the parent," said Michelle Piekutowski, chief human resources officer at Carnegie Mellon University.
Graduate students can be especially vulnerable to the kinds of sudden and significant changes brought on by the COVID-19 pandemic, says Adam Stein, a Ph.D. student in the College of Engineering.
"Graduate students are likely to have low or no income and rely on their support networks for child care, and some who were able to afford child care before the pandemic no longer can due to the loss of their partner's income," Stein said. "Single parents with no family in the area, or in the country, have even fewer options."
A survey designed to gather information on the CMU community's child care needs during these unprecedented circumstances was conducted over the summer by the Family Care Advisory Committee, which is co-chaired by Piekutowski and Mary Jo Dively, vice president and general counsel. Half of the 2,000 respondents said they are in need of child care though not necessarily all day or every day, and many offered suggestions on how the university could help.
After exploring numerous potential solutions, the university has announced it will offer three new, temporary child care options, some of which have already begun and others which will begin within the next few weeks: part-day child care for younger children, in-person proctoring of online education for older children, and a family care concierge service to help families with unique needs find other options.
Partial-Day Child Care for 2- to 5-year-olds
Parents with children between the ages of 2 and 5 years old can select the morning or afternoon for a 3-hour session of child care during the work week at a cost of $5 per hour per child. These sessions will be available daily at the Penn Avenue Cyert Center to parents who may need some care but not necessarily a full day of care or care every day.
Parents will be able to schedule sessions in advance online and may mix and match morning or afternoon sessions to best fit their particular circumstances; however, in order to allow the university to serve the largest number of families, there will be a maximum number of sessions per family per week permitted until there is a better sense of the actual need.
This will be a new, temporary child care option and not part of the Cyert Center program. Those interested in this child care option are encouraged to visit the website and begin the registration process.
Proctoring of Online Schooling for 6- to 12-year-olds
Parents with children participating in online schooling between the ages of 6 and 12 years old can sign up for on-campus proctoring. These full-day sessions will be offered Monday through Friday from 7:30 a.m. to 3 p.m. throughout the fall semester. The university is working to finalize the location and space requirements and plans to have this option available in October.
As with the partial-day child care, parents will be able to schedule in advance for the days which best suit their particular circumstances, but there will be a maximum number of sessions per family in order to allow the university to serve the largest number of families.  Interested families should register through the website to be notified as new information becomes available. 
Family Care Concierge Service
To help families with unique needs find other options, the concierge service will be providing information, support, guidance and education on dependent- and care-related topics using resources such as Care.com, Carelink, EAP, local childcare centers and other after school programs. The concierge service can assist families with finding in-home care; tutoring; elder, pet and home care; care for a sick child; and more.
"The pandemic has amplified the constant decision-making that I am faced with as a working parent," said Shabaki Lambert, assistant vice president of HR and Strategic Initiatives. "Adaptability and flexibility have been crucial during the past several months, as I've had care fall through or not work out. The concierge will be extremely helpful to me. The mobilization of the university to understand concerns and lead on these initiatives is so encouraging."
Anna Fisher, associate professor of psychology, said the fact that all of these child care options will be available at low cost is a terrific commitment by the university to help all parents in the CMU community.
"I am very pleased to have been a part of the group that prioritized developing equitable solutions to this enormous challenge," Fisher said.
Dively said the proposed solutions have the potential to help many CMU families.
"We hope that these new options will bring needed relief for parents and families within our community," Dively said. "I am particularly grateful to the Family Care Advisory Committee for their efforts in bringing these needs to light and helping us to develop these offerings and to the many members of our community who took the time to complete the survey."