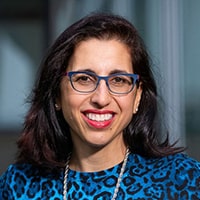 Harchol-Balter, a CSD professor, is the recipient of the Bruce J. Nelson Professorship in Computer Science. A faculty member since 1999, her work focuses on designing new resource allocation policies for distributed systems, including those for load balancing, power management and scheduling policies. She is heavily involved in the ACM SIGMETRICS computer systems performance evaluation community and authored a popular textbook on queueing and scheduling, "Performance Analysis and Design of Computer Systems," published by Cambridge University Press. An ACM and IEEE fellow, Harchol-Balter has earned several teaching awards, including the Herbert A. Simon Award, and dozens of industrial faculty awards from Google, Microsoft, IBM, Facebook and Intel.
S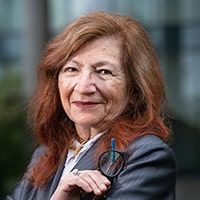 ycara, a research professor in the Robotics Institute, received the Edward Fredkin Research Professorship. She is internationally recognized for her research in artificial intelligence, particularly in the fields of negotiation, the semantic web, autonomous agents and multiagent systems. In robotics, she is known for her work on robotic swarms. She directs the Advanced Agent-Robotics Technology Lab, where she has led research projects sponsored by the U.S. Air Force, National Science Foundation, NASA, Defense Advanced Research Projects Agency, and other government and industrial sponsors. A fellow of the IEEE and the Association for the Advancement of Artificial Intelligence, Sycara has earned two 10-year influential paper awards, the Research Achievement Award from the Institute of Operations Research, and the Management Sciences and the ACM Special Interest Group on Artificial Intelligence's Autonomous Agents Research Award.
Students are Finalists in Collegiate Inventors Competition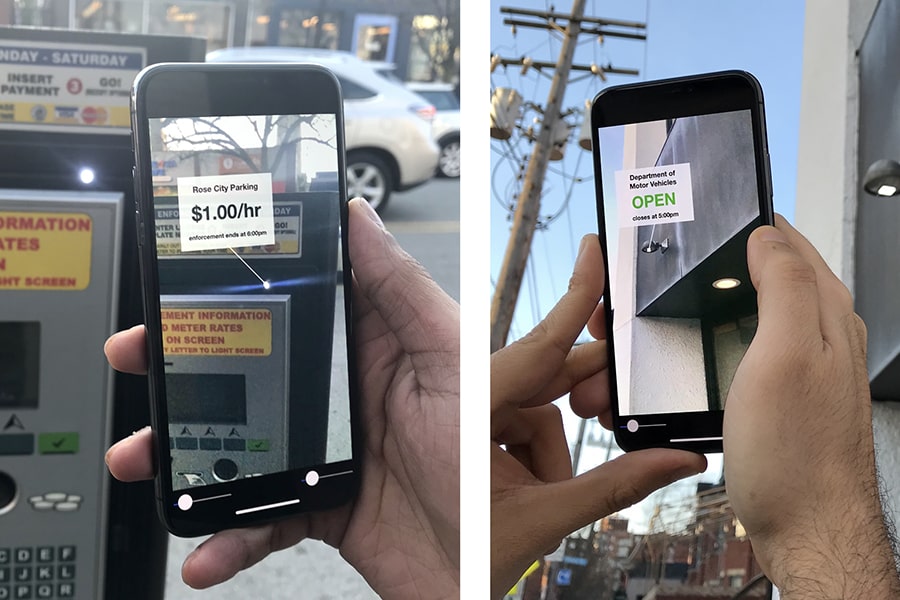 With LightAnchors, a user can obtain information about a device simply by pointing a smartphone's camera at it.
An idea for creating augmented reality (AR) overlays by exploiting the status lights on everyday appliances such as routers, power strips and parking meters has landed a pair of Carnegie Mellon computer science Ph.D. students in the finals of the 2020 Collegiate Inventors Competition.
Karan Ahuja and Sujeath Pareddy, both pursuing degrees in the Human-Computer Interaction Institute (HCII), will virtually present the AR concept, called LightAnchors, to judges at the National Inventors Hall of Fame in North Canton, Ohio. Results will be announced on Thursday, Oct. 29.
With LightAnchors, a user can obtain information about a device simply by pointing a smartphone's camera at it. Information such as the guest login code for a router, the privacy policy of a security camera or the parking rate for a parking meter would appear as an overlay on the smartphone screen.
The concept was developed with HCII faculty members Mayank Goel and Chris Harrison and HCII alumnus Robert Xiao, who is now an assistant professor of computer science at the University of British Columbia.
Learn more about the invention.
Libraries Use Computer Vision to Explore Million-Image Archive
An internal web application built by University Libraries faculty and staff leverages computer vision to improve the discoverability of archival photos by allowing archivists to quickly find groups of images depicting similar subjects and add descriptive metadata tags in bulk.
Computer-Aided Metadata generation for Photo archives Initiative (CAMPI) was inspired by a request from the CMU Marketing and Communications team, which regularly works with University Archives to source images for online and print materials. The request was for early images of the Computation Center, which housed the University's first computer — an IBM 650 that arrived in 1956.
CAMPI allows the archivists to search for images in their collection of one million photos using computer vision, a term that refers to software that performs visual tasks with images, such as clustering together similar photographs, assigning photographs to predefined categories, and identifying objects and faces in photographs.
The app was developed between May and September 2020 by an in-house team that included University Archivist Julia Corrin, Digital Humanities Developer Matt Lincoln, Project Archivist Emily Davis, Digital Humanities Program Director Scott Weingart, Metadata Specialist Angelina Spotts and Scanner Operator Jon McIntire.
Learn more about this powerful tool.
CMU Receives Recertification for Green Cleaning with Honors 
ISSA, the leading trade association for the cleaning industry worldwide, has announced that Carnegie Mellon's Facilities Management and Campus Services has achieved ISSA Cleaning Industry Management Standard (CIMS) and CIMS-Green Building (GB) recertification with honors.
Compliance with the standards provides confirmation of management systems to deliver consistent, professional services in compliance with the highest level of green cleaning criteria defined by the United States Green Building Council. CIMS and CIMS-GB certifications identify custodial programs committed to quality management systems, employee engagement and customer satisfaction.
Accredited auditors verified the CIMS and CIMS-GB requirements during a multi-day site inspection that included interviews with front line associates. The independent audit confirmed that FMCS Custodial Services meets the industry standard for quality systems; service delivery; human resources; health, safety and environmental stewardship; management commitment; and green building.
Participate in CMWA Mentorship Program at Carnegie Mellon
The Carnegie Mellon Women's Association is seeking participants for its Barbara Smith Women's Mentoring Program (BSWMP).
BSWMP is designed to facilitate supportive relationships by matching individual women staff members who are willing to act as mentors with those who wish to be mentored. Mentor relationships are expected to center on professional interests and aspirations, including but not limited to career advancement, educational opportunities and job-related issues. Since 1994, the program has matched over 370 women with mentors. 
An information session about the program will be held at 12:30 p.m. ET, Monday, November 2 virtually over Zoom.
The BSWMP is administered by the Carnegie Mellon Women's Association (CMWA). Therefore, in order to participate in this program, you must be a member of CMWA.
 
Applications to the program will be available to CMWA members Nov. 2-20. Matched pairs will be connected by mid-December. While there will be an official networking kickoff event in February, pairs can begin meeting at their convenience. Each mentoring relationship is expected to continue through the end of the 2021 year.
  
For questions or more information, contact CMWA Mentoring Programs Co-chairs Sonia Reed  (sreed@andrew.cmu.edu) and Alicia Gorman (aliciag@andrew.cmu.edu). You can also find answers to some frequently asked questions about the BSWMP on its website.
From Our Homes to Your Homes; Film Festival Goes Virtual
In response to the ongoing pandemic, the CMU International Film Festival has adjusted its format to a virtual setting. Rather than two consecutive weeks of screenings and events. the festival will now be spread over the coming months through May 2021. Each month, one to two films will be virtually streamed, coupled with live Q&A sessions with filmmakers or panel discussions with guest speakers.
This year's festival theme, Faces of Home, explores how people define home, and the actions they take when their home is in a state of instability, invoking anxiety and fear. This week's feature flim is Push, a documentary that explores why in many cities house prices are skyrocketing while incomes are not, and why so many people are being pushed from their neighborhoods and homes.
Learn more about this year's festival.
Open Enrollment Is Underway; Benefits Fair is Virtual This Year