November 02, 2020
Community App Aims to Keep CMU Students Connected at a Distance
By Rachel M. Latsko rlatsko(through)andrew.cmu.edu
A team of Carnegie Mellon students has turned an idea for a class project into an app to help their peers navigate the remote university experience.
At the beginning of the spring 2020 semester, Snehita Sana and Nina Zanarelli ventured into the unknown in a course titled "Design for Social Innovation," taught by Arthi Krishnaswami, a 2006 graduate of the School of Design. For Sana, a senior statistics major with minors in math and business, it was her first design class. For Zanarelli, an exchange student from Milan, Italy, pursuing a master's degree in service design at the Politecno of Milano, it was one of her first experiences at CMU.  
The two became friends and decided to plan their end of semester project together. Then came COVID-19, class moved online and Krishnaswami challenged her students to pick a group of people affected by the coronavirus, identify their problem and design a solution. 
Sana chose a group she knew best — her fellow CMU students. 
"I know for a lot of us, our mental health has suffered since remote learning started. I had my own struggles and I knew I couldn't be the only one," Sana said. 
Through surveys and interviews with their peers, Sana and Zanarelli identified a few reasons for their mental toll: not being able to connect with their community, not knowing what resources were available, and social and academic anxiety.
"We wanted to give all students the opportunity to live their university experience to the fullest, wherever they were." — Nina Zanarelli
"Nina and I wanted to find a way to help reduce those anxieties and to help rebuild the CMU community that we fell in love with," Sana said
Zanarelli said after arriving at CMU she quickly felt a part of the CMU community.
"Everyone was kind and ready to help me from day one. That's what I liked most — the feeling of being a part of that kind and helpful community," Zanarelli said. "When the university transitioned to online classes in March, I immediately wanted to find a way to recreate that feeling for new and past students, even from afar."
Their proposal was to build The College Community App, where students could create study groups with their classmates, stay up-to-date on CMU events and find peer support and university resources. 
"We wanted to give all students the opportunity to live their university experience to the fullest, wherever they were," Zanarelli said. 
The duo's desire to help their peers didn't end with the spring semester. With their summer jobs canceled due to the pandemic, they had the opportunity to turn their proposal into a real tool to help the CMU community.
It Takes a Village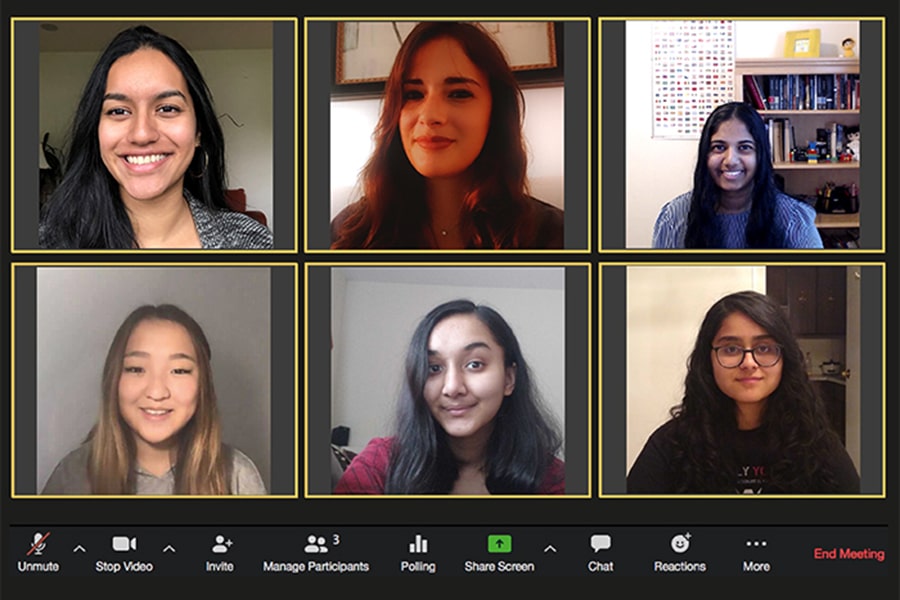 The College Community App team. Top row (left to right): Snehita Sana, Nina Zanarelli and Sarayu Namineni. Bottom row (left to right): Helen Dong, Eshita Kar and Shreya Manjunath.
Neither Sana nor Zanarelli had a background in mobile app development — but that didn't stop them. 
The duo enlisted the help of Krishnaswami, who is the founder of RyeCatcher Education and the Community Success Institute, and Larry Heimann, a teaching professor of information systems who also works in CMU's CyLab researching organizational decision-making. With Krishnaswami's background in holistic and community health and Heimann's instrumental guidance on mobile-app development, Sana and Zanarelli were ready to build their team.
Alex Rudenko, a Ph.D. student in mathematical sciences, helped them to determine the skillsets they needed and was instrumental in helping to build the development team. 
"Aside from technical acumen, we were looking for people who wanted to learn and were truly passionate about the project," Sana said. "We weren't expecting to find anyone with extensive app experience, and we didn't have money to offer. Passion was our currency." 
Sarayu Namineni, a sophomore computer science major, soon joined the team and became the development team lead. Also joining the effort were sophomore computer science majors Eshita Kar, Shreya Manjunath and Helen Dong. Sana took on the role of product manager and Zanarelli focused on design and marketing.
"One concern I had was team communication since we were all working remotely, but everyone was great," Sana said. "They asked questions when they needed help or didn't have the answer. And I'm like 'Yes! That's what I need! You're getting it. This is what college is all about!.'"
Features: Buddies, Events, Collaboration and Resources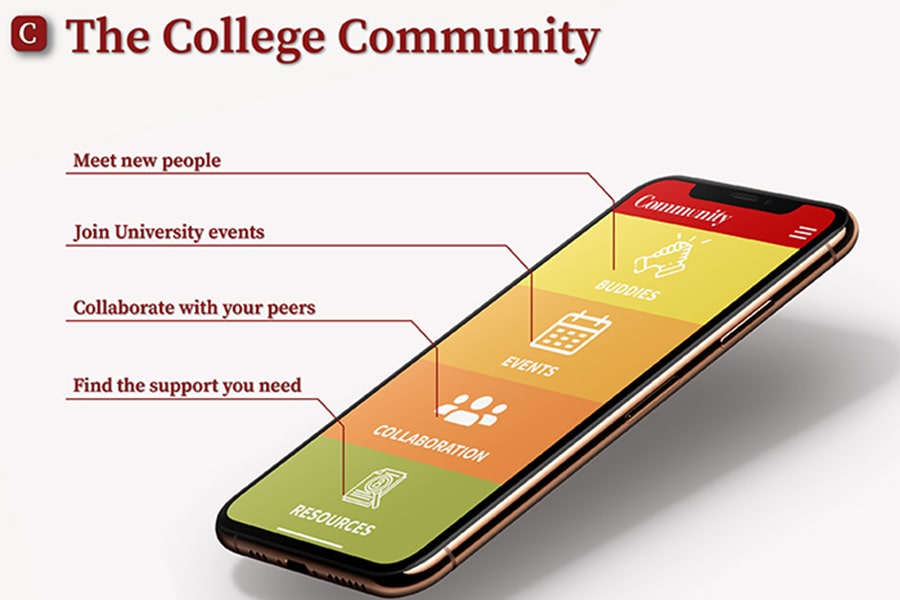 Kar, who is minoring in game design, said The College Community app features help to digitally build community and brings together academics and campus life in an organized and safe manner. 
"It's important to help newer students, like freshmen, establish a good sense of community with their peers and upperclassmen," Kar said.
To use the Buddy feature, students take a personality quiz and answer a series of "CMU-esque questions," like how often they want to meet or chat with their buddy. An algorithm matches students based on their answers.
The Events feature helps students stay in-the-know about what's going on at CMU. The app features events uploaded onto the Bridge student calendar. 
"This app is a great way for clubs to advertise events, ensuring that students can stay involved with the CMU community, and help them to take a break from academic life with their peers," Kar said. 
The Collaboration feature allows students to add their classes to the app. Students can see who their classmates are and they then can add them to a group to start a conversation. 
"This app is for CMU students by CMU students, which is what makes it so special." — Helen Dong
"CMU is hard, but classes, projects and work are manageable because we have a community to support us," Manjunath said. "Especially after quarantine, I realized just how much more difficult it was to work on your own, feeling disconnected from the campus community." 
The Resources feature is divided into categories, such as mental health, academic success, on-campus resources and inclusivity. Categories are divided into sub-categories, like resources for health care and the LGBTQ+ community.   
"Overall, this is a way for students to feel connected to other people in small ways," Namineni said. "We've lost a lot of that small connection you get being in college. Sure, you may still talk with your best friends or maybe you live with your family, but at college you have many small connections that let you know you're a part of something bigger. We hope this app can give students access to that community again." 
The College Community App is available to download on both Apple and Android devices in the Apple and Google Play Stores. CMU students can login with their Andrew IDs on a safe and secure platform.
Sana said the team is continuing to work on the app to make it more helpful and fun for students, and encourages users to provide feedback by emailing the team at team@thecollegecommunity. She said the team will be rolling out new features soon,  and they hope to release a new version next semester. 
"This app is for CMU students by CMU students, which is what makes it so special," Dong said. 
Check out news and updates on Instagram at @the_college_community