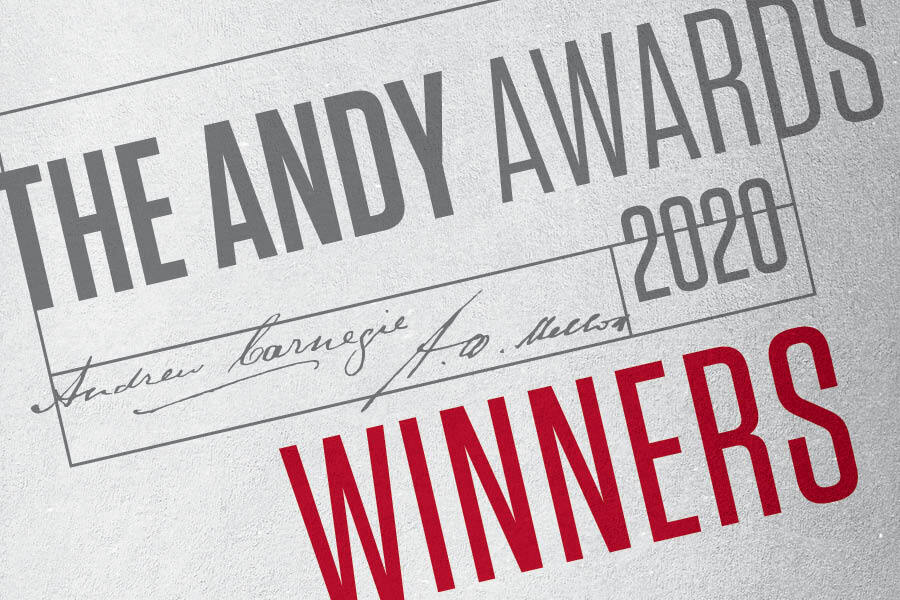 November 17, 2020
Andy Awards Salute CMU Staff for Their Exceptional Efforts
Roll out the red carpet. Well, this year, maybe a red laptop would be more appropriate.
The 26th Annual Andy Awards paid tribute to seven individuals and one team for their outstanding contributions to the university in a virtual ceremony on Monday.
The university-wide staff recognition program, which traditionally honors teams and individuals in five categories, had a few new wrinkles this year. For one, the ceremony was virtual, of course, and there were two winners in the Commitment to Excellence category — a rookie and a veteran — due to the overwhelming number of nominees in that category.
Additionally, a Community Champion category was added so university leadership could acknowledge the exceptional work of two special staff members in support of CMU's response to — and recovery from — the pandemic.
"Every day, our staff make sure Carnegie Mellon continues to be a world-class institution," said President Farnam Jahanian in his opening remarks during the ceremony. "You help us expand our reputation as an institution with big ideas, thought-provoking creations, bold discoveries and a truly welcoming environment.
"The contributions of our staff have been especially meaningful throughout these past few months, at a time when every facet of our operation has been turned upside down by this pandemic," Jahanian said. "I want to express my gratitude for all that you have done to support our COVID response efforts. At every twist in the road, you stepped in — and stepped up — to help us be successful."
Congratulations, and thank you, to this year's recipients!

*recognizes staff who have been at CMU for less than three years
Community Champion
Melanie Lucht
Assistant Vice President for Enterprise Risk Management & Chief Risk Officer
Facilities Infrastructure and Risk Management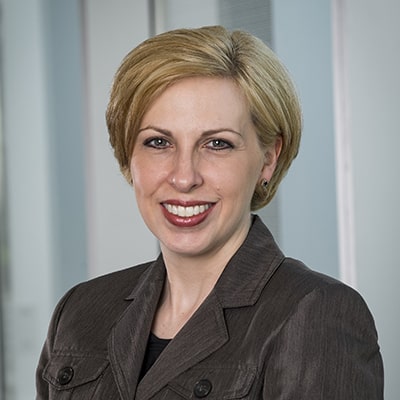 Melanie Lucht stepped up to the plate and hit it out of the park.
Since late January, when the threat of COVID-19 emerged, Lucht has been working around the clock to help the university effectively respond and recover. She first activated the Emergency Preparedness and Response Team, pulling together a diverse group of university leaders to develop an action plan and mobilize resources to assist in the move to remote operations, and later in the partial return to campus. In March, when the university transitioned to remote operations, she launched the Emergency Operations Center and continued to lead a coordinated university response. 
Daryl Weinert, chief of staff, vice president for Strategic Initiatives and CMU's COVID coordinator, said Lucht has exhibited incredible leadership.
"Throughout the months of intense and ceaseless planning, Melanie has maintained a laser-like focus on navigating a path forward for CMU," Weinert said. "The honesty and transparency that she brings to deliberations has proven critical to building community support. She is always willing to join groups of faculty, students or staff to provide yet another 'situational update,' even though she has a mountain of other work waiting on her desk."
Lucht played a vital role in drafting the university's guiding principles, establishing the university's "minimum requirements" to return to campus, and developing the templates for the hundreds of return-to-campus research and work plans.
"Her efforts have extended to every corner of the Pittsburgh campus, and to every CMU campus and program across the United States and globally," Weinert said. "To do this, she has effectively engaged the talents and expertise of many colleagues, and thoughtfully and creatively united them in structures and protocols that could rapidly react to constantly changing conditions."
Weinert said it is impossible to overstate Lucht's impact.
"The university has been blessed to have an individual with Melanie's talents, dedication and perseverance step up to these challenges in such a selfless, tireless and responsible fashion."
Community Champion
Maureen ("Mo") Dasey-Morales
Associate Vice President, Community Health and Well-Being
Division of Student Affairs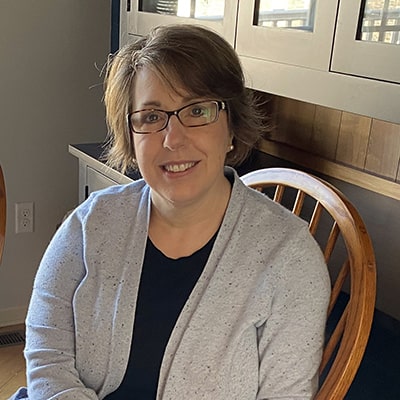 Maureen ("Mo") Dasey-Morales has been on the frontlines of CMU's response to the pandemic, working diligently 24/7 to support and protect the health and well-being of the university community. She has been CMU's co-incident commander, becoming a go-to resource for university leadership, faculty, students and staff in Pittsburgh and across the globe.
"Mo has exhibited an exceptional ability to quickly amass knowledge on every dimension of this pandemic," said Gina Casalegno, vice president for Student Affairs and dean of Students. "She has become an ardent student, doing research and reading in scientific journals, joining webinars and participating in meetings with national and local medical and public health leaders to ensure she has the latest science, evidence and knowledge needed to guide our efforts."
Casalegno said Dasey-Morales' fingerprints are on every aspect of CMU's COVID response. She praised her for helping to develop countless systems through collaboration and engaging with stakeholders: creating isolation and contact tracing protocols, designing a testing site for the safe collection of samples, developing notification processes to communicate positive cases to relevant community members, and building a training module and enforcement mechanisms to ensure compliance with A Tartan's Responsibility, to name a few.
"Through it all, Mo has been a leader and architect in every dimension of our planning and execution during the COVID-19 era," Casalegno said. 
In addition to her nonstop work related to COVID-19, Dasey-Morales has continued to successfully oversee University Health Services, Counseling and Psychological Services, Wellness Programs, Spiritual and Religious Life and Student Support Resources. In July, she embraced co-leading University Health Services when the former executive director left the university for another leadership opportunity.
Casalegno said the units Dasey-Morales leads have been critical in maintaining services to support students. 
"Since March there hasn't been a day that Mo hasn't given her all to Carnegie Mellon University," Casalegno said. "She has worked tirelessly and selflessly to support our entire community around the globe. I can't say enough how grateful I am to her for her leadership and her significant contributions." 
Commitment to Excellence — Veteran
Barb Kviz
Environmental Coordinator, Facilities Management & Campus Services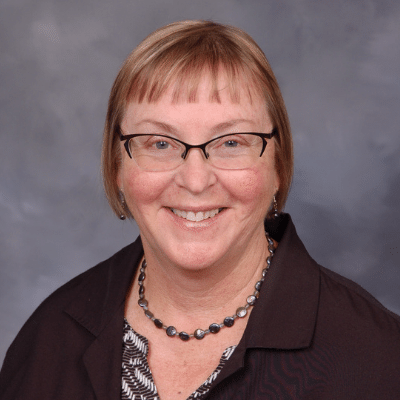 Barb Kviz, environmental coordinator for Facilities Management and Campus Services, has been a steadfast steward of sustainability at Carnegie Mellon for over 30 years.
The first time Jordan Bender met her, Kviz was sharing a status report with Staff Council on the polystyrene packaging used by the ubiquitous food cars on Forbes Avenue.
"She had taken it upon herself to talk with each vendor about the negative environmental effects of the non-biodegradable products and to suggest price-friendly alternatives that were also better for the planet," said Bender, finance and operations coordinator for the Social and Decision Sciences Department. "Through building this rapport, she shifted the conversation in sustainability not only for the vendors, but for the many students purchasing their meals from them."
This multiplier effect played out in countless projects Kviz undertook across campus. Kviz was prepared with data and facts to back up sustainable options, something that helped not only those food vendors but also her department, Facilities Management and Campus Services, over the past three decades.
As the university has shifted to "green" events surrounding compostable and recyclable materials and low waste, Kviz has pushed for higher compliance and provided advice to departments and committees hosting these kinds of events. A trash disposal issue behind the scenes of one of those events led to Kviz skipping her lunch, putting on gloves and sorting through at least a dozen 55-gallon trash cans to redirect materials to their proper place.
Kviz's tireless dedication has led to numerous sustainability initiatives at Carnegie Mellon, including Staff Council's Sustainability Committee, Green Practices Committee, Scotty Goes Green program, LEED Building adoption, AASHE Gold rating, Tree Campus USA designation, Bicycle Friendly University recognition, yearly improvements in the national RecycleMania competition, and many more nuanced programs ranging from honey bee cultivation to campus wastewater treatment.
What Kviz has accomplished over her career has set the university on a sustainable path with programs that will benefit the community for years to come.
Commitment to Excellence — Rookie Award
Jennifer Spirer
Senior Associate Director of Admissions and Recruitment
Information Networking Institute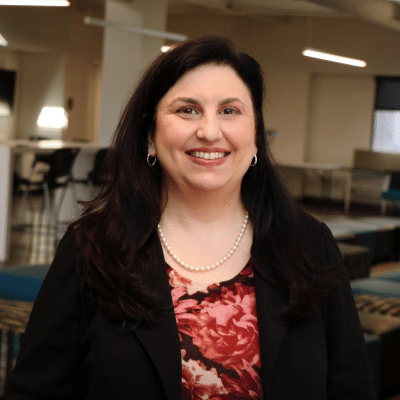 In less than two years, Jennifer Spirer's passion for her job, her compassion for prospective students and her out-of-the-box thinking have helped to improve the recruiting and admissions process for the Information Networking Institute.
INI Director Dena Haritos Tsamitis called Spirer a champion for INI applicants.
"She gets to know every single candidate and invests herself in both their collective and individual success," Haritos Tsamitis wrote in her nomination letter. "She is always looking for meaningful and creative ways to engage applicants, both virtually and in-person."
Spirer collaborates with her admissions peers across campus and with the INI's marketing, academic affairs and engagement teams to maximize their student outreach.
"When it comes to analytics, Jennifer is the INI's resident data whiz," Haritos Tsamitis said. "She leverages every tool at her disposal, from Slate to Excel, to present data in ways that help her team deliver results and engage more proactively with prospective students."
Haritos Tsamitis praised her courage to think creatively.
"From the start, she regularly brings new ideas to the table, many of which have become real initiatives that have actively improved our admission processes," she said.
The INI director said Spirer was responsible for rethinking the applicant review process, expanding the review committee to eight faculty members and presenting timely data that has informed decision-making.
During the pandemic, INI faced its biggest enrollment crisis in history as students faced travel and visa restrictions, but Spirer responded with "tenacity and compassion," Haritos Tsamitis said. She called Spirer a lifeline for their prospective students from around the world, answering their questions through multiple channels, including weekly Q&A sessions on Zoom. 
"Thanks to her efforts, each and every one of our admitted students felt welcomed and heard," Haritos Tsamitis said. "The new incentives we created to encourage admitted students to matriculate in fall 2020 were directly informed by the strong connections Jennifer made with this very special incoming class of students."
One student commented on the impact Spirer made.
"I decided to join the INI because I personally got a strong sense that the INI team was truly trying to push for and foster a welcoming, inclusive, caring and tight-knit community," the student said.
Commitment to Students Award
Sara Diem
Coordinator of Student Leadership, Involvement, and Civic Engagement
Housefellow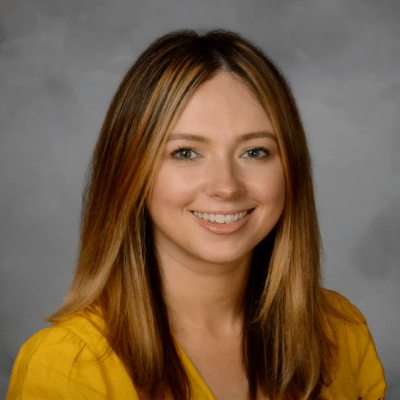 Sara Diem always puts her students first, offering them support and encouragement when and where they need it.
"Sara will drop everything at once if it means she has the opportunity to help a student, a true embodiment of 'my heart is in the work,'" wrote junior Elektra Petrakis, president of CMU's Panhellenic Council who nominated Diem for the award. "Sara knows CMU students, understands the challenges we face and what it takes for us to be successful in our academic and personal lives, and she delivers every single day."
In her nomination letter, Petrakis said Diem has sacrificed her personal time on weekends and nights to meet with students and has made her cellphone number available to all sorority members. Following a Zoom session this past summer with student leaders to inform them of housing changes on campus, Diem hosted a separate Zoom meeting to debrief and further discuss the situation with students.
"Sara leverages all opportunities to connect further with students and support them in all aspects of their lives. She also hosted housefellow-hours in each house she is a housefellow to create relationships with all students, not just the leaders of organizations," Petrakis said.  
Diem's discretion, professionalism and genuine care has earned the students' trust. She helps students grow as leaders and independent thinkers. When new leaders assumed their roles on the executive board for CMU sororities, she had each new officer take the CliftonStrengths Assessment to learn more about themselves.
"As the year progressed, Sara helped the executive board members identify challenges, pushing us to create change through ideation and writing proposals. Sara empowered us by encouraging independent thinking and full-ownership of our actions," Petrakis said.
This past March, when CMU transitioned to remote learning, Diem initiated planning for the fall semester, which led to several options for hosting a safe fall recruitment. She also helped to create a strategy to boost sorority membership and to promote inclusivity for all students. She helped to create a committee that reviewed and revised all governing Panhellenic documents so they promoted diversity, equity and inclusion. 
"Brainstorming creative solutions that will positively impact the student experience is always at the forefront of Sara's mind," Petrakis said. 
Spirit Award
Leia Delabahan
Academic & Student Services Advisor, Integrated Innovation Institute
Silicon Valley Campus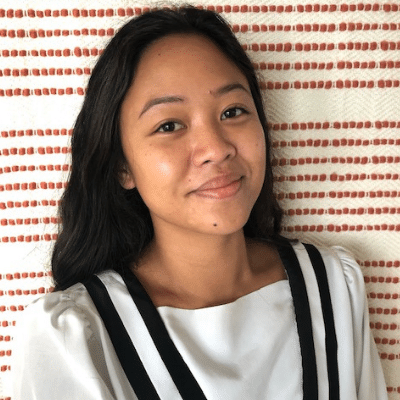 Leia Delabahan's spirit inspires community among students, faculty and staff in the Integrated Innovation Institute (III).
Delabahan joined the III in 2018 as an academic advisor for graduate students studying technology ventures and software management, and has quickly become a valued leader, creating new initiatives and fostering an equitable and inclusive environment for everyone.
One of her initiatives is "Womxn in Innovation," a new student organization to mentor and support women in STEM.
"Leia recognized the need to intentionally and meaningfully create a space to uplift and build community for women," said Elizabeth Donaldson, III's digital content manager who nominated Delabahan for the award. "Leia's attentiveness to student needs and concerns is reflected in her meaningful conversations with students and student club initiatives, and in her innovative ideas to ensure we are meeting the needs of all III students." 
Delabahan also helped to launch a series of community discussions on racism and bias, and co-founded the CMU III Anti-Racism Committee, which has created goals for the campus community in Silicon Valley. Among the goals already completed are anti-racism programming during new student orientation and an Anti-Racism in Action Canvas webpage, where students can learn about and discuss how bias affects technology, innovation and design.
"Leia invited interested students and faculty to join the committee to learn more about their needs and perspectives, and guide them toward initiatives that suit their interests, so each individual could actively participate," Donaldson said.
Delabahan has spoken with alumni about their experiences with bias in the workplace and has attended diversity, equity and inclusion workshops. She is researching how to incorporate anti-racism and social justice into the students' academic curriculum.
Since the university transitioned to remote learning in March, Delabahan has kept engaged with students and continues to strive to meet the needs of program directors and faculty.  
"For Leia, relationship-building is a priority, and she hasn't been discouraged by the limitations of virtual campuses," Donaldson said. "She has embraced the challenge …. She is an inspiration to her teammates."
Donaldson said Delabahan puts other first and credits collaboration for the success of her initiatives.
"Leia lights up a space with her enthusiasm for others and love for the Carnegie Mellon community. She is one-of-a-kind and her spirit well worthy of celebration," Donaldson said. 
Innovative and Creative Contributions
Steven Guenther
Assistant Vice President, Facilities Management & Campus Services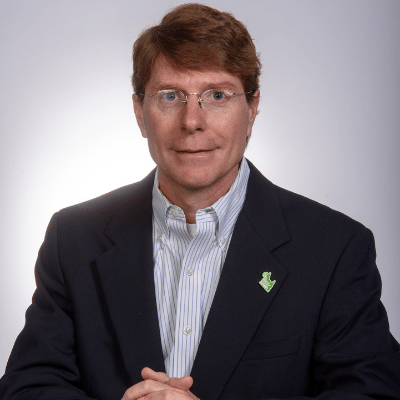 Steven Guenther, an alumnus of Carnegie Mellon and assistant vice president for Facilities Management and Campus Services (FMCS), brings his training as an engineer and in business to his job every day, seeking better ways of doing things.
"His commitment, innovative ideas and intellectual agility are his hallmark," said Don Coffelt, associate vice president for Facilities Management and Campus Services.
Guenther's leadership role in identifying ways to reduce flooding of repeatedly-affected campus buildings during intense rainstorms has resulted in various kinds of innovative "green infrastructure" for stormwater runoff capture and infiltration being implemented on campus. An example is the two large stormwater storage units that were installed below-ground in the area between Baker and Wean halls. The captured stormwater is used to provide makeup water to campus cooling units, displacing the need and cost of using potable water as makeup water.
Guenther drove the COVID-related advancements in housekeeping, building operations, outdoor spaces and new technologies. He recognized COVID-19 was a risk as early as January, triggering a series of facilities initiatives that put Carnegie Mellon in the earliest queues for emerging technologies and constrained supplies such as sanitizer, masks, disinfection, ultraviolet light and Plexiglas.
"Steve is the university's own Radar O'Reilly," said Coffelt, referring to the fictional character on the popular TV series M*A*S*H known for his early action and foresight.
In January, information regarding the cleaning and sanitization of facilities exposed to the virus was sparse. Guenther engaged the university's custodial partner, Aramark, to gain global perspectives, acquire new technology and train staff. In March, he collaborated with the university's new director of Facilities Operations to hire, train and prepare a 13% increase in the university's custodial services staff to meet sanitation requirements for hybrid instruction.
By April, with still little public information regarding HVAC transmission of the virus, Guenther engaged his academic colleagues in the College of Engineering and the Mellon College of Science to understand emerging research. This collaboration placed Carnegie Mellon months ahead in acquiring HVAC technology solutions such as ultraviolet light.
"His individual excellence this year has been extraordinary," Coffelt said. "Under his leadership as University Engineer, and through the partnership of academic and administrative units across the university, bold technological and operational improvements were deployed to enhance the safety and sustainability of the entire community."
Teamwork and Collaboration
Virtual Conferral of Degrees Event Team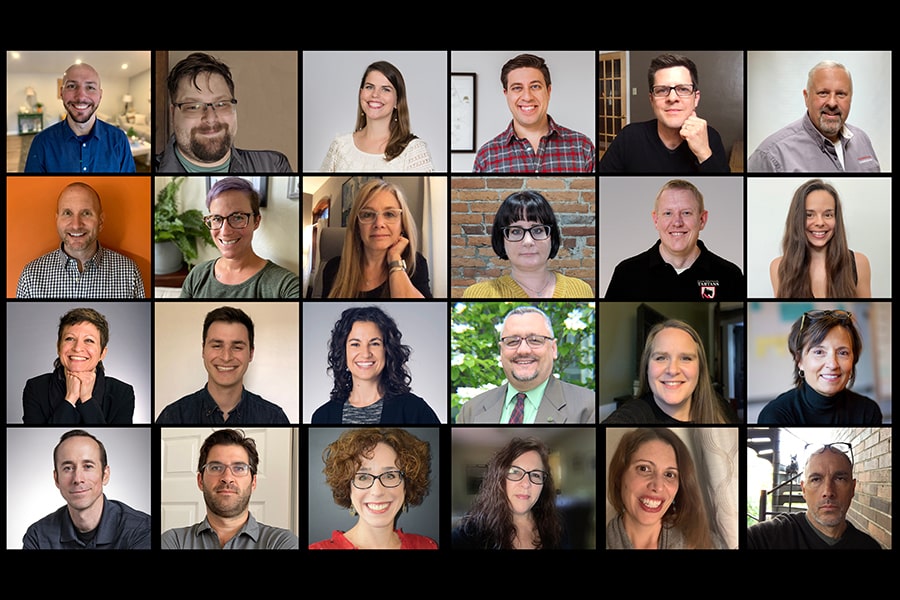 Top Row (-r): Adam Nietupski, Andrew Albaugh, Annie Storm, Bill Lyon, Brian James and Brian Parker
3rd Row (l-r): Brian Thornton, Carrie Chisholm, Cindy Crimmins (chair), Deborah Leigh Allen, Eric Hoffman and Felicia Lucot
2nd Row (l-r): Gretchen Kearney, Jake Boca, Jennifer Boyer, John Papinchak, Kate Walter and Kathy Kendra
1st Row (l-r): Kevin Lorenzi, Lawerence Synett, Liz Vaughan, Monica Banaszak, Teresa Trombetta and Tim Kaulen
When COVID-19 disrupted campus life for everyone this past spring, few felt it more sharply than the students scheduled to graduate. The Virtual Conferral of Degrees Event Team had no playbook when they came together charged with giving the Class of 2020 and their families a virtual ceremony to mark this important rite of passage.
"They took on the challenge of staging something that had never been done before, and they did it with extraordinary dedication, determination and positive spirit," said Gina Casalegno, vice president of Student Affairs and dean of Students.
Richard Scheines, dean of the Dietrich College of Humanities and Social Sciences, noted they did not seek to emulate the traditional Commencement pomp and circumstance — although there were, of course, bagpipes.
"Instead, they created something new, more personal, with a freshness and dignity that seemed just right for the moment," Scheines said. "This team blended long experience of graduation ceremonies with an openness to new ideas, and a recognition of what could be done on Zoom."
Leading up to the event, the team created a "Conferral Party Kit" with banners, sound files and virtual signs to promote the occasion, and they managed a myriad of technical details down to the last second. On May 17, the ceremony launched with the voices of class members and families, moving smoothly through a welcome from Board of Trustees Chair Jim Rohr and President Jahanian, interspersed with alumni offering their congratulations and reflections on what the future would mean for this class.
Each dean had an opportunity to speak, formally presenting each college's class to the president for the conferral of degrees. Alumna and trustee Tamara Tunie sang Charlie Chaplin's bittersweet classic, "Smile." Exuberant good wishes from actor, fashion icon and alumnus Billy Porter ended the event.
Virtual participation came in at more than 21,000 unique visitors to the website, and the hashtags #CMUGrad and #TartanProud trended on social media.