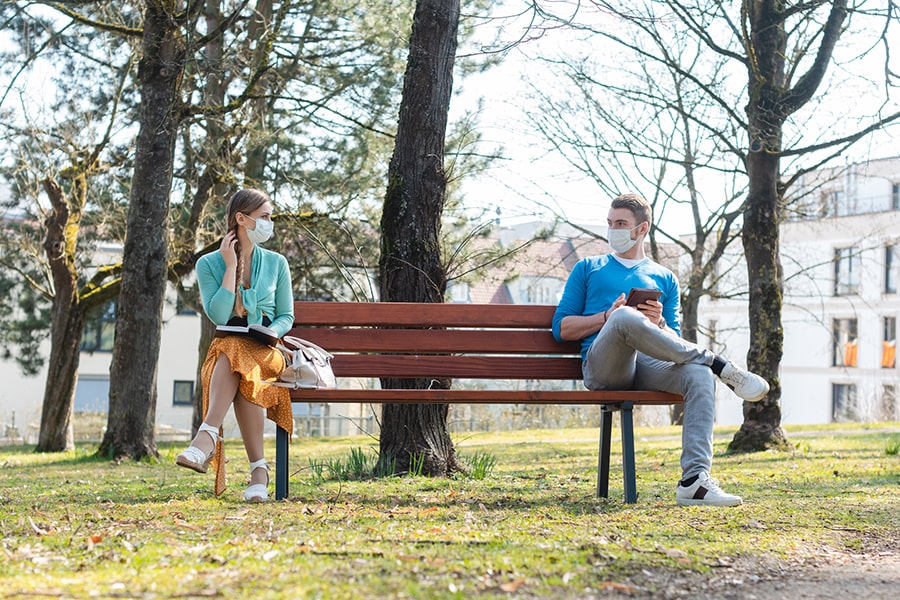 May 13, 2020
News Briefs
Relationship Lab Studies COVID-19's Social Impact
Carnegie Mellon's Relationship Lab has launched a new survey on how the pandemic has affected individuals, couples and families across the U.S., socially, at work and in our family experiences.

"This is a large-scale effort to scientifically gather the views of as much of the U.S. as is willing to share their experiences," said Brooke Feeney, professor of psychology and director of the Relationship Lab.

The survey will take about 30 minutes to complete. Responses will be kept confidential and used only in the form of summaries so important trends can be identified. The study was approved by the Internal Review Board at CMU. Please share the link with family and friends across the U.S.

Find out more and take the survey.
Senior Art Exhibition Opens Online May 15
When students in the School of Art's Senior Studio course chose the title "No Tutorial" for this year's exhibition, they had no idea they would be breaking new ground in their academic careers.
"It felt like a joke about ourselves as art students making our way in the world with our grab bags of skills and only a few of us certain about where we'd be working after school," said senior Joshua Kery. "But now, the title has a lot more urgency. There is no tutorial for what we've done over the last two months. We've all had to reconsider how we make art and how we'll continue to make art."
Instead of a physical exhibit at the Miller Institute of Contemporary Art, which is where senior shows are traditionally held, this year's exhibition will be available to view online, starting May 15. More than three dozen students will present their work on a dynamic website they helped develop.
Monitor Your Diet with FitByte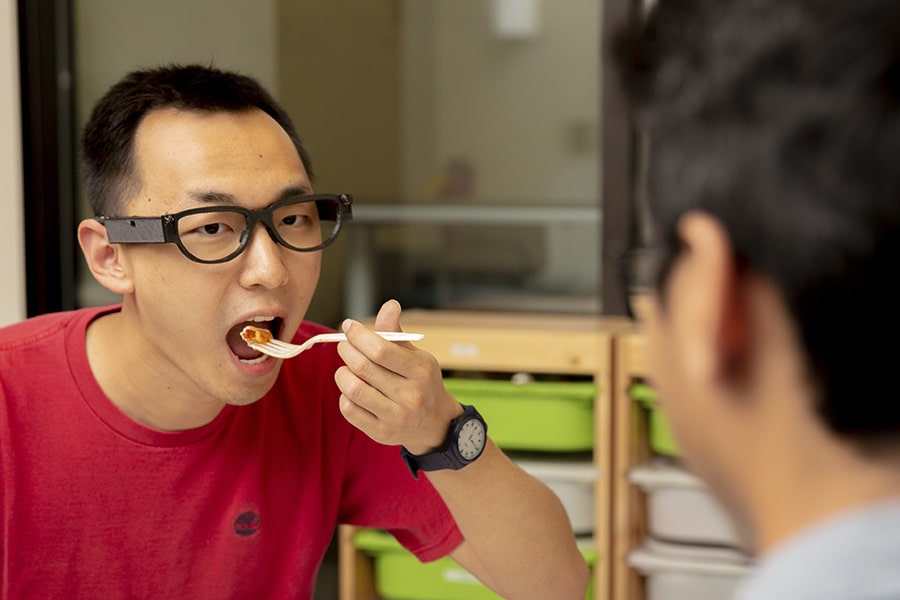 Food plays a big role in our health, and for that reason many people trying to improve their diet often track what they eat. A new wearable from researchers in the School of Computer Science helps wearers track their food habits with high fidelity.

FitByte, a noninvasive, wearable sensing system, combines the detection of sound, vibration and movement to increase accuracy and decrease false positives. It could help users reach their health goals by tracking behavioral patterns, and gives practitioners a tool to understand the relationship between diet and disease and to monitor the efficacy of treatment.

The device tracks all stages of food intake. It detects chewing, swallowing, hand-to-mouth gestures and visuals of intake, and can be attached to any pair of consumer eyeglasses.
"The primary sensors on the device are accelerometers and gyroscopes, which are in almost every device at this point, like your phones and your watches.," said Mayank Goel, an assistant professor in the Institute for Software Research and the Human-Computer Interaction Institute.
Drama's "eShowcase" Highlights Graduates' Talents to Industry Pros
The voices of the next generation of entertainment industry professionals will be heard loud and clear at the 2020 School of Drama "eShowcase." Departing from its usual live format through presentations in New York and Los Angeles, the annual Showcase of talent from the school's prestigious program will come to participants virtually this year on May 18, 19 and 20 through "eShowcase." The May 18 event is open to the public and goes live at 5:30 p.m. ET; the remaining two sessions will be sponsored by School of Drama alumni chapters.

The format, however, does not diminish class members' promise of being the latest roundup of exceptional talent that will lead future theater, film and TV productions — in a wide range of professions behind the scenes and as actors.

"We are extremely proud of this class of students and of what they have accomplished during their time at the Carnegie Mellon School of Drama," said Anne Mundell, professor of scenic design. "While a virtual showcase is not what any of us were planning for six months ago, we are excited by this alternative way to celebrate the incredible work our students have done."
CMU Begins New Undergraduate Degree in Human-Computer Interaction
The School of Computer Science (SCS) will offer a new undergraduate degree in human-computer interaction (HCII) beginning this fall. Among the first of its kind in the nation, the program will produce HCI specialists with a strong foundational knowledge of computer science and wide-ranging skill in developing digital technologies that solve problems and benefit humans.
"We'll be training individuals poised to innovate at the intersection of people and technology, with the goal of making the world a better place," said Jodi Forlizzi, Geschke Director and professor in the Human-Computer Interaction Institute.
The HCII is a world leader in a wide range of research areas, including innovative interaction techniques, advanced learning technologies, transformative games, accessibility, digital technologies in health care, sensing and fabrication, transportation and mobility, usable privacy and security, and social computing.
Sign Up for the Couch to 5K Challenge
Carnegie Mellon Athletics, Fitness and Recreation is hosting a "Couch to 5K Challenge" to help get you outside safely, enjoy the weather and stay fit.
Record how many miles you walk, run, or bike weekly from May 18 to July 4 to complete the virtual 5K. Sign up before Monday, May 18, and let us know how you're doing by tagging @TartanRec on social media. Happy trails!
Get More Involved in the CMWA
The Carnegie Mellon Women's Association (CMWA) has several openings for leadership positions. Two positions, vice president of programs and vice president of membership, are available on the CMWA board. The CMWA board plans programs, discussions and social gatherings to build a greater sense of community life at Carnegie Mellon and to support women at the university. 
CMWA also is looking for two co-chairs for its mentorship programs and two co-chairs for its Community Service Club.  
If you are interested in getting more involved in the CMWA, send email to cmwa@andrew.cmu.edu by May 15.