May 11, 2020
Senior Exhibition "No Tutorial" Makes Up Its Own Rules
Work by students in the School of Art will be showcased online beginning May 15
By Heidi Opdyke opdyke(through)andrew.cmu.edu
Media Inquiries
Andy Ptaschinski
Julie Mattera
Marketing and Communications
When Carnegie Mellon University students in the School of Art's Senior Studio course chose the title "No Tutorial" for this year's exhibition, they had no idea they would be breaking new ground in their academic careers.
"It felt like a joke about ourselves as art students making our way in the world with our grab bags of skills and only a few of us certain about where we'd be working after school," said Joshua Kery, a senior. "But now, the title has a lot more urgency. There is no tutorial for what we've done over the last two months. We've all had to reconsider how we make art and how we'll continue to make art."
Instead of a physical exhibit at the Miller Institute of Contemporary Art, which is where senior shows are traditionally held, this year's exhibition is available to view online, starting May 15. More than three dozen students will present their work on a dynamic website they helped develop.
Art Professor Susanne Slavick said when students left for spring break in March, they did not know at that time they would not be returning to the Pittsburgh campus.
"Many had left work in progress behind. Lack of access to our facilities and equipment, from printing presses to computer clusters, threw a huge wrench into most of their plans," Slavick said. "Whether back home with their families or sequestered in their rentals, few had the space, light, ventilation or equipment to continue what they had started."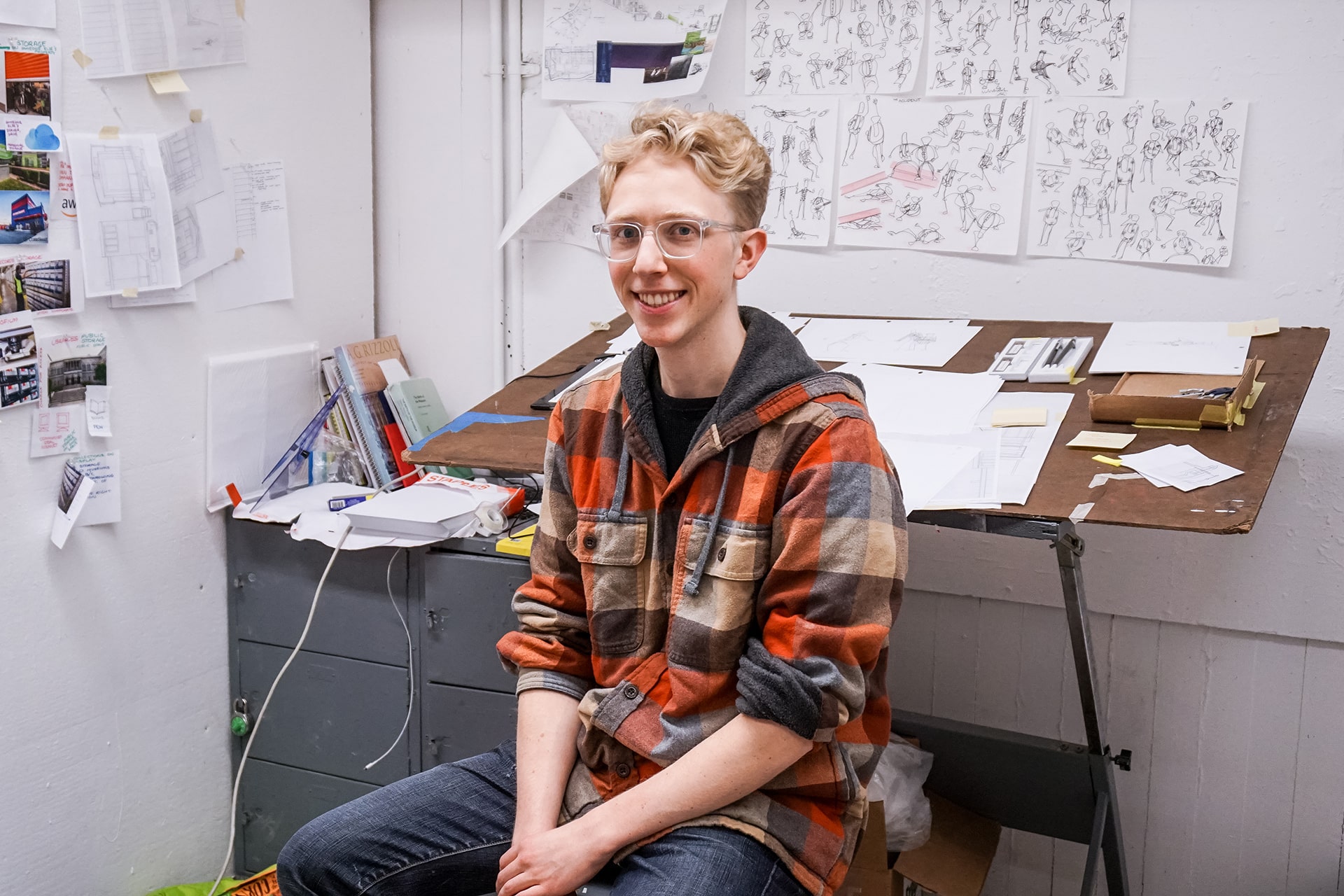 Joshua Kery wrote the play "Cloudbanks," which was staged on Zoom earlier this semester. 
Students also had additional unexpected roles outside of school. One of the students is an emergency medical technician working longer hours, others were caring for sick relatives or helping run a family business. Slavick along with two other faculty advisors, Carol Kumata and Ginger Brooks Takahashi, have stayed in touch with the students.
"Most of the guidance for this course was already one-on-one tutorials or meetings with faculty teams and small groups of peers," Slavick said. "We continued that online, learning how to share our screens and share references through chat, offer encouragement in involuntary circumstances, and advise on projects already underway or redirecting creative energies."
Slavick said the students have been resourceful over the past two months. Some responded by choosing to work manually with materials on hand or altered projects in response to pandemic conditions. She believes that the resilience that they have demonstrated will serve them well for years to come.
"I would hope that this experience — an experience that no one asked for — has given them the confidence and wherewithal to persist, with pre-existing or newly hatched plans," she said. "Some of their goals may be delayed for a while, while new ones may develop. Times like these lead to new priorities. Whatever they choose to do, their training has prepared them to think critically, work independently and collaboratively, and always with creativity and innovation."
Kery's "Cloudbanks," a project in collaboration with Lumi Barron, also a senior in art, and sophomores Hannah Fitzgerald and Shori Sims, was originally a stage production. The play takes place more than 50 years into a future where memory is digital — at a cost. Faced with mounting data fees, a mother and her two children argue over donating a Howard, an artificial intelligence device containing the children's deceased father's memories, to a museum curator.
Shifting gears, the play was performed on Zoom, and more than a dozen people were involved in the production. The play will be available to watch online soon.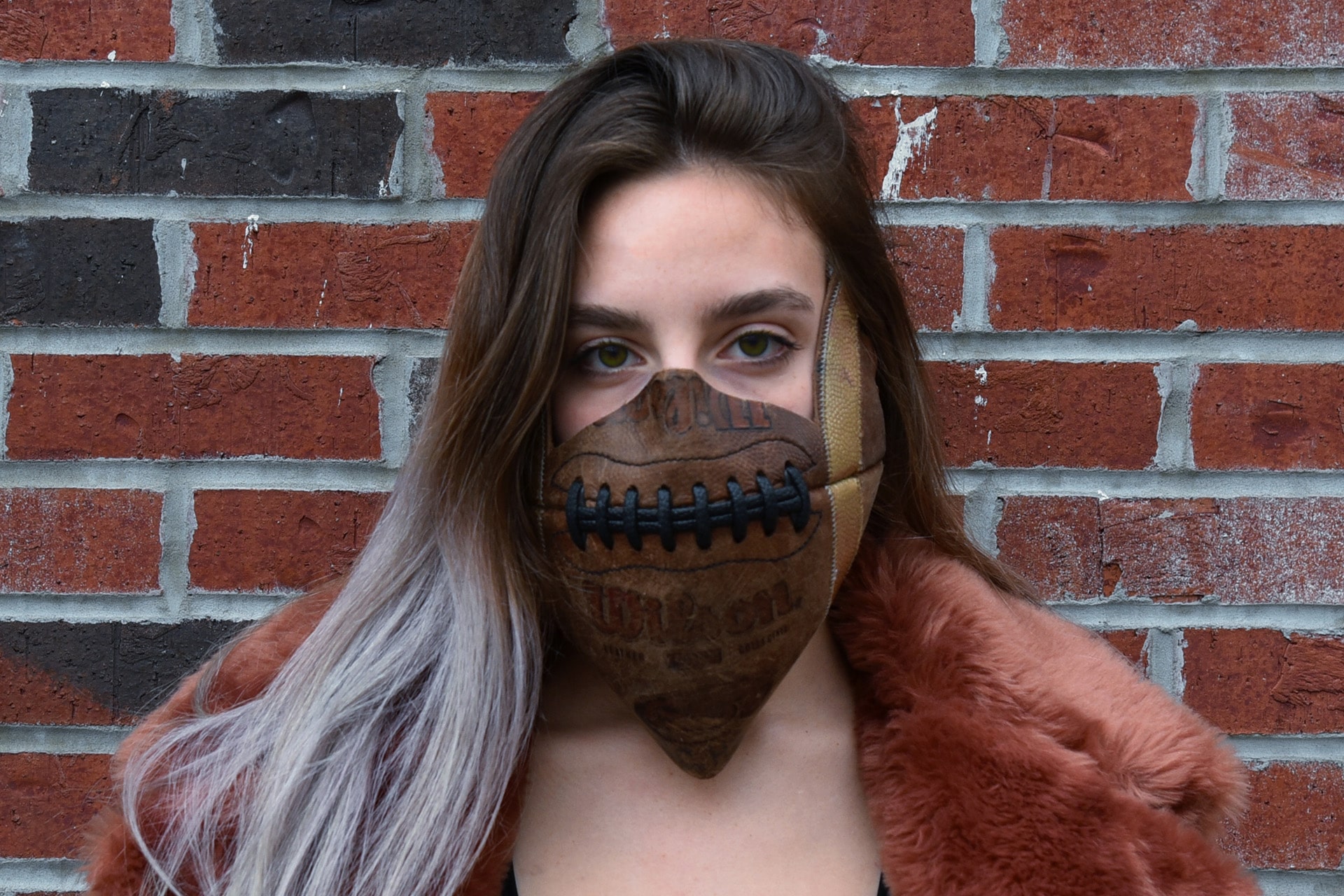 Keegan Barone's art often relates to athletics and gender.
A Step in A New Direction
Keegan Barone, a senior with majors in art and marketing, will return to CMU this fall to complete both degrees. She chose to take the yearlong Senior Studio course with classmates she's known since her first year.
"They've come to understand my work and they're the friends I've come to love," Barone said. "I admire their work, and finishing with them felt right."
Barone's project originally was going to include six pieces of wearable art that were also going to be shown in CMU's Spirit Fashion show as well as the Ecolution Fashion Show hosted by the Carnegie Museum of Art.
The pieces were a line of footwear that combined the leather, lacing and cleats of athletic shoes with feminine heels. A lifelong athlete and a member of CMU's Track and Field team, Barone's art often rests at the intersections of athletics and gender.
She proceeded to focus on fleshing out a broader idea — building onto a brand concept she's been developing called Versatile. She used her existing shoe sculptures to create a fictitious online store and designed marketing materials for it.
"Moving forward, I want to figure more aspects out," Barone said. "A new promotional trailer or adding a clothing aspect of the brand."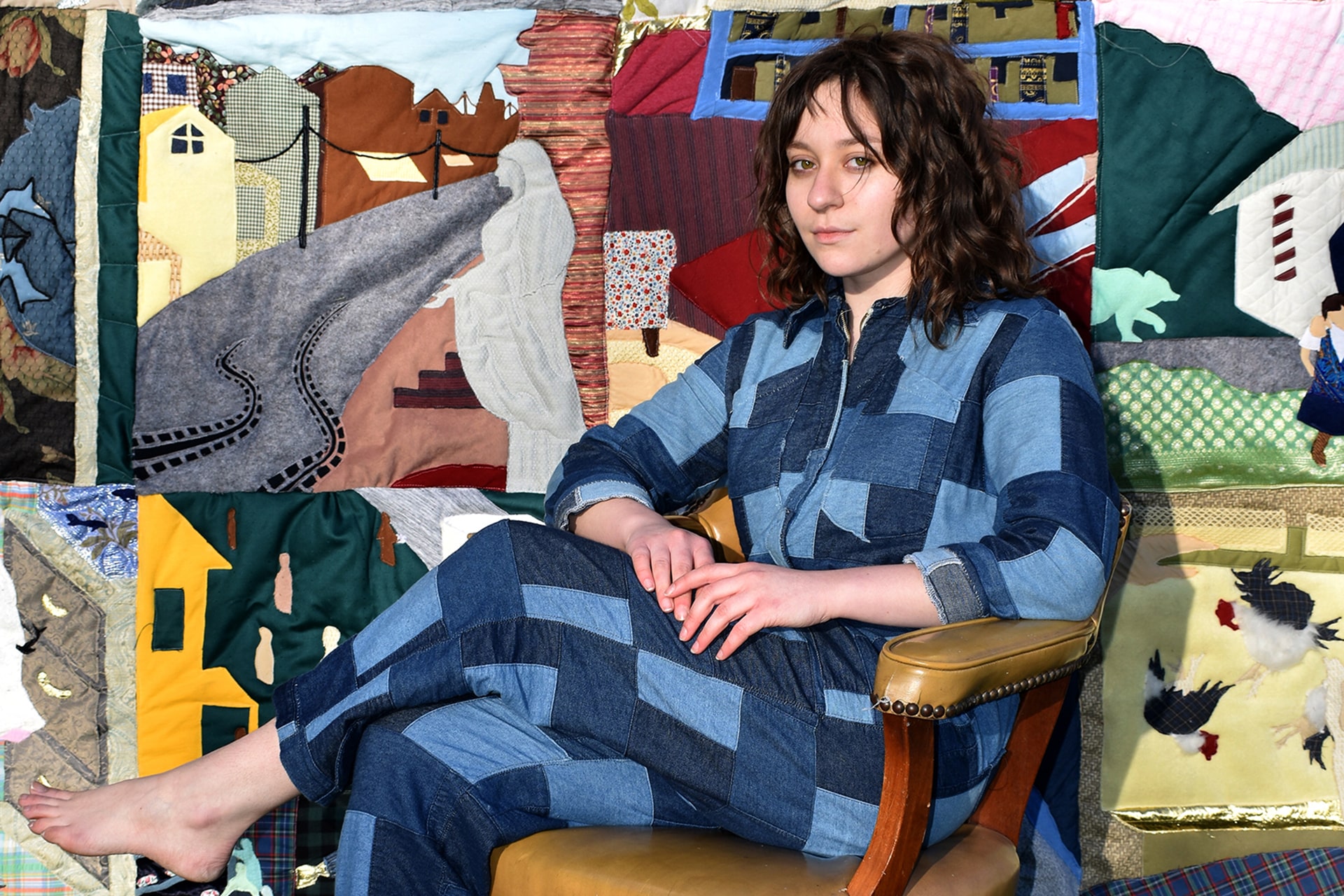 Miranda Miller created a quilt that tells scenes from family history using fabric donated by relatives.
Stories in Stitches
Miranda Miller, a senior in art with a performative sculpture concentration, wrapped herself in her work with a story quilt.
All of the fabric in the quilt is sourced from family donations of clothing, costumes, blankets, sheets, baby clothes, wedding dresses and toys. One square shows a dream of her great-grandmother, using lace from her 100-year-old wedding dress. While the quilt is a physical object, Miller created a website where each quilt block is accompanied by a recorded narrative.
"The voices telling the stories are my parents, three of my uncles, and my sister. In general, they were chosen as the person who has told a particular story the most," Miller said.
The quilt is currently being juried for the International Sculpture Center's Outstanding Student Achievement in Contemporary Sculpture Award. Miller said she hopes to add to the quilt in the future.
"There are always more stories," she said.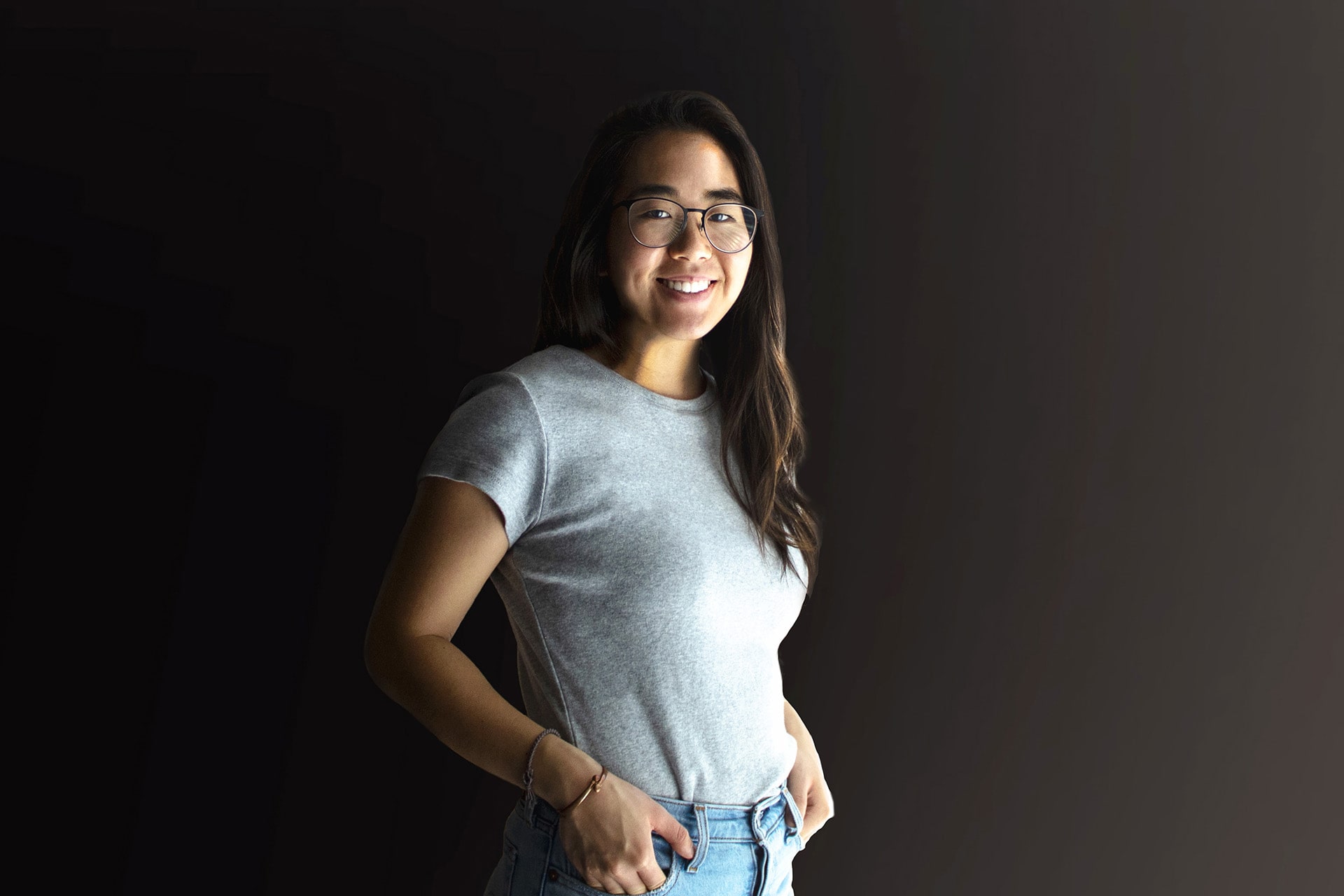 Selina Lee has been chronicling her time in quarantine through charts and graphis inspired by financial data.
Daily News
Selina Lee, a senior in art, has been chronicling her time in quarantine inspired by the format of the Bloomberg Terminal, a software system that monitors, analyzes and visualizes data in real time. Lee drew her charts with charcoal and erased them each time they were updated with data on the people she keeps in touch with, her running routes, her family's movement through the house and news happening in her daily personal life and in the world.
"It's a commentary on our economic state and how we can think about personal agency in an immobilized world," Lee said.
Lee said she plans to continue to continue working on the project as long as the United States is experiencing the COVID-19 pandemic to show how things change throughout the time.
"I would like to create something that exists throughout the period of quarantine," Lee said. "This is something we have never experienced before, and it's impacted everyone."
"The work on view in 'No Tutorial' is a promising preview of the impact these seniors will make — as they create their way in the world," Slavick said.