June 22, 2020
Students Navigate Summer Internships Remotely
By Rachel M. Latsko rlatsko(through)andrew.cmu.edu
Carnegie Mellon University international students Janhavi Deshpande, Sachi Shah and Elaine Zhu are very familiar with crossing disciplines and bridging cultures. This summer, they are exploring the new COVID-19 world of remote internships.
While many students had summer internships cancelled due to the pandemic, Deshpande, Shah and Zhu were fortunate to be able to work remotely.
Janhavi Deshpande
Originally from Mumbai, India, Deshpande moved to Pittsburgh in 2019 to pursue a master's degree in information security and policy management at Heinz College. In Mumbai, she was a consultant at EY, where she worked on cybersecurity governance, risk and compliance. Today, she's a security product manager intern at Salesforce, a San Francisco-based software company that provides the world's number one customer relationship management system.
Deshpande leveraged her networking skills and user-focused mindset to land the position. Her mentor in the Heinz College Mentor Program, Claire Moynahan, a 2019 Heinz graduate who works for Salesforce, referred her for the job.
"I got a lot of support from very different channels, between my program director, Heinz College Career Services and my mentor, so that was really amazing," she said. "When I told my now-manager that I had never worked as a product manager, he explained to me that I had the right mindset for a product management role and while skills can be built, a mindset cannot. So that was really encouraging for me." 
In her role as a security product manager intern, Deshpande advocates for the end-user from her East Coast home office. She interacts with various stakeholders in GoogleMeet, defines functional requirements for the product and conducts competitor analysis.
Sachi Shah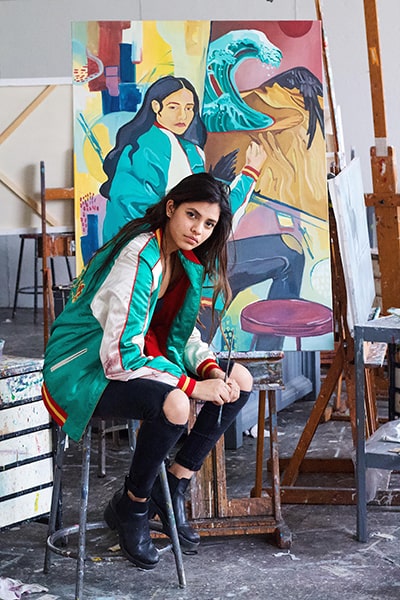 Growing up in Singapore, Shah dreamt of being an artist. As diverse as the colors that fill her palette, Sachi's friendships with artists, scientists and engineers, as well as her growing interests in business, are reflected in her self-defined major — leadership in creative enterprise. It combines her passion for fine arts, business and critical thinking. 
"No matter which space I'm in – whether it be IDeATe or Makerspace, or if it's the Tepper Quad or a studio space in the College of Fine Arts — passion radiates everywhere," said Shah, a rising senior in the School of Art. 
On a trip to San Francisco for the Swartz Center for Entrepreneurship's Innovation Scholars Program, she met CMU alumnus Jeremy Glassenberg, a 2008 Tepper School graduate. Glassenberg is a product manager with Deserve, a cloud-based credit card platform to help young people establish credit founded by fellow alumna Kalpesh Kapadia, a 1999 Tepper School grad. 
Shah landed an internship with Deserve and is now working as a product management intern remotely from Singapore. She has been creating wireframes, customer journey maps, benchmarking and working in cross-functional teams.
"It's a great place to be when I have a passion for a lot of different things," she said.
One of those different things is her illustrative weekly series she has launched on LinkedIn. Inspired by the popular instagram account "humansofny," her art illustrates real work-from-home experiences and insights from professionals.
Elaine Zhu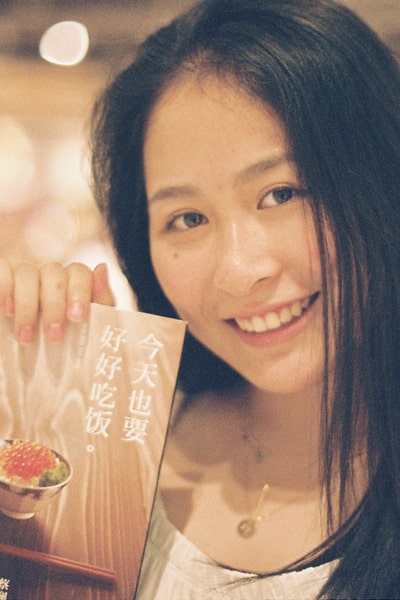 Originally from China, junior Elaine Zhu was forced to remain in Pittsburgh during the pandemic. She was able to negotiate with Visteon, the Fortune 500 Michigan-based global automotive electronics supplier, to let her continue a corporate writing internship remotely from her apartment in Squirrel Hill.
"There are lots of internship openings in manufacturing and tech-based industries for international students, but not so much for communications internships," said Zhu, who is majoring in professional writing, communications and history, with a minor in business. "My communications manager advocated for me since I can really write from anywhere."
One week in and Zhu, for whom English is a second language, is writing corporate communications and internal notices. She said the writing process is similar to sending a draft to a professor for edits.  
Rolling in a Different World
While all are succeeding as interns, their biggest challenge is making introductions and connections. There's no bumping into a colleague while you wait in line for coffee or recognizing an acquaintance from a different department who your boss introduced you to in passing.
"I think I just miss the human aspect, because I am a big interpersonal communicator," Shah said. "I saw on Slack they used to have a channel designated for lunch meet-ups and recommendations. Being new at a startup, it's important to have in-person interactions and communications."
Zhu said the remote aspect teaches her discipline in work approach and encourages organization.
"But you have to love what you're doing. Pick an internship that really excites you — even in an online world," she said.
Desphande said everyone on her team has been very supportive and takes time to help and guide her. She said Salesforce has done a lot in the virtual space to build connections and to foster good mental health.
"It's great because I wouldn't get to see my colleagues otherwise," she said. "We have access to spiritual leaders, therapists and wellness sessions. Through an initiative called 'B-Well Together,' tennis pro Venus Williams taught us stretching! That was awesome. She was on the screen in her garden giving us tips on how to stay fit.
"It's a different world, but I'm rolling with it," Deshpande said.