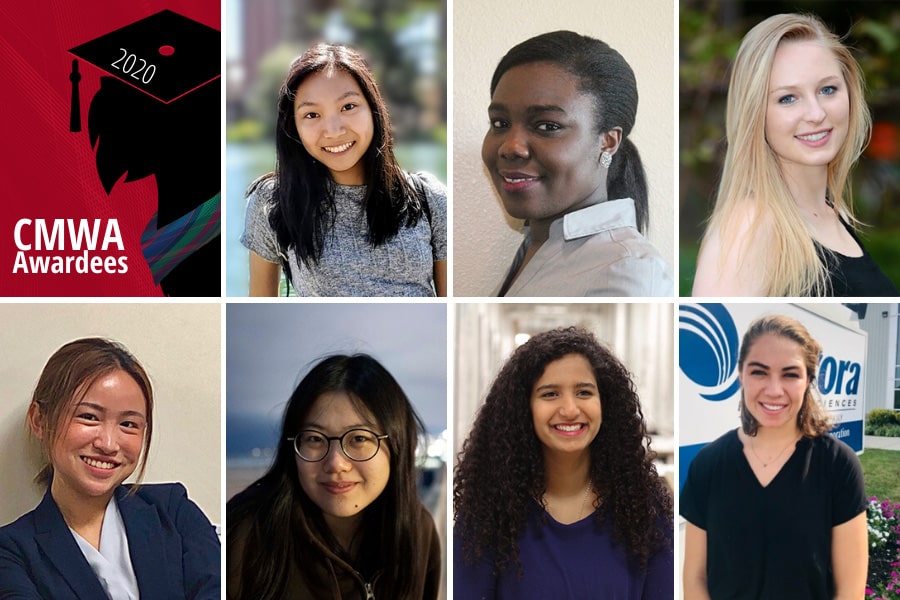 June 11, 2020
CMWA Honors Outstanding Graduating Women
By Elizabeth Donaldson edonalds(through)andrew.cmu.edu
The Carnegie Mellon Women's Association (CMWA) proudly awarded seven outstanding graduating women from each of the university's seven schools with a $1,500 scholarship. 
"I am proud of the 2019-2020 Carnegie Mellon Women's Association scholarship recipients. These women have contributed so much to our campus community," said Tris Jahanian, honorary president. "I am excited to see what each recipient accomplishes as they embark on the next chapter."
This year, the CMWA recognized students who have impacted Carnegie Mellon's campus by serving as vice presidents of the Women in Business and Investment Banking Academy, president of CMU Women in Science, and an officer of the Heinz Council for Diversity, Richness and Inclusion. Among this year's winners are leaders in Greek Life organizations and varsity athletics.
Whether by serving as a volunteer for TechNights and introducing young women to computer science, empowering women in STEM industries, bringing awareness to the experience of international women, driving policy to address systemic injustices, or acting as a peer mentor, each woman is committed to making the world a better place.
"Supporting the women of CMU is at the core of what we do, which is why our organization is committed to recognizing extraordinary graduating students each year," said Jessica Shirley, president of CMWA. "I'm proud that we've been able to increase the award amount again this year thanks to the generosity of our CMWA membership and I can't wait to see what great things these young women accomplish next. We are so proud of each of our award winning graduates."
The CMWA Awards began in 1964 to "honor an outstanding girl at the university." The tradition continues each year. The CMWA Scholarship Fund awards scholarships to selected graduating senior students, with a preference for students who demonstrate a commitment to the advancement of women in their academic pursuits. 
Meet the CMWA award recipients.