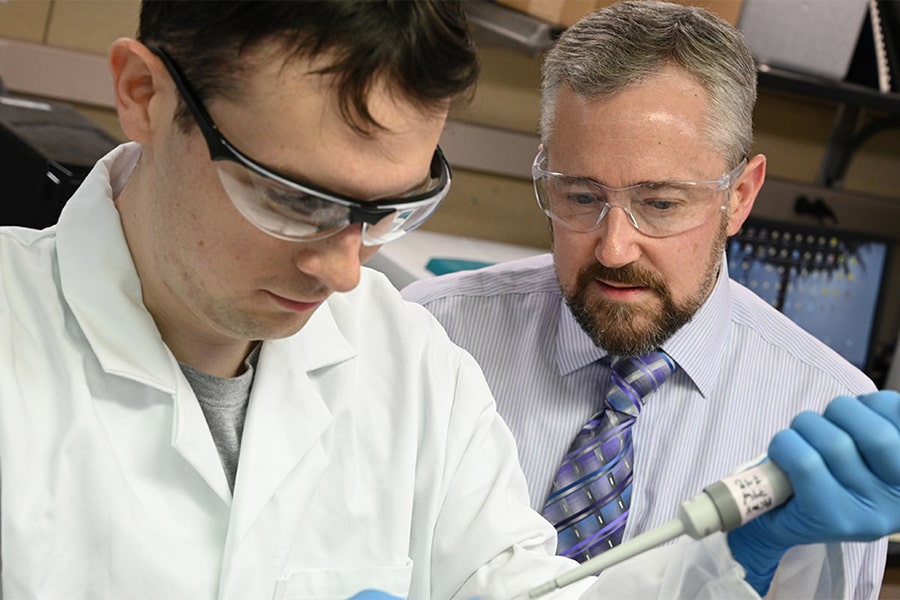 January 22, 2020
News Briefs
CMU Chosen To Host Beckman Scholars Program
Carnegie Mellon was one of 12 universities chosen this year by the Arnold and Mabel Beckman Foundation to host a Beckman Scholars Program. Exceptional undergraduates from the departments of Biological Sciences and Chemistry will be eligible for the program. The scholars will participate in a 15-month mentored research experience where they will learn from some of the university's top researchers. 
The Carnegie Mellon Beckman Scholars Program also will provide students with mentoring from Carnegie Mellon alumni who are successful entrepreneurs. The entrepreneurship component will expose students to the business side of science and teach them how to present their work for funding and commercialization.
"Carnegie Mellon has long been a leader in undergraduate research. We find that what our students learn in the lab is more than just science. They learn about critical thinking and teamwork," said Bruce Armitage, professor of chemistry. "Combining the research experience with exposure to entrepreneurship will uniquely prepare our Beckman Scholars for their future as 21st century scientists working in both academia and industry."
Who's New at CMU?
Carnegie Mellon welcomes the following new staff members.
Megan Neunan, communications specialist, Institute for Politics and Strategy;
Jennifer Beauseigneur, research administrator, Associate VP for Research & Academic Administration;
Rod Heiple, director MFI at Mill 19, College of Engineering Dean's Office;
Alida Smith, associate vice president, Marketing & Communications;
James Blakley, associate director, Living Edge Lab, Computer Science Department;
Travis Dodge, part-time computer operator, School of Computer Science Dean's Office;
Scott Andes, executive director, Block Center for Technology and Society; Heinz College;
Patrick Hannay, overnight library assistant, University Libraries;
Wei Pu, senior robotics engineer, Robotics Institute; and
Emily Boggs, undergraduate program coordinator, Biological Sciences, Mellon College of Science Dean's Office.
Register for CPR/AED Training
The Environmental Health & Safety Department is offering CPR & AED classes on the following dates:
Monday, Feb. 3
Thursday, March 5
Tuesday March 24
Wednesday, April 1
All of the two-hour classes will be held in the EHS conference room, located in the FMS building and will begin at 10 a.m. Upon successful completion of the course, attendees will receive a CPR/AED certificate through the American Heart Association. Interested participants can register through BioRaft: https://cmu.bioraft.com/node/284547/sessions
Oakland Restaurant Week is Back!
Twenty eateries are participating in this year's Oakland Restaurant Week, Jan. 27 - Feb. 1. All 20 restaurants will be offering lunches for $6 during the six-day period.
Participants taking advantage of the specials also can enter to win "Free Lunch for One Month" along with other great prizes from participating Oakland businesses. See contest details. Here are the participating restaurants:
Chick-N-Grille -

121 Oakland Ave.

Fuel & Fuddle -

212 Oakland Ave.

Golden Palace Buffet - 3607 Forbes Ave.
Hello Bistro - 3605 Forbes Ave.
Lotsa Stone Fired Pizza - 3621 Forbes Ave.

Mario's Oakland Saloon -

116 Oakland Ave.

Night Market Gourmet - 114 Atwood St.
Nelle's Sandwiches - 3524 Fifth Ave.
Noodles & Company - 3805 Forbes Ave.

Oakland Craft House - 

124 Oakland Ave.

Pittza Pizza - 3606 Fifth Ave.
Pamela's Diner - 3703 Forbes Ave.
Pie Express - 

148 Oakland Ave.

Primanti Bros - 3803 Forbes Ave.
Prince of India - 3614 Fifth Ave.
Sciuilli's Pizza - 3404 Fifth Ave.
Sorrento's Pizza - 233 Atwood St.

Stack'd Oakland -

3716 Forbes Ave.
Sushi Fuku -

120 Oakland Ave.

The Garden Grille and Bar - 3454 Forbes Ave.
Get Ready for RecycleMania, Feb. 2 – March 28
Carnegie Mellon is once again participating in RecycleMania, a competition and benchmarking tool for college and university recycling programs to promote waste reduction activities across their campus communities. Participating schools will monitor each week's reports and rankings to see how their results stack up against other schools. Results are used as motivation to reduce waste and recycle more.
Over the 8-week period, schools report recycling and trash data and rankings are compiled in the following categories:
Largest amount of recyclables per capita;
Largest amount of total recyclables;
Least amount of trash per capita; and
Highest recycling rate.
Order a 95-gallon paper recycling bin for your office paper by contacting FMCS Clean It at  cleanit@andrew.cmu.edu. This service is free and for non-sensitive office paper only.  
Learn more about CMU's Sustainability Initiative.
Time's Running Out; Crack the Code in the Cyber Escape Room
Does your team have what it takes to crack the password? Computing Services is offering a fun and engaging team building opportunity, called Hacked Escape Room.
Register your team for sessions from 2-3 p.m. on Jan. 28, 29 and 30 in the Cohon Center's Rangos Ballroom.
Want to Jumpstart Your Business Idea?
The Swartz Center for Entrepreneurship is currently recruiting teams for its spring 2020 NSF Innovation Corps (I-Corps) customer discovery training program. CMU faculty, staff, students and recent alumni are eligible to apply and teams can be reimbursed up to $2,500 for eligible expenses to assist in commercializing their STEM technology.
Further details on the program and eligibility can be found online. Since 2014, there have been over 150 teams in the program that have received more than $60 million in additional funding for their ideas. The deadline for teams to apply is Jan. 27 at http://bit.ly/spring_i-corps.