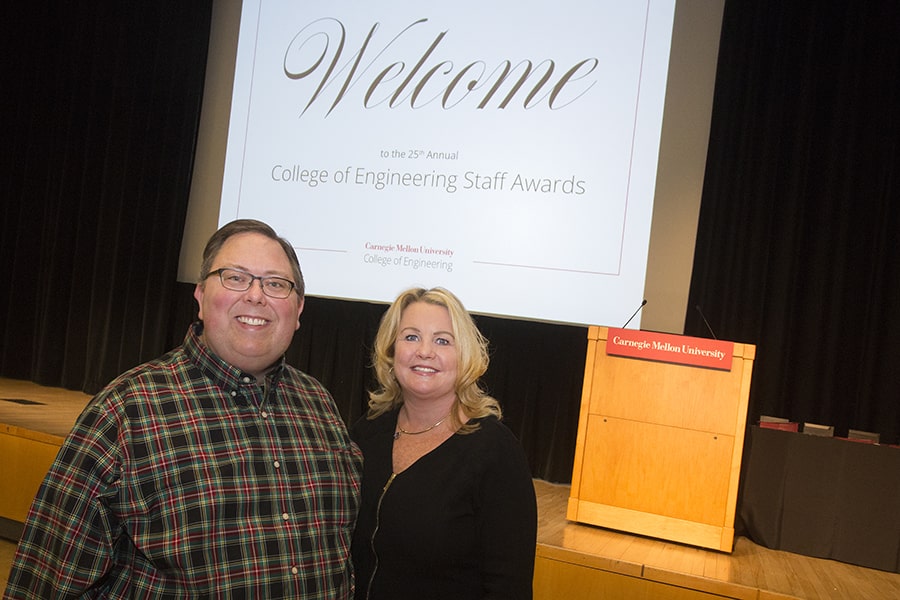 February 12, 2020
News Briefs
Engineering Honors Staff in 25th Annual Awards Ceremony
The College of Engineering recently hosted its 25th Annual Staff Recognition Awards Ceremony, honoring staff for innovation, inspirational leadership, continuous excellence, spirit, and enthusiasm for continuing education. It also presented its annual Rookie Award and honored staff for 5, 10, 15, 20, 25 and 35 years of service. Congratulations to this year's winners.
Innovation Award: Rachel Teeney, Mechanical Engineering Department;
Inspirational Leadership Award: Cathy Shaefer, Civil and Environmental Engineering Department;
Continuous Excellence Award: David Vey, Civil and Environmental Engineering Department;
Spirit Award: Adam Loucks, Engineering & Public Policy Department;
Burritt Education Award: Jeanna Pekarcik, Materials Science and Engineering Department; and
Rookie Award: Terri Deasy, CyLab
Athletics Hall of Fame Nominations Due Feb. 21
Nominations for the second class of inductees into CMU's Athletics Hall of Fame are due by Feb. 21. Established in 2018, the Hall of Fame recognizes, celebrates and memorializes the contributions of student-athletes, administrators, coaches and supporters, and preserves the history of the intercollegiate athletics program. The Hall of Fame engenders school spirit and pride, and inspires the university community through the celebration of excellence. 
The first class of 18 honorees was inducted during the 2019 Homecoming Weekend. The inaugural class was anchored by a longtime Carnegie Mellon athletics director, several All-Americans and the 1926 football team, which shutout previously undefeated Notre Dame. Learn more about CMU's inaugural class.
Find out more about the Hall of Fame and submit your nomination.
Dannenberg Presents "Mother of Fishes" Opera, Feb. 15-16
Composer/producer and CMU computer science professor Roger Dannenberg is presenting the English premiere of "The Mother of Fishes" at CAPA Theater this weekend, Feb. 15-16.
The opera is a classic tale of love, adventure and magic, based on the Valencian story "La Mare dels Peixos." This professional production features six soloists, a 30-piece orchestra, chorus and electronics ensemble. With an emphasis on community engagement, the opera will include a chorus from Pittsburgh Creative and Performing Arts 6-12 School as well as live electronics created and performed by student members of the Antithesis ensemble.
In cooperation with the Pittsburgh Community Food Bank, a portion of every ticket will go to alleviate hunger. Patrons can set their own ticket price ($25 is suggested).
Find out more at http://www.TheMotherOfFishes.com. 
Take a Tour of the Fitness Centers
CMU's Staff Wellness Committee will be giving several fitness center tours in the Cohon Center and Tepper School next week. Here's the schedule:
Monday, Feb. 17: noon, Cohon Center; 5 p.m., Cohon Center; and 5 p.m., Tepper School
Wednesday, Feb. 19: noon, Cohon Center and Tepper School; and 5 p.m., Cohon Center and Tepper School
Tours will begin outside the doors of the fitness centers. Please rsvp to bdiecks@andrew.cmu.edu to reserve a spot.
Who's Your Student Employee of the Year Candidate?
The Career & Professional Development Center is now accepting nominations through Feb. 22 for the Student Employee of the Year Award sponsored by the National Student Employment Association. This is the 22nd year Carnegie Mellon is participating in this award program, which recognizes the outstanding contributions of students who work on campus while attending college.  
The nomination process requires the submission of the Student Employee of the Year Nomination Form by Feb. 22 to Pati Kravetz at pk13@andrew.cmu.edu. Forms and information can be found at www.cmu.edu/career.
All nominated student employees will be recognized and honored at the Student Employee Appreciation Lunch on April 7. The student selected as the Carnegie Mellon Student Employee of the Year will be announced at the lunch and will receive a monetary award of $200. 
Register Your Child for the Gelfand Outreach Summer Series
The Gelfand Center is now accepting registrations for its Gelfand Outreach Summer Series Classes. Classes fill quickly so don't wait to register your child for a class. Classes are for K-12 students, STEM focused and highlight the research and work of Carnegie Mellon faculty and staff. 
Classes are developed to be fun, engaging, rigorous and hands-on. Registration is first-come, first-served. Spaces fill quickly, so register today.