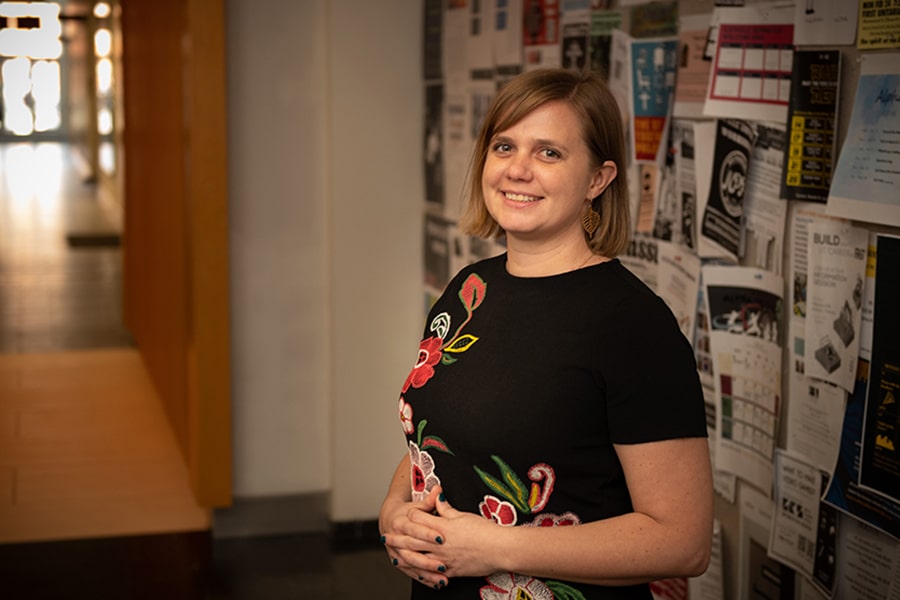 February 12, 2020
Hiniker Commits to Connecting CMU with Global Goals
By Kelly Saavedra ksaavedra(through)cmu.edu
Alexandra Hiniker sparked a worldwide movement when she reported on New York City's progress toward the Sustainable Development Goals.

Now, she has brought her sustainability savvy to the Burgh.

Hiniker joined Carnegie Mellon University in January as the Executive Fellow for Sustainability Initiatives. She accepted this role in the Provost's Office after working for several years in the New York City Mayor's Office for International Affairs, where she created and oversaw the process for a Voluntary Local Review. Thanks to her efforts, the Big Apple became the first city in the world to submit a Voluntary Local Review to the United Nations on its progress toward the SDGs, also known as the Global Goals.

The Global Goals — there are 17 of them — range from ending poverty and reducing violence, to eliminating hunger and reducing inequality, to protecting life on land and under water. They are aimed at achieving a peaceful and prosperous Earth by the end of the decade.

"Every year, around 50 countries voluntarily report on their progress toward the Global Goals. The United States has not yet committed to submitting a report, but I realized that New York City had all of the information we needed to do it, and that we had a lot to share and learn by participating as a municipality," she said.

The report garnered worldwide media coverage and won the 2018 Guangzhou International Award for Urban Innovation. Since its publication, multiple cities around the world have committed to submitting Voluntary Local Reviews in 2019 and beyond.

What has impressed Hiniker most about CMU is the university's commitment to learning what its faculty, students and staff are already doing in relation to the Global Goals, and how the university can do more to help the world achieve them.

Last September, Provost Jim Garrett launched the Sustainability Initiative to help CMU raise awareness of, and stimulate action on, the Global Goals. Working with the initiative's Steering Committee co-chairs and Advisory Council members, Hiniker is now leading CMU's effort for the Voluntary University Review.

"When I was applying for this job, it was clear from everyone I spoke with that the university is giving the Voluntary University Review a lot of thought and that there is a commitment at the highest level from the provost. I am excited to work in a place where people care and are committed and passionate about the Global Goals," she said.

The effort will culminate in a report on how CMU's research, education and practices align with the Global Goals.

"The Global Goals are universal. They are everyone's goals. Countries shouldn't be the only ones using this framework," she said. "Academia, local authorities, civil society, the private sector — we all have a role to play in this global agenda."

Prior to her work with the New York City Mayor's Office, Hiniker worked in a number of different countries around the world, including Laos, Cambodia and Lebanon. She is currently chair of the board of trustees of a nongovernmental organization that advocates for more funding to clear unexploded bombs and assist victims in Laos. The programs also help to ensure there is a plan for how the cleared land will be used afterward.

Her primary takeaway from that work is that local action gets the job done.

"The Global Goals are 'big picture' policies. It's important to have them to maintain focus, but the day-to-day action locally is really what has the most impact," she said. "Seeing firsthand the direct impact that these programs have on people and being able to help them move forward with their lives has had a profound impact on me."

In her free time, Hiniker loves to learn languages. She speaks fluent Polish and French, as well as basic Arabic and Khmer, and hopes to add a few more languages to that list through taking classes at CMU.

Hiniker has a bachelor's degree in international studies from the University of Chicago. She earned a master's degree in Central and Eastern European studies from Jagiellonian University in Krakow, Poland, and a master's degree in urban policy and leadership from Hunter College in New York.

She has a special place in her heart for both Pittsburgh and CMU. Her grandmother's family came to Pittsburgh from Poland and settled in the city's South Side neighborhood. Some of her family worked in the steel mills, and several of her classmates are CMU alumni.

"What inspires me the most about being at CMU is working in a place where there are so many people excited about learning and doing and figuring out solutions for the world's greatest challenges," she said.
Have a suggestion for Staff Spotlight? Send it to piperweekly@andrew.cmu.edu.