August 26, 2020
Bjorndahl Brings Passion for Pedagogy, Sense of Community to Fall Classes
By Caroline Sheedy carolines(through)cmu.edu
Many of Christina Bjorndahl's students know little about linguistics when they enroll in her courses, and Bjorndahl, special faculty in Carnegie Mellon University's Department of Philosophy, was once just like them.
"As an undergrad at the University of Toronto, I needed a credit to make sure that I didn't fall behind, so I took a course over the summer. The class was called 'English Words,' an elective in the linguistics department. I just fell in love," she said. 
Bjorndahl has witnessed the same thing happen to many of her students, especially in her popular Nature of Language class, a general education class that is part of CMU's Signature Course Initiative this fall.
"My goal when I teach is for students to get absorbed into linguistics and the university in such a way that their education is relevant to them, whether or not they pursue linguistics further," she said. "But I love when I am able to pique an interest in students and they change course to add a linguistics minor. I see this a lot in computer science students, for example, which doesn't surprise me because linguistics is the perfect union of mathematical thinking with psychology and humanity."
Bjorndahl joined the Department of Philosophy as an adjunct professor in 2014, while she was still finishing her Ph.D. at Cornell University. Since then, she has expanded the linguistics major through her development or co-development of six new course offerings. In her linguistics research, she studies the ways in which sounds are represented, either as physical objects or grammatical objects, and how those two things match up.
In 2018, Bjorndahl took on a new challenge: linguistic pedagogy, a field that is very new to the linguistics world. She said she hopes to make the strategies and techniques widely available to other instructors at CMU and beyond.  In support of this work, Bjorndahl is one of the inaugural members of the Linguistic Society of America's Faculty Learning Committee, an NSF-funded initiative focused on the Scholarship of Teaching and Learning. 
"CMU is an institution with many resources that allow me to pursue innovations in education that I would not be able to pursue elsewhere," she said. "Making that work broadly accessibly is imperative to me."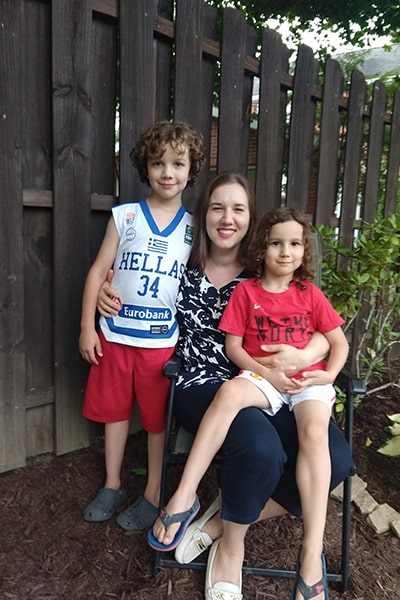 This semester Bjorndahl is teaching Nature of Language (for which she was awarded an Inclusive Teaching Fellowship from the Office of the Provost), and Words and Word Formation: Introduction to Morphology. Both classes will be taught remotely. Just as she would during a typical year, Bjorndahl will focus on building community among her students. 
"What I love about my students is that, in addition to being smart, they are extraordinarily independent. They are willing to throw themselves into their courses," Bjorndahl said. "I have to make sure they are able to pull back, have conversations with each other and engage with the material as a group­."
In addition to her CMU students, Bjorndahl will be making sure her 8-year-old son and 5-year-old daughter are learning as they, too, begin their school years online. Together with her husband, Associate Professor of Philosophy Adam Bjorndahl, she is optimistic about the upcoming school year, in spite of the challenges of balancing work and home responsibilities.
"Like in teaching, sometimes in parenting you have to figure out which learning objectives have priority," Bjorndahl said. "For our kids this year, that means some of the typical stuff they learn in school, along with a lot of playing in the dirt and running around, a healthy dose of TV, and also cooking, cleaning, gardening and other skills that will last a lifetime."
Pictured above is Christina Bjorndahl and her children, Anagnostis (left) and Athena.