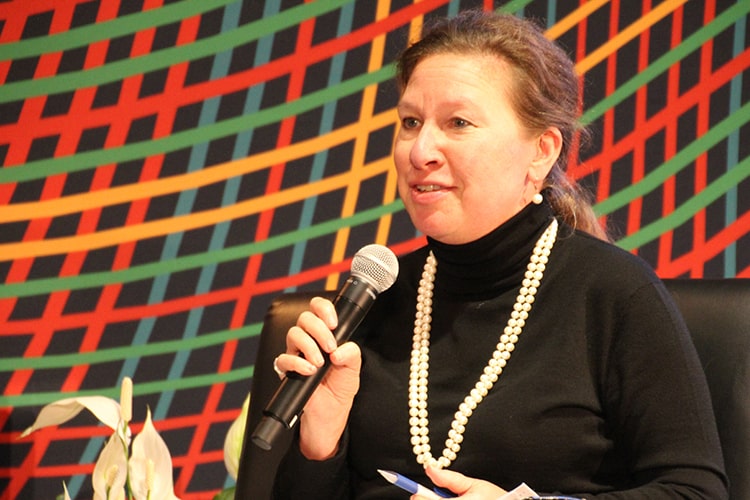 April 21, 2020
Mendelson Magnifies Relevance of Sustainable Development
By Kelly Saavedra ksolman(through)andrew.cmu.edu
Before the pandemic brought life as we know it to a virtual halt, Sarah Mendelson was raising awareness in the campus community of the Sustainable Development Goals (SDGs) to achieve a peaceful and prosperous planet by the end of the decade.
Today, she is even more convinced of their relevance.
"If the pandemic doesn't make the case for sustainable development, I don't know what does," said Mendelson, Distinguished Service Professor of Public Policy and head of the Heinz College in Washington, D.C. "The opportunities in terms of shifts in public policy are really enormous."
In case you missed it, January kicked off a global call to action to end poverty, protect the planet and ensure peace and prosperity for all people by 2030 using the 17 SDGs — also known as the Global Goals — as a guide. In concert with that call-to-action, Provost Jim Garrett announced a Sustainability Initiative to elevate Carnegie Mellon University's commitment to and involvement with the global goals.
By March, in many countries, Mendelson said, we were living through a collective action exercise not seen since World War II.
"For most of us, that means actively changing behavior and making sacrifices all together at the same time like never before in our lifetime," she said.
"This virus, like nothing else, has demonstrated just how much we are of one planet," she wrote  in a recent blog featured on Global Dashboard. "The concept that we are all global citizens is the bedrock of the Global Goals with its aim of a more peaceful, prosperous planet to benefit people through partnership."
Mendelson worked at the U.S. Agency for International Development during the Obama administration, where she led efforts to elevate human rights, democracy, and governance, as well as the issue of combating human trafficking. She joined the United States Mission to the United Nations (UN) as Ambassador to the UN's Economic and Social Council shortly after 193 member states agreed to the Global Goals framework.  That agreement in September 2015 followed years of engagement with millions of people around the world on what ought to be in the framework.  
"I was excited about the Global Goals. I did what I could to elevate them while in New York. But it was very clear to me when I was at the UN that, frankly, the role of the UN in achieving the Global Goals is fairly minimal," she said. "For these kinds of issues to become real, they need to be locally owned and rooted in communities."
Mendelson joined CMU in January 2018 after taking a year off to think about what she wanted to do.
"Serving more than five years in government, for me, was a long time. I didn't intend to go into government, and most of my professional life has been spent either in academia or think tanks, so having some time to hear my own voice again and understand my priorities after leaving government was really important," she said.
Throughout that year off, she kept coming back to young people and the importance of the Global Goals.
"What is personally motivating for me is that I see the Global Goals agenda as a way of refreshing how we do work on human rights," she said.
Mendelson serves as a co-chair on the Steering Committee for CMU's Sustainability Initiative along with David Dzombak, Hamerschlag University Professor and head of the Department of Civil and Environmental Engineering, and Steve Guenther, assistant vice president for Facilities Management and Campus Services and University Engineer. She is working with them and Alexandra Hiniker, the Sustainability Initiative's Executive Fellow, on some Zoom-friendly activities that will run from April 27 through May 15, called the "17 Rooms," in which students, faculty, and staff can sign up for a Zoom meeting and have the opportunity to learn more about the Global Goals and to share what work they are already engaged in relevant to a particular Global Goal.
"If we can galvanize public demand and political will, the pandemic might indeed offer the opportunity to build back better," she said. "Once we are up and out of the house, we will need to make this agenda accessible for a world that will need deep, profound and sustained recovery."