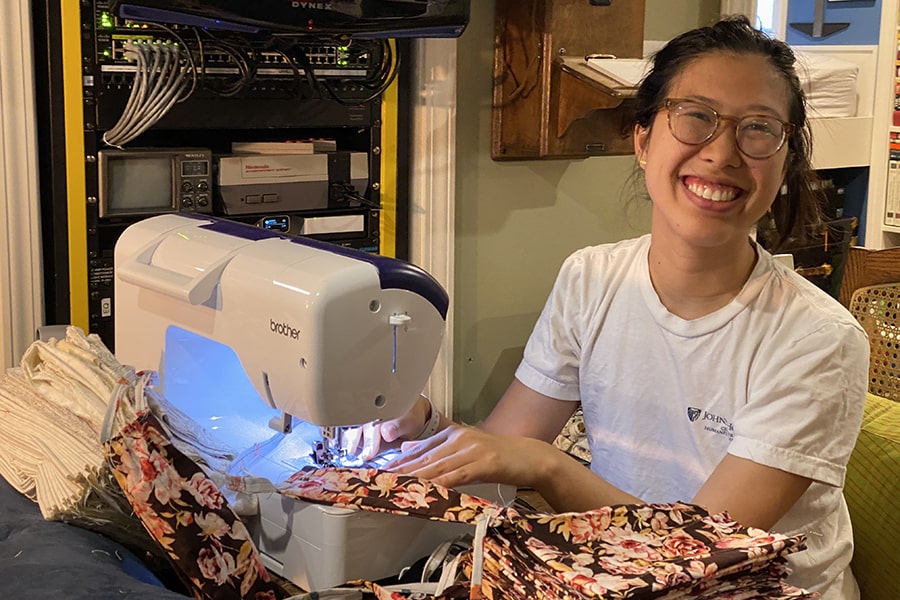 April 10, 2020
Stitching Together Help for Essential Staff
By Bruce Gerson bgerson(through)cmu.edu
In a crisis, Mr. Rogers said to always look for the helpers. You can find them at Carnegie Mellon University.
Amid the COVID-19 pandemic and the recent recommendation from federal and state authorities to wear face masks in public to help mitigate the spread, Angela Ng, Emily and Laurie Arch, and Nancy Hags have taken to their sewing machines to lend a hand. Together, they have produced more than 550 masks thus far. And they're still going strong.
Ng, a CMU alumna and program director for Student Engagement at Carnegie Mellon in Qatar, along with CMU Custodial Services Manager Emily Arch, custodian Laurie Arch and family member Sharon Myers, have made 400 cloth face masks for CMU custodians, maintenance workers, police officers and other essential employees. Ng, who is riding out the pandemic in Pittsburgh, plans to make 600 more in the next two weeks using material she purchased at Joann Fabrics and ribbon for ties instead of elastic, "which was sold out everywhere."
Ng connected with Facilities Management and Campus Services (FMCS) through a Facebook group of people sewing for health care workers in Pittsburgh. When she completed her first batch of masks, she posted a note on Facebook and received a comment that CMU's custodial staff needed them. 
"I decided that no matter where I was in the world, I could still do my part."— Angela Ng
"I walked right over and dropped them off!" she said. "I know how essential they are in keeping our community clean. I think what most people don't understand is that these essential workers can't just have one mask, they have to have multiple since it takes time to sanitize and wash them, and they might want to change it throughout a shift." 
Ng, who earned her bachelor's degree in civil and environmental engineering and biomedical engineering in 2016, has a master's degree in global disease and epidemiology and control from Johns Hopkins University. She was looking for a way to help.
"Johns Hopkins has been sending massive amounts of emails of how to help make PPE (personal protective equipment) in Baltimore, and it made me want to activate the CMU community. I decided that no matter where I was in the world, I could still do my part," she said. "I also recognized my privilege in having both time and the resources to be able to help. I wanted to make sure that I used my privilege to help others in need." 
Steve Guenther, assistant vice president for FMCS and University Engineer, said CMU has nearly 2,000 washable masks and 15,000 disposable masks ordered but a strained supply chain is holding up delivery.
"The donations of homemade face coverings for our front-line staff is one more example of the community pulling together in a time of crisis," Guenther said. "It was a great relief when we received enough homemade face coverings to ensure every essential worker could immediately comply with Pennsylvania Governor Tom Wolf's recommendation."
Hags, a former financial analysis manager for 26 years at the Software Engineering Institute, has made more than 150 cloth face masks for CMU staff working in the Division of Student Affairs, who are caring for the several hundred students who are still living on campus, and for the broader community serving essential roles.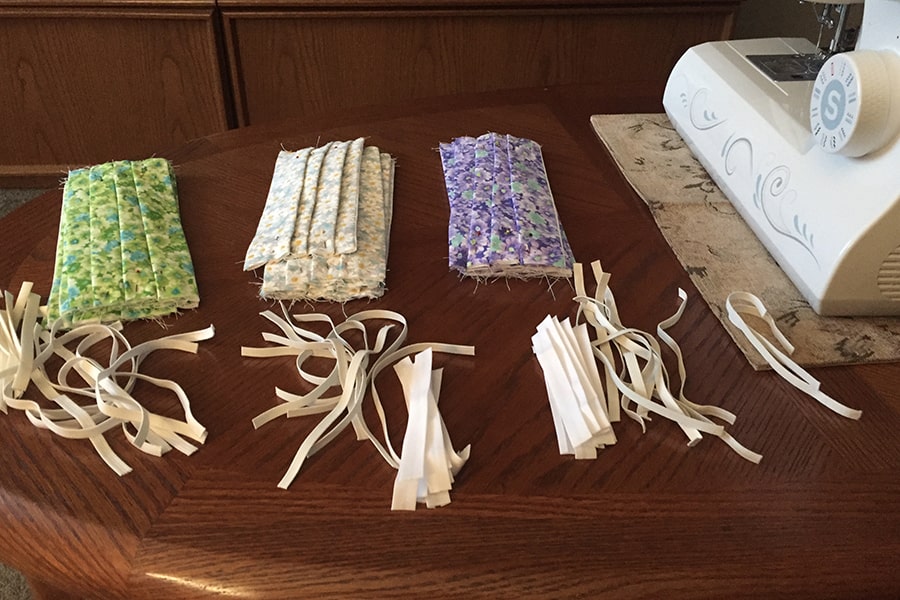 Nancy Hags has made more than 150 face masks for essential staff at CMU.
Hags, the mother of Lorrie Safar, director of the Office of the Vice President for Student Affairs, is a talented seamstress, who quickly offered support.
"I called my mom on Friday evening and shared that my CMU colleagues were in need of facemasks, and by Saturday morning she had already located an online pattern and her assembly line was officially started," Safar said. 
Hags used her supply of existing fabric and elastic and purchased additional fabric from Joann Fabrics. Tiia Torchia Lager, costume studio manager and senior creative professional in the School of Drama, donated additional elastic. The School of Drama's Costume Department also recently made 50 cloth face masks for CMU Police officers.
Operation Face Mask Pittsburgh
School of Art alumna Jenn Gooch began seeing reports about shortages of face masks and decided she'd sew a few to help out some neighbors in need. From those first few masks, Gooch formed Operation Face Mask Pittsburgh, a well-organized team of volunteers who cut, sew and deliver masks, as well as provide education on proper mask wear and care, to many of Pittsburgh's in-need but overlooked populations.
"I made a couple of tutorials on how to make masks and that exploded into me both making masks, as well as doing the material research to create masks that were washable and reusable," Gooch said.
Operation Face Mask Pittsburgh is now run by a board of seven volunteers who coordinate mask fabrication, material donations, requests and deliveries, along with other logistics. Around 50 volunteers make the masks and drive them to those in need.