September 04, 2019
News Briefs
CMU Night at the Symphony
 is Friday, Sept. 20
Carnegie Mellon University students, faculty, staff, alumni and friends are invited to come together for a performance and reception celebrating CMU's important partnership with the Pittsburgh Symphony Orchestra.
A reception will be held at 6:30 p.m. in the Garden Courtyard of Heinz Hall, followed by the PSO opening night performance at 8 p.m., featuring conductor Manfred Honeck and violinist James Ehnes in works by Mozart, Dvorak, Saint-Saens and Borodin.
Reserve your tickets by Sept. 10.
Tartan Express Truck Now Serving Fresh Mediterranean Kosher Menu
Carnegie Mellon's food truck, the Tartan Express, is now open, featuring Tahini by Elegant Edge, serving fresh, authentic Mediterranean cuisine, certified kosher by the Vaad Harabanim of Greater Pittsburgh. The menu features shawarma, vegan eggplant "shawarma" and falafel pita sandwiches, couscous and hummus bowls, and freshly prepared sides and salads including bourekas, tabbouleh, grape leaves, chickpea salad and zahtar pita fries. Offerings include a wide variety of plant-based, vegan options and menu items that can be prepared without gluten-containing ingredients.
The Tartan Express food truck is located in the Legacy Plaza between the Cohon Center and West Wing. The truck will serve lunch and dinner Monday through Thursday, 11 a.m. to 7 p.m., and lunch on Friday, 11 a.m. to 2 p.m.
Explore AndyEATS To See What's Cookin'
Explore the September AndyEATS events calendar to see what Dining Services' is cooking up this month, including food samplings, a pop-up smoothie bar, Taste of the Tartans and more! This week, check out the Kraft Heinz Back-to-School Carnival, and Discover Dining events at Rohr Commons, Pure, The Cohon Center Marketplace and The Underground.
New Art Exhibit, "Held Together," Unveiled in Tepper School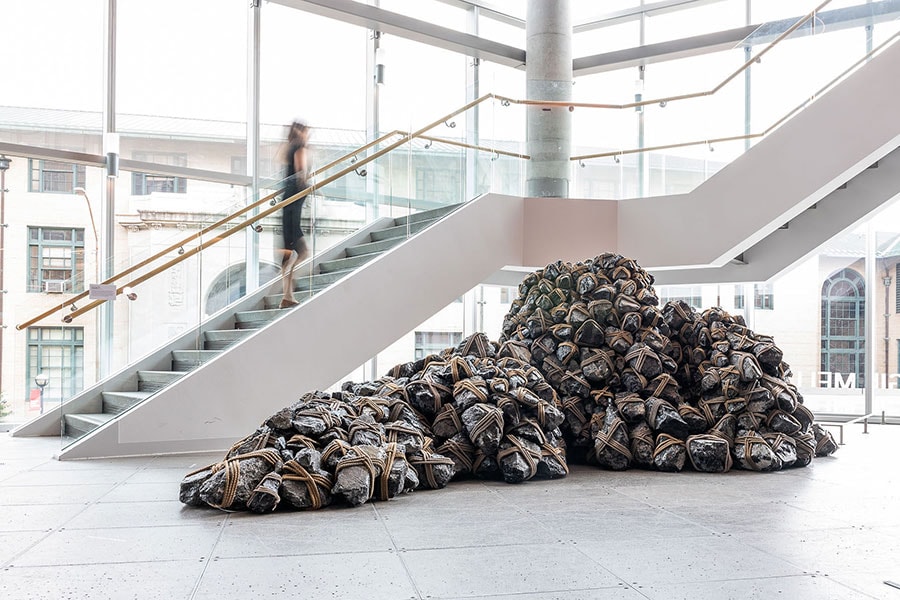 The Tepper School's Accelerate Leadership Center has partnered with the Miller Institute for Contemporary Art  to unveil a new art exhibit for Emergence, a rotating art installation series in the Tepper School's MBA Commons. Titled "Held Together," this sculptural exhibition created by artist Rachel Mica Weiss explores human relationships and boundaries — both physical and psychological.
Emergence launched last year as part of Accelerate's SHIFT programming, a series of interdisciplinary initiatives created to foster the development of empathy, ethical judgment, critical thinking and cultural sensitivity as an elective supplement to the center's required MBA leadership curriculum. "These exhibitions are meant to spark conversation and support in MBA students a greater sense of self and others," said Leanne Meyer, executive director of the Accelerate Leadership Center. 
Weiss' sculptures highlight her focus on transforming materials to challenge assumptions and expectations about material integrity. In this exhibit, she brings together material and visual languages to give form to the boundaries that define us and to demonstrate aspects of the human condition.

Emergence: Held Together will be introduced at an opening reception at 6 p.m., Tuesday, Sept. 18 in the Tepper Quad MBA Commons.  Find out more.
September is Fire Safety Month
The Environmental Health & Safety Department is hosting several activities and hands-on training exercises in September to highlight Fire Safety Month. The sessions will teach you what you need to know about fire safety and fire prevention.
Sept. 10
Hands-On Fire Extinguisher Training
12 – 1 p.m., 4 – 6 p.m., Merson Courtyard, Cohon Center
Rain location: Cohon Center Rotunda
Learn how to use a fire extinguisher. It could save a life!
Sept. 18
Fire Trailer Demonstration
1 – 3 p.m., Merson Courtyard, Cohon Center
See how quickly smoke can impair visibility and learn how to navigate a fire event.
Sept. 24
Documentary Screening: "After the Fire"
McConomy Auditorium, Cohon Center
12 – 1 p.m., speak with the creators Shawn Simons and Alvaro Llanos
4 – 6 p.m., screening
In "After the Fire," Simons and Llanos tell their powerful story of survival to reinforce the importance of fire safety. 
Questions? Send email to safety@andrew.cmu.edu
Free Flu Vaccine Clinics Begin Sept. 9

Once again, the university will offer flu vaccinations at no cost for faculty and staff members. The flu vaccine clinics will be hosted by the Office of Human Resources and administered by Giant Eagle Pharmacy.
Visit the Flu Vaccine Clinic Website for the clinic schedule. To obtain your flu vaccination, you will need to present your Carnegie Mellon ID card. While walk-ins are welcome, we recommend you schedule an appointment for faster service. 
As an added incentive, employees who are vaccinated at a mobile clinic are eligible to receive $5 off their next visit to Giant Eagle. You must present your Giant Eagle Advantage Card at the clinic to receive the $5 credit.