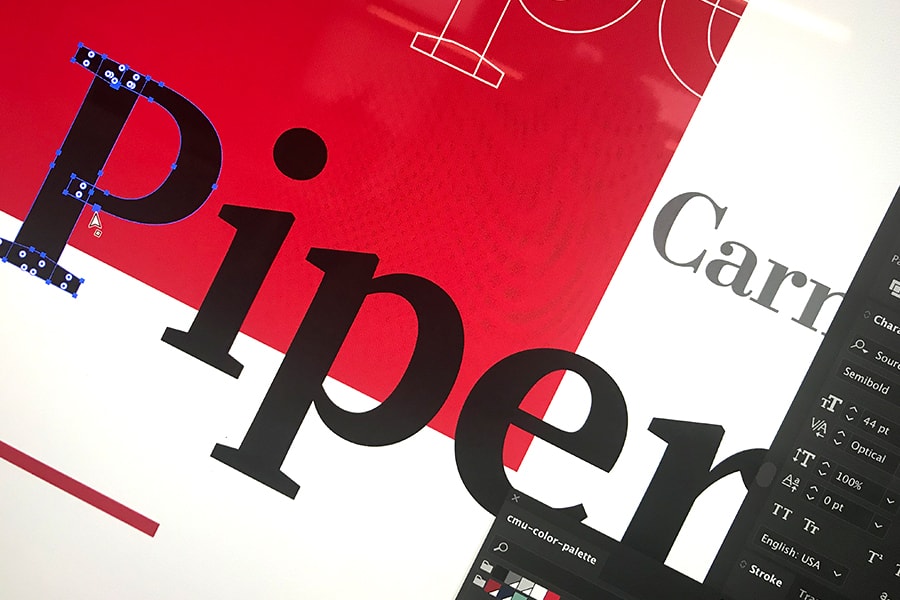 September 18, 2019
News Briefs
Piper To Debut New Look, Format
Beginning next week, the Piper will be playing in a different key.

Carnegie Mellon University's weekly newsletter for faculty and staff is getting an updated design on Sept. 26, its first since January 2017. The new look reflects the university's refreshed visual identity that will be fully released this week.

The Piper will feature a new masthead that incorporates the university's refreshed wordmark, higher quality images and a "Did You Know?" section that highlights a fun fact related to CMU's distinctive history and culture.

Analytics gathered from the Piper's new format, such as open rates and click-through rates, will help to inform content decisions moving forward to better serve our campus community and identify the stories and events that interest readers most.
Community Day a Time to Connect, Reflect and Have Fun
Carnegie Mellon's inaugural Community Day, designed to bring together students, faculty, staff and alumni to connect, reflect, restore and have fun, will be Friday, Oct. 25.
All classes will be canceled in Pittsburgh to allow the community to take part in a variety of activities, including a fireside chat with one of CMU's famous alumni, a presentation about lessons learned from the Life@CMU Project and opportunities to join discussions about the CMU experience. There also will be a free community picnic lunch, a showcase of Tartan talent with performances throughout the day, and plenty of other fun events and activities.
Community Day was initiated by the Task Force on the CMU Experience, which was convened in 2016 to closely examine the Carnegie Mellon experience and take action to enhance a community in which all members can engage, build resilience and thrive. Celebratory days like Founders Day and the Presidential Inauguration galvanized the Task Force's commitment to shape an annual tradition the entire campus community could adopt.
Newly Renovated Schatz Dining Room Is Open
Schatz Dining Room has re-opened to the community with a focus on culinary innovation, elevated service and a welcoming and flexible space. Schatz is open exclusively to faculty, staff and graduate students during lunch, Monday – Friday, and is open to all members of the university community for breakfast, dinner and brunch on weekends.
A summer-long renovation has resulted in a space transformation that features flexible seating, an inviting and updated space and a complete kitchen remodel, providing Chartwells' culinary team a state-of-the-art facility.  Schatz Dining Room features unique elements including a chef action station and Teaching Kitchen, a space for culinary programming where the CMU community can connect and learn in a dynamic, hands-on environment. The Teaching Kitchen program will offer food demonstrations and cooking classes with the goal of connecting the campus community to the food they eat and the people who passionately prepare it.
A grand opening celebration is being planned for Oct. 4. Find out more.
Provost Sets Office Hours for Students, Faculty, Staff
Provost Jim Garrett has announced he will hold open monthly office hours this fall to meet with students, faculty and staff on a first-come, first-served basis. No appointment is necessary.

"I invite you to use this time to tell me what's on your mind, and share your experiences, ideas and aspirations for Carnegie Mellon," he said in an email to the Pittsburgh campus community last week.

Office hours, below, will be held in the CCR East on the first floor of Warner Hall.

Wednesday, Sept. 25, 2:30 – 4 p.m.
Monday, Oct. 28, 1 – 2:30 p.m.
Friday, Nov. 15, 9:30 – 11 a.m.
Thursday, Dec. 12, 3 – 4:30 p.m.
Guidance for Addressing Non-Postal Service Campus Deliveries
With the increase in deliveries to campus buildings, and the addition of the Amazon for Business service, Carnegie Mellon Postal Services and Procurement Services are offering guidelines to help departments with campus deliveries.

When scheduling campus deliveries from private carriers and suppliers, such as catering companies, UPS and Amazon Business, Carnegie Mellon Postal Services requests you use your name, building name, room number and building street address according to the new master building list. A campus addressing system was developed by Property Accounting, Campus Design & Facilities Development and the City of Pittsburgh, which now has been incorporated into the new building identification signage, to help visitors, emergency responders and private delivery services navigate campus more easily.

The best practice for addressing deliveries is as follows:
Full Name: [ First and Last Name ] - [ Department Name ]
Address Line 1: [ Building Name ] - [ Room # or Dept. Mail Room # ]
Address Line 2: [ Building Street Address ]
when in doubt, consult with your department administrator for guidance
City: [ Pittsburgh ]
State: [ PA ]
Zip Code: [ 15213 ] unless otherwise noted on Master Building List
Phone: [ Phone number or department mail room phone number ]
Delivery Instructions: [ Signature required. DO NOT LEAVE PACKAGE UNATTENDED ]
Using 5000 Forbes Avenue for deliveries is only allowable for United States Postal Service (USPS) deliveries and if your department is housed in Warner Hall.

Procurement Services and the Postal Services staff have been working closely with Amazon to help improve delivery service. Work is also being done to improve the accuracy of Google maps. While many delivery services rely on their own navigation systems, the accuracy of Google maps is essential to all users navigating our campus.  
Remember that these guidelines for student mail and package deliveries remain the same – all mail and deliveries for students continue to go through the student mail box system.

For more information about campus deliveries and mail service, see the CMU Postal Services website. For questions or issues not covered on the website, you are encouraged to contact Postal Services staff at departmentdeliveries@andrew.cmu.edu.
Help Center Continues Sunday Support
The Computing Services Help Center will continue email support on Sundays through the end of the fall semester. Help Center consultants will be available from 9 a.m. to 5 p.m. to answer emails sent to it-help@cmu.edu.

Visit the Computing Services Help and Support (https://www.cmu.edu/computing/support) webpage for current hours; and the service board for real-time updates, 24/7.
Host Family Program Seeks Volunteers
Carnegie Mellon's Host Family Program for International Students in Pittsburgh is seeking faculty and staff volunteers to serve as hosts. The program is not a homestay program — rather, hosts and students agree to get together about once a month at convenient times. The program welcomes single people, couples or families.
Within the last two weeks, more than 160 new graduate students have applied for the program, so the need for hosts is great. 
Administered by the Office of International Education, the Host Family Program for International Students is part of a university-wide effort to enrich the student experience at Carnegie Mellon. The program gives international students the opportunity to explore Pittsburgh with their hosts, engage in meaningful dialogue, practice their English, and generally enjoy a connection to the city they might not otherwise experience. Many students feel more engaged with the university because of the personal, one-on-one interactions with their hosts.  As ambassadors, hosts enhance their connection to the university and enjoy getting to know talented students. 
For more information and to sign up as a host, visit the program website and click on the link titled "To Participate as a Host Family" for the application and release form.  Send questions to hostfamily@andrew.cmu.edu.