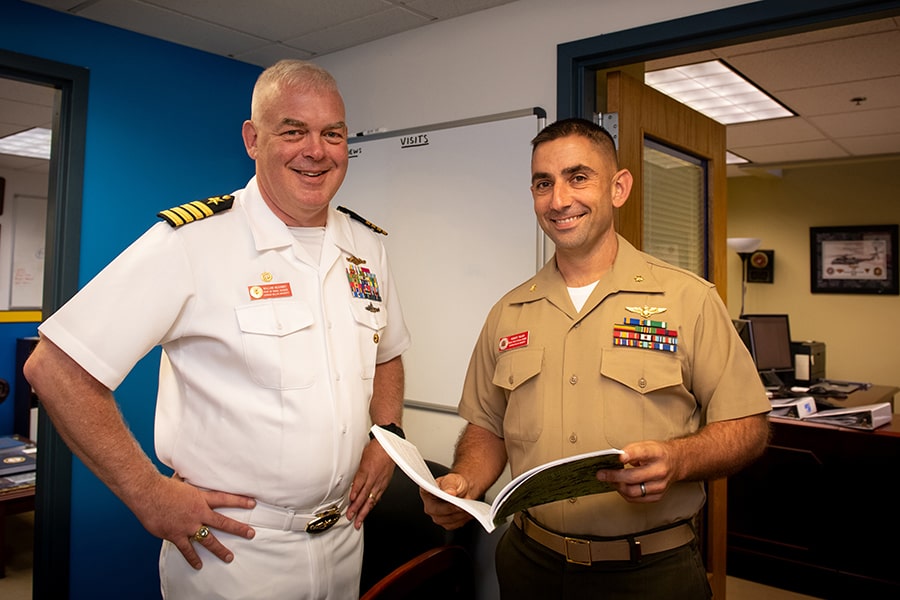 October 01, 2019
News Briefs
CMU's NROTC Program Welcomes New Leadership

Carnegie Mellon's Naval Reserve Officers Training Corps (NROTC) has welcomed two new top leaders. 
U.S. Navy Captain William McKinney is a new CMU faculty member who aims to develop close working relationships with members of the campus community to enhance the visibility of the NROTC program and its students' participation in campus life and events. "I have been extremely impressed with CMU, especially with the incredible faculty and their dedication to the students' success, and the fundamental commitment to cross-campus collaboration," McKinney said. McKinney is a career Submarine Warfare Officer in the Navy, having commanded two submarines. His last duty station was as the chief of staff for the Plans and Policy Directorate at the United States Strategic Command in Omaha, Nebraska. As a graduate of the United States Naval Academy and having served there as an instructor, mentor and coach, McKinney brings a new perspective to CMU's NROTC unit and a wealth of experience developing students into Naval Officers.
U.S. Marine Corps Major Robert Paugh, the NROTC program's new executive officer, is committed to raising awareness of the unit's functions and developing a sense of duty and compassion in future Navy and Marine Corps officers. Paugh has traveled the world supporting Marine Corps operations as a helicopter pilot. He earned a bachelor's degree in business administration from the University of San Diego and a master's degree in organizational leadership from Marshall University. His last duty station was as the Marine Heavy Helicopter Squadron 463 Aircraft Maintenance Officer and Director of Safety and Standardization.
Applications for ULS Co-Sponsorships Due Nov. 1
The University Lecture Series (ULS) is inviting applications for spring 2020 co-sponsorship events that complement and enhance the vibrancy of campus conversations on salient issues crossing disciplinary boundaries. ULS co-sponsorship aims to amplify important conversations occurring in departments, centers and student groups at Carnegie Mellon.

Due to high demand and limited funding, ULS co-sponsorship is shifting from a rolling application process. The submission deadline for spring co-sponsorship applications is Nov. 1. The ULS Committee will review and notify applicants of their co-sponsorship status no later than Dec. 1. Spring co-sponsored lectures will be announced in a campus-wide e-mail at the start of the semester with additional communication support of lectures provided by ULS.

Find out more information and apply for co-sponsorship on the ULS website.
Schatz Grand Opening Celebration Friday
Join Dining Services for the Schatz Dining Room Grand Opening Celebration from 4 – 6 p.m., tomorrow, Friday, Oct. 4. During this open house event, you can explore the updated space, meet Chartwells' chefs and registered dietitian, and enjoy a taste of the new menu highlighting local, sustainable and diverse cuisine. The sampling menu will include:
Butternut Squash Bisque;
Kale and Beet Salad with a Citrus Vinaigrette;
Coconut Curry Chicken over Basmati Rice;
Beyond Bratwurst on Pretzel Bun with Cauliflower Cheese Sauce and Red Cabbage Slaw; and
Cheesecake Tart with Pumpkin Spice Whipped Cream.
At 4:30 and 5:30 p.m., experience the new built-in Teaching Kitchen with Chartwells' chef Sarah and chef Taty, and learn how to carve a pumpkin, transform your pumpkin seeds into honey-toasted pepitas and whip up pumpkin spice whipped cream.

This event is free and open to all members of the Carnegie Mellon community. Find out more.
University Libraries Extend Hours of Operation
The University Libraries have expanded hours at the Mellon Institute Library, and the Roger Sorrells Engineering & Science Library to better serve the CMU community.

The Mellon Library, located on the fourth floor of Mellon Institute, is now open 24 hours, seven days a week to CMU affiliates with photo identification. Mellon Library visitors not affiliated with CMU can access the library Monday through Friday, 8 a.m. – 5 p.m. To visit the library, sign in at the Mellon Institute security desk, located inside the Bellefield Street entrance.

The Sorrells Library, located on the fourth floor of Wean Hall, is now open 24 hours, five days a week. When the library opens at noon on Sunday, it will remain open until Friday night at 9 p.m. without interruption. Saturday and Sunday hours can be viewed online. Around-the-clock library access is limited to CMU affiliates. A valid CMU ID is required to enter Wean Hall and Sorrells Library after midnight.

These extended hours are part of the Libraries' mission to ensure  the services and physical spaces of the Libraries enhance the quality of the student experience, allowing the community to interact with new technologies; to access collections; to engage with and learn from librarians; and to do their work, alone or in groups.

Please refer to the Libraries website for detailed building hours.
Today: MPM Program Hosts Information Session for CMU Employees
Heinz College's Master of Public Management (MPM) program will host an information session for CMU employees from noon to 1 p.m., today, Oct. 3, in Hamburg Hall 1214. 
The MPM part-time program imparts management skills and policy understanding, forging leaders of the future with the same Heinz College formula used in its full-time programs: Technology + Analytics + Leadership Practice = Career Impact. The part-time curriculum is flexible and accessible to busy professionals, allowing you to earn your master's degree in the evening in as little as two years. And because it's an on-campus program, you enjoy the vibrancy of learning with seasoned professionals from CMU and Pittsburgh's major sectors, allowing you to build diverse networks.
Is MPM the right fit for you? Join this relaxed session to learn more about the program curriculum, admission process and hear from current CMU employees in the program. A light lunch will be provided. Please RSVP.
Last Call for Faculty and Staff Benefits Survey; Deadline is Oct. 4
Each year, Carnegie Mellon reviews and updates its benefit programs based on faculty and staff feedback, market practices, competitive data and other factors. This input is used to inform CMU's faculty and staff benefits strategy.
To get your vital feedback on the programs and benefits that mean the most to you, the Office of Human Resources is asking all domestic, benefits-eligible faculty and staff to complete a confidential CMU Faculty and Staff Member Benefits Survey by Friday, October 4. 
All domestic, benefits-eligible faculty and staff received an email with instructions on how to access the online survey. The survey will take about 15 minutes to complete. As an added incentive, Aon, an independent consulting firm, will randomly select 25 survey participants to receive a $25 Amazon gift card. 
If you haven't already done so, please complete the survey today. If you have issues accessing the survey, please contact the Human Resources CMUWorks Service Center at 412-268-4600 or cmu-works@andrew.cmu.edu.
EH&S Offers CPR/AED Training Courses 
Environmental Health & Safety is offering several CPR/AED training courses for facullty, staff and students. All courses will be from 10 a.m. – noon in the EHS conference room.
Upon successful completion of the course, attendees will receive a CPR/AED certificate through the American Heart Association. Interested participants can register through BioRaft at https://cmu.bioraft.com/node/284547/sessions.
The training dates are:
Wednesday,  Oct. 9;
Monday,  Oct. 28;
Wednesday,  Nov. 6; and
Monday, Nov. 18.