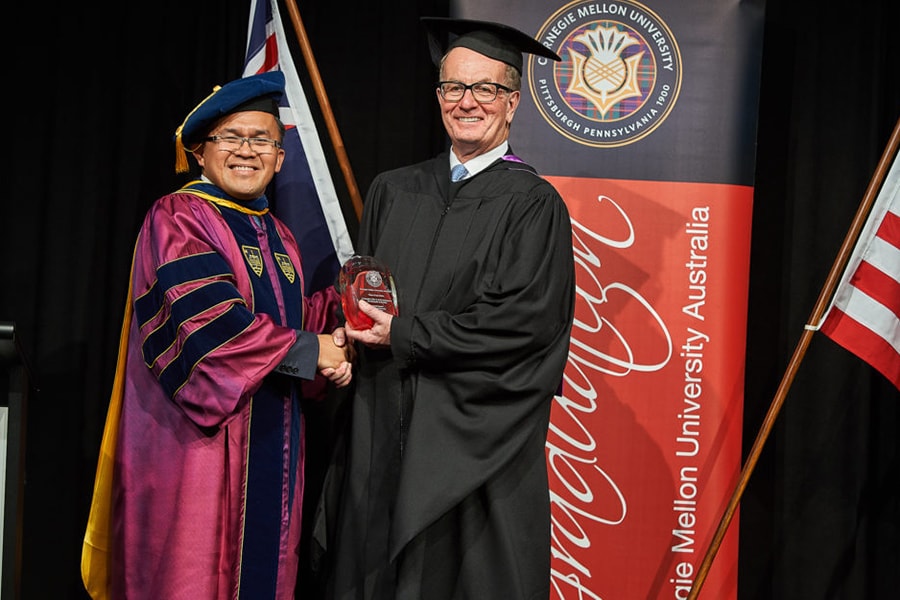 May 30, 2019
News Briefs
Ambassador Tells Grads To Adapt, Be Decisive
United States Ambassador to Australia, Arthur B. Culvahouse Jr., shared his keys to success at Carnegie Mellon in Australia's graduation ceremony on May 18. The keynote speaker also had one request . . . that the CMU-A ceremony count as one of his own graduations.
"When I finished my degree at New York University School of Law, when I should have been graduating, I was already in my new job in Washington ... so I never got to wear the robe!" he said.

Culvahouse implored the graduates to realize their full potential and to embrace their bright futures. He then shared his three keys to success — adapt, lead and be decisive.
"To make a difference in the world you must be decisive. The fast-paced changes of the modern world do not favor dithering. They favor decisiveness and fierce execution, relentless execution," he said.

CMU Community Day at Kennywood Park is June 8
Tickets are now on sale for this year's CMU Community Day at Kennywood Park on Saturday, June 8. New this year, employees may purchase up to four CMU FunDay tickets for $15 each (valid only on June 8), rather than only two tickets as in previous years.
Also new this year is the ability to purchase $10 food/vendor vouchers for only $5. You may purchase one food/vendor voucher for every $15 FunDay ticket purchased.  
You must present your own CMU ID to purchase tickets, and tickets must be purchased with cash only. There are no refunds.
Ice cream treats for everyone and prizes for children 10 and under will be given out from 1 – 2 p.m. in Pavilion #12. Airbrush tattoos will be available for children 10 and under from 12 – 2 p.m. in Pavilion #12.
Remaining Ticket Sale Dates:
May 30, Cohon University Center, 11:30 a.m. – 1 p.m.
June 4, Cohon University Center, 11:30 a.m. – 1 p.m.
June 5, Cohon University Center, 11:30 a.m. – 1 p.m.
June 6, Cohon University Center, 11:30 a.m. – 1 p.m.
June 7, Cohon University Center, 11:30 a.m. – 1 p.m.
CMU Community Day at Kennywood Park is presented by Staff Council. Find out more. 
Nominate Your Deserving Colleagues for the Andy Awards
Nominations for the Andy Awards, the university's staff recognition program, are now being accepted. Take the time to nominate your colleagues whose outstanding work is deserving of this special recognition. All materials must be submitted by July 8.
For more information on the awards program, including category descriptions and criteria, and how to nominate, visit the Andy Awards website at https://www.cmu.edu/andyawards/
Questions? Send email to AndyAwards@andrew.cmu.edu.
Kenner Room Creative, Educational Development Grants Now Open
The Kenner Global Languages and Cultures classroom is inviting faculty and students to apply for creative and educational development grants. Projects applying for funding should support the room's initiatives related to strengthening our communities understanding of global and cultural awareness. Multimedia projects should contribute original content to the room's resources. Proposals researching effectiveness of multimedia technology on intercultural competency development also will be considered.
Applications will occur through a two-stage process. Stage one will have applicants write a short proposal overview  due on Sept. 1 with feedback received within a week. Stage two will include a detailed proposal with specific funding requirements, learning outcomes, etc. These detailed proposals will be due on Sept. 15. Decisions and feedback will be rendered by Oct. 1. Find out more about the Kenner Global Languages and Cultures Room.
Register Your Child for SUCCEED High School Summer Program
The SUCCEED High School Summer Program for rising 10th and 11th grade students will be held July 8-12. Organized and run by Ph.D. students in the Department of Engineering & Public Policy, the free summer camp explores issues related to energy, climate change and the environment through activities, presentations, field trips and a final project. Breakfast, lunch and snacks will be provided for all students. The camp also offers students Port Authority bus passes for the week for transportation to and from campus.
Applications are reviewed on a rolling basis, and may be completed online. 
CMU To March in People's Pride Festival, June 9
CMQ+, Carnegie Mellon's LGBTQIA+ graduate student organization, invites the CMU community and friends to march in People's Pride 2k19, Sunday, June 9. People's Pride is a two-day, multi-venue festival celebrating the multifaceted power and strength of Pittsburgh's local LGBTQIA+ communities of color.
All relevant details are in the RSVP form, and once you RSVP, you'll receive updates on the event as they evolve.
Register Your Child for Gelfand Summer Outreach Classes
The Gelfand Center still has openings for its summer outreach classes. Spots are available for the Science and Engineering Sampler, Engineer Your World, and Air and Climate classes. There also are openings in the After Care program that takes place from noon to 4 p.m., Monday through Thursday. After Care is available with the morning class or just as an afternoon activity time on campus. A variety of physical and recreational activities are planned. The programs are for K-9 students. Classes are conducted June and July. Registration is first-come, first-served. To apply, register online.
Applications for ULS Co-Sponsorship Events Due June 14
The University Lecture Series (ULS) is inviting applications for fall 2019 co-sponsorship events that complement and enhance the vibrancy of campus conversations on salient issues crossing disciplinary boundaries. ULS co-sponsorship aims to amplify important conversations occurring in departments, centers and student groups at Carnegie Mellon.
Due to high demand and limited funding, ULS co-sponsorship is shifting from a rolling application process. The deadline for the first round of fall reviews is Friday, June 14. The ULS Committee will review and notify applicants of their co-sponsorship status after July 1. Though priority will be given to first-round applications, late-round applications will be accepted up until Friday, Aug. 9, with a status notification sent before Aug. 26. Fall co-sponsored lectures will be announced in a campus-wide e-mail at the start of the semester with additional communication support of lectures provided by ULS.
Find out more information and apply for co-sponsorship on the ULS website.