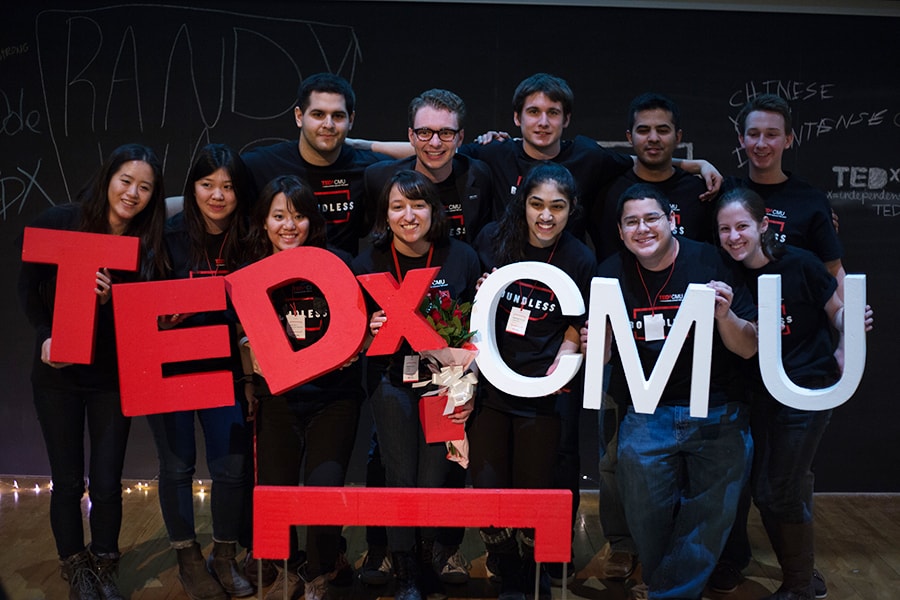 March 27, 2019
News Briefs
Feel the "Ripple Effect" at TEDxCMU Saturday
Carnegie Mellon's annual TEDxCMU event will be held Saturday, March 30 in the Cohon University Center's McConomy Auditorium. This year's theme is "Ripple Effect," which will explore the everyday minutiae that can cause lasting and propagating consequences.
TEDxCMU showcases Carnegie Mellon's talented students, renowned professors, and their world-changing research, as well as groundbreaking work of industry leaders. This year's speakers are:
Deepa Butoliya, an alumna of Carnegie Mellon's School of Design and an accomplished designer, educator and researcher. She will discuss the current and future states of how design decisions are made.
Rob Smith, founder of the Phluid Project who has played key executive roles in major apparel brands such as Nike, Victoria's Secret, and Macy's. He will discuss the historical role gender has played in clothing and gender fluid clothing can impact society moving forward.
Dr. Jelena M. Janjic, founder of the Chronic Pain Research Consortium at Duquesne University. She will address her research in nanotechnology and pain diagnosis and management.
Rana Sen, managing director with Deloitte U.S. who has led their smart city initiative and U.S. state/local transportation practices. He will discuss how we can use advancements in technology to create smart cities.
Jane Metcalfe, who is best known as the co-founder of Wired Ventures, the media company of Wired Magazine. Her talk will explore how modern technologies are transforming our brains, bodies, families and lifestyles.
Parker Felterman, a Carnegie Mellon sophomore majoring in drama (for directing), philosophy, and social & political history. His talk will reflect on the darker tendency of humans to condemn post-prison individuals even more so than our government.
Micah Rabin, a fourth-year student at Carnegie Mellon studying decision science and international relations and politics. She will discuss her research that centers around "consent," which was inspired by her internship at the Senate during the confirmation hearings for Supreme Court Justice Brett Kavanaugh.
CMU Salutes Graduate and Professional Students, April 1-5
Carnegie Mellon will celebrate the contributions of its graduate and professional students next week, April 1-5, with a full slate of activities showcasing their research, teaching and service to the university.
One of the week's highlights is "Innovation with Impact," an interdisciplinary exhibition of graduate student research and projects from across campus from 4-6 p.m., Thursday, April 4 in the Cohon Center's Rangos Ballroom. During the event, this year's Graduate Student Teaching and Graduate Student Service award winners will be recognized, along with this year's Three Minute Thesis Competition champion.
Find out more, including the full schedule of events.
Study Reshapes Understanding of How Brain Recovers from Injury
New research, which appears in the journal Proceedings of the Royal Society B, sheds light on how the damage in the brain caused by a stroke can lead to permanent vision impairment for approximately 265,000 Americans each year. The findings could provide researchers with a blueprint to better identify which areas of vision are recoverable, facilitating the development of more effective interventions to encourage vision recovery.
"This study breaks new ground by describing the cascade of processes that occur after a stroke in the visual center of the brain and how this ultimately leads to changes in the retina," said senior study author Brad Mahon, an associate professor at Carnegie Mellon and the University of Rochester. "By more precisely understanding which connections between the eye and brain remain intact after a stroke, we can begin to explore therapies that encourage neuroplasticity with the ultimate goal of restoring more vision in more patients."
The new research sought to understand the mechanisms of vision loss after stroke and whether it was possible to identify areas in the field of vision that could be recovered.
Swartz Center Innovation Fellows Program Seeks Applications
The application period is now open for the 2019 Swartz Center Innovation Fellows program. The program is offered to graduate students, postdoctoral fellows and young faculty — the research personnel working directly with faculty investigators on university research.
Along with entrepreneurial program content, specialized cohort activities and expert mentoring, Innovation Fellows receive a $50K contribution from the Swartz Center (with a $50K match from another source) to support the fellow's tuition, stipend or salaries and benefits in the process of commercializing university research. The deadline to apply is Friday, April 12. 
Contact Program Manager Melanie Simko with questions about the program.
EH&S Offers Fire Safety Courses for Faculty and Staff
The Environmental Health & Safety Department's fire safety team is taking its show on the road with two new course offerings for groups of faculty and staff. 
Fire Safety Best Practices
This course provides an overview of fire and life safety best practices within the workplace. The program can be tailored for a specific building or group and contains information covering various emergency situations and an overview for how to respond. Topics included in this training are: lockdown, shelter in place, how fire works, building design elements, and building specific information to help you respond during an emergency.
The one-hour agenda allows for a 40-minute presentation, followed by a 20-minute Q&A session. 
Fire Extinguisher Training
This classroom course includes a brief review of recommended actions during a fire emergency, the types of fire extinguishers found on campus and the fires they extinguish. Attendees will then take part in the practical use of a fire extinguisher with the use of a fire simulator. 
To request a session for your group, send email to safety@andrew.cmu.edu.
Save the Date: Take Our Daughters & Sons To Work Day is April 25
This year's Take Our Daughters & Sons to Work Day is Thursday, April 25. The program introduces girls and boys between the ages of 8 and 15 to what a parent or mentor in their lives does during the work day. The program also aims to show children the value of their education and make them aware of some of the many professions and fields they can pursue.
 
In the morning, the children "shadow" their campus host. Lunch includes a welcome from the campus community and entertainment. In the afternoon, participants can attend a variety of short presentations in areas such as the fine arts, business, robotics and science and technology. Each presentation features engaging activities facilitated by faculty, staff and students.