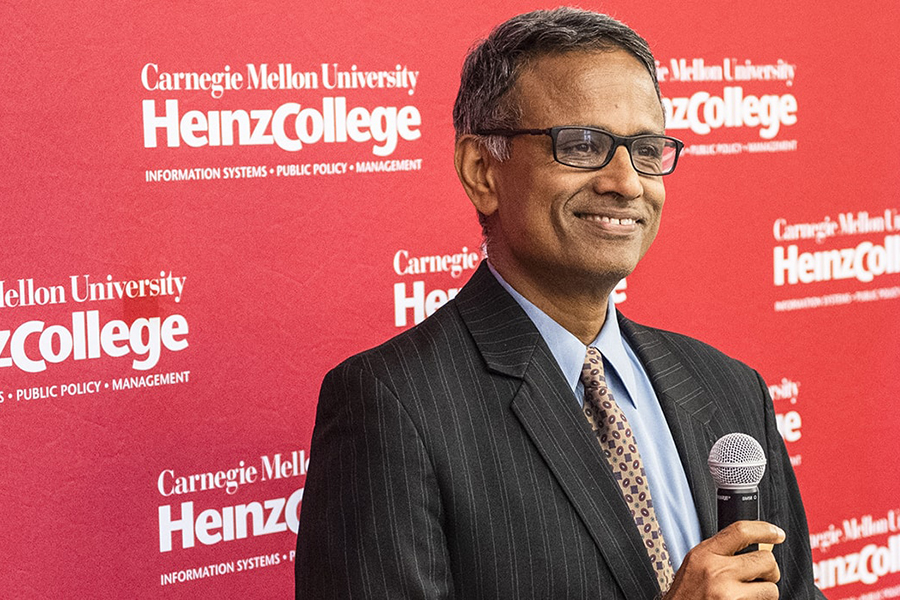 March 20, 2019
News Briefs
CMU Recognized as Charter Member of PIT-UN
New America, Ford Foundation, and Hewlett Foundation announced that Carnegie Mellon University has been selected as a charter member of the new Public Interest Technology University Network (PIT-UN), a partnership of 21 colleges and universities dedicated to building the nascent field of public interest technology and growing a new generation of civic-minded technologists.

Ramayya Krishnan, dean of Carnegie Mellon's Heinz College of Information Systems and Public Policy, will represent CMU as its designee within the network. In this role, Krishnan will share the latest developments in curriculum and experiential learning from CMU with 20 designated members from other universities. Each quarter, designees in the network will convene and discuss how each institution is working to build public interest technology, a field dedicated to leveraging technology to support public interest organizations and the people they serve.
Doctoral Students To Compete for 3MT Championship
Eight doctoral students, each of whom have won a preliminary round of competition, will explain years of research to a non-expert audience in under three minutes during the finals of Carnegie Mellon University's Three Minute Thesis (3MT). The championship round begins at 4:30 p.m., Tuesday, March 26 in the College of Fine Arts' Kresge Theatre.
The event, in its sixth year at Carnegie Mellon, started at the University of Queensland in 2008 and has been adopted by hundreds of institutions. University Libraries Dean Keith Webster, who brought the competition to CMU, will serve as host of Tuesday's finals. Read about the competitors.
CMU Launches Global Communication, Applied Translation Program
Translators increasingly are key players in multicultural teams. They act as facilitators of knowledge transfer for problem solving and communicators in highly sensitive situations.
Carnegie Mellon University is now enrolling students in a Master of Arts in Global Communication and Applied Translation Program that will launch in fall 2019. The one and a half-year program is designed especially for individuals interested in becoming translation professionals whose careers involve content generation and state-of-the-art translation technologies. Read more.
Obtain Clearances for Take Our Daughters, Sons to Work
If you are planning to volunteer for this year's Take Our Daughters and Sons to Work event on April 25, Staff Council and Human Resources will be hosting group clearances sessions. This will help to streamline the process for staff, faculty and students who need to get their clearances prior to volunteering for this event.

The group sessions have been divided into 3 blocks, each lasting approximately 30 minutes. You will only need to attend one block. A Google Form was created to help Human Resources accommodate session attendees. If you are interested in attending a group session, please complete the form prior to a scheduled session:

Session dates include:
Thursday, March 21, 3 p.m. to 5:30 p.m., Computer Lab, CFA 317
Monday, March 25, 12 p.m. to 2:30 p.m., Computer Lab, Baker Hall, 140C
Thursday, March 28, 10 a.m. to 12:30 p.m., Computer Lab, Cyert Hall, 100A

 
Please contact
act153@andrew.cmu.edu
, if you have any questions about the clearances.
Last Call: Register for Student Employee Appreciation Lunch
The Career & Professional Development Center is again sponsoring the Student Employee Appreciation Lunch from noon - 1 p.m., Tuesday, April 2 in the Cohon University Center's Rangos Hall. Plan now to host your student employees, and join them for lunch to celebrate the great work they do. At a cost of $7.50 per attendee, the lunch is a great way to say "Thanks!"
A buffet lunch will be served that includes vegetarian entrees. Entertainment will be provided by The Originals, a CMU all-male a cappella group. 
The deadline to register online is March 25.