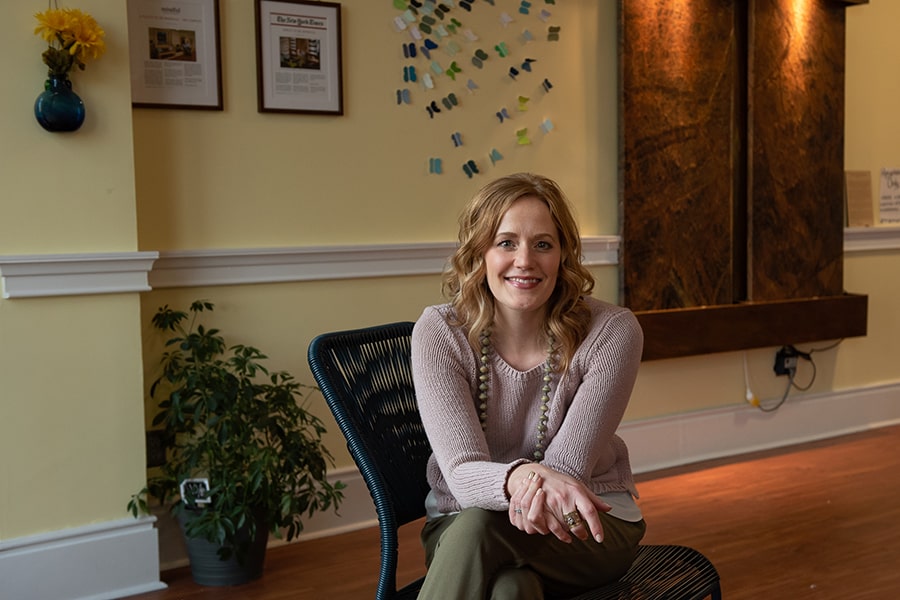 March 19, 2019
Lusk Moves More Toward Mindful Living
By Kelly Saavedra ksaavedra(through)cmu.edu
Angela Lusk is well aware that actions speak louder than words. 
So, as program director for Student Affairs Wellness Initiatives, it thrills her to see the Carnegie Mellon community not just talking about how much they value wellness but also investing time, energy and resources into enhancing wellness culture on campus.
"It's been exciting to see the needle move in this area. Wellness is now included in our strategic plans, and there are these incredibly reflective conversations happening in all pockets of the campus community on how we are moving this forward. In other words, what does wellness look like in the classroom? What does it look like in the adviser relationship? What does it look like for undergraduates, for graduates?" she said.
Lusk coordinates a wide variety of wellness programming and initiatives for the campus community and advises student-led wellness groups and projects. She partners with students, faculty and staff to strengthen or create opportunities for the growth and development of individuals and communities.                                                                      
One initiative she leads is the university's partnership with Headspace, a mindfulness and meditation app that is now a free resource to all current CMU community members. Studies show the benefits of practicing mindfulness and meditation range from reduced stress and increased creativity to better immune response and improved relationships.
"We have over 2,200 Carnegie Mellon members regularly using Headspace an average of three times a week, and we just reached over 300,000 minutes meditated via Headspace alone as a community. That's over 5,000 hours!" she said.
Lusk also advises the student team that manages the Mindfulness Room on campus, leading events such as Paws to Relax, guided meditations and a variety of workshops both inside and outside the space. 
"I facilitate about 40-50 wellness workshops over the course of each academic year, including training for student leaders, lectures embedded into different academic courses and several faculty- and staff-specific workshops on topics like healthy habit formation, mindful living in a busy world, gratitude, and resilience," she said.
Lusk enjoys thinking critically and collaboratively with people in the campus community about how to improve quality of life at Carnegie Mellon.
"It's really satisfying," she said. "It's also incredibly rewarding to see how we have enhanced the conversation to include not just our students but also faculty and staff."
She added, "I don't think you have to be the loudest voice or the most senior voice to have a really positive influence in this arena. I think if you have an idea, or some excitement around something, that there is ample opportunity to make an impact."
When she's not at work, Lusk enjoys venturing outdoors with her family and two rescue dogs and where they can connect with nature.
"Anything that gets us a little unplugged and out there, whether it's a live music concert, a picnic, a hike, that's usually where we are spending our time."