June 05, 2019
News Briefs
51 Receive Master's Degrees at CMU-Africa
Fifty-one students received their master's degrees in electrical and computer engineering and information technology during Carnegie Mellon University in Africa's graduation ceremony on June 2. Their degrees will help them play a significant role in leveraging information and communciation technology for socio-economic development in Africa as they pursue careers in both the private and public sectors. The new graduates join a network of 145 CMU-Africa alumni, 75% of whom work in Africa.
Speaking on behalf of the Government of Rwanda, the Hon. Minister of Education, Eugene Mutimura, renewed Rwanda's appreciation for being associated with CMU and for CMU-Africa's contribution toward the economic transformation of Rwanda and the continent as a whole.
"Nothing has greater socio-economic value than people equipped with the knowledge and values needed to achieve their full potential as individuals and to the benefit of society,"  said Mutlimura, who acknowledged the diversity of the students, as the graduating class represented seven nationalities.
Former College of Engineering Dean James H. Garrett Jr., who was attending his first CMU-Africa graduation in his new capacity as provost, recalled how exciting it was to open a campus in Rwanda. "It is remarkable and inspiring to see how the CMU community here in Rwanda continues to grow and thrive. We have completed construction on our new, 15-hectare campus in Kigali Innovation City, which will transform the CMU experience for students, faculty and staff of CMU-Africa."
Student speaker Nancy Lubalo noted several students' outstanding internship experiences at IBM Research in Nairobi and at the World-Bank in Washington, D.C. She said the graduating class broke the record for the highest number of students accepted into Ph.D. programs. 
"Never in my life have I met such resilience or been surrounded by people with so much desire to make Africa a better place," Lubalo said. "I wish you courage, joy, success, and I wish you adventures and mistakes to learn from. Don't try to get rid of fear. Accept that you will be afraid and do it anyway."
CMU Community Day at Kennywood Park This Saturday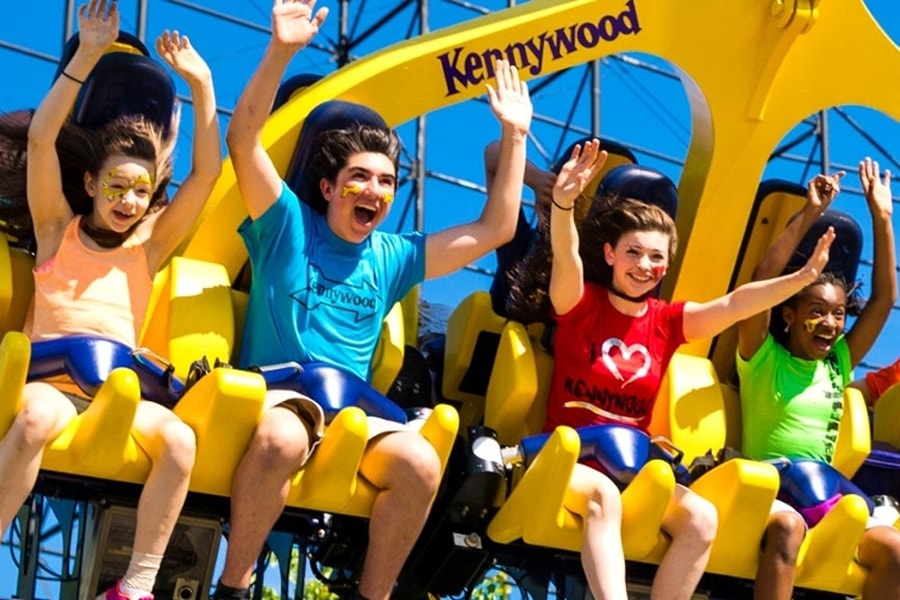 Today and tomorrow is your last chance to purchase tickets to the CMU Community Day at Kennywood Park this Saturday, June 8. New this year, employees may purchase up to four CMU FunDay tickets for $15 each (valid only on June 8), rather than only two tickets as in previous years.
Also new this year is the ability to purchase $10 food/vendor vouchers for only $5. You may purchase one food/vendor voucher for every $15 FunDay ticket purchased.  
You must present your own CMU ID to purchase tickets, and tickets must be purchased with cash only. There are no refunds.
Ice cream treats for everyone and prizes for children 10 and under will be given out from 1 – 2 p.m. in Pavilion #12. Airbrush tattoos will be available for children 10 and under from 12 – 2 p.m. in Pavilion #12.
Remaining Ticket Sale Dates:
June 6, Cohon University Center, 11:30 a.m. – 1 p.m.
June 7, Cohon University Center, 11:30 a.m. – 1 p.m.
CMU Community Day at Kennywood Park is presented by Staff Council. Find out more. 
CFA Names Staff Award Winners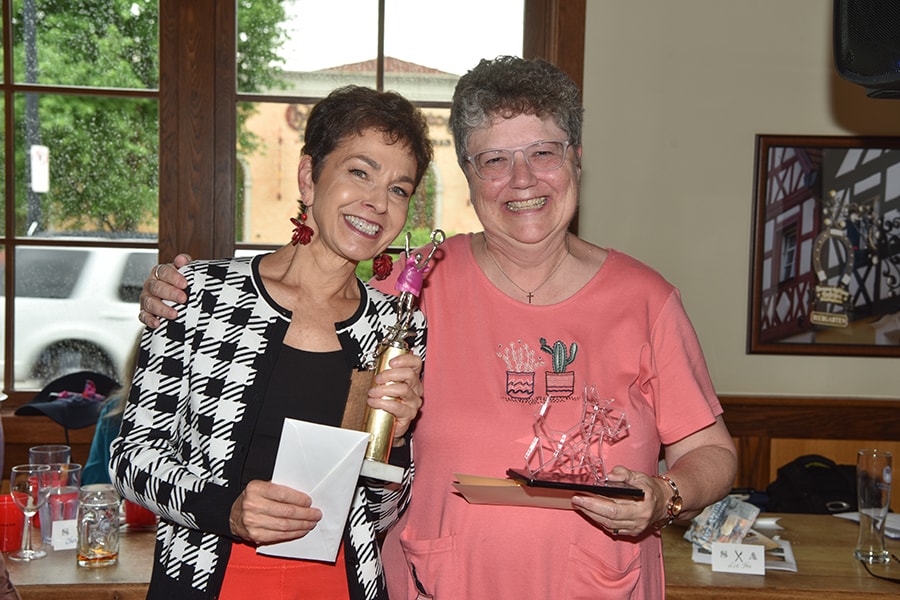 Spirit Award winner Melissa Cicozi (left) and Jane Ditmore, last year's Spirit winner. Cicozi also was honored for 30 years of service.
The College of Fine Arts recently presented its annual staff awards. The Henry Awards, named after Henry Hornbostel, the original architect of the Carnegie Mellon campus and a dean of CMU's School of Architecture, recognize CFA staff in five categories —  Rookie, Spirit, Creative Contributor, Unsung Hero and CFA Supporter.
And this year's winners are:
Rookie – Megan Grady, School of Music;
Spirit – Melissa Cicozi, School of Design;
Creative Contributor – Rich Kawood, School of Music;
Unsung Hero – Deborah Wilt, School of Design; and
CFA Supporters – Laura Kelly, Julie Mattera and Heidi Opdyke, Marketing and Communications.
Years of Service awards were presented to individuals for 20, 25, 30, and 35 years of service. Receiving service awards were:
Darlene Covington-Davis, School of Architecture, 35 years;
Patricia Pavlus, CFA Dean's office, 35 years;
Melissa Cicozi, School of Design, 30 years;
Wayne Savage, School of Art, 25 years;
David Randolph, School of Drama, 20 years; and
Ray Schlachter, School of Design, 20 years.
Journal Showcases Students' Work on Domestic, International Policy
The Institute for Politics and Strategy (IPS) and Center for International Relations and Politics (CIRP) have published its sixth edition of the CIRP Journal. Launched in 2013, the CIRP Journal showcases interdisciplinary research by Carnegie Mellon students.
While every edition contributes to literature in the realm of politics, each edition focuses on a unique topic, and this edition focuses on the decision-making behind both domestic and international policy. This issue features a large variety of topics, ranging from pressing domestic issues such as the opioid epidemic, to historical international issues that continue to be relevant today, such as immigration policy.
The journal demonstrates students' passion for interdisciplinary research that bears on current policy issues. Many of the students published in this journal and previous editions have gone on to work in the same fields about which they wrote for the CIRP Journal.
You can view an online edition of the journal on the CIRP website.
EH&S To Conduct Building Evacuation Drills
To practice fire safety awareness and preparedness, the Environmental Health & Safety Department will conduct evacuation drills in more than 35 academic and administrative buildings this summer.
During the 15-20 minute drill, please follow these directions when the alarm sounds:
Follow the directions of your floor marshal and proceed to the nearest exit.
Floor marshals should notify the nearest emergency official when everyone is accounted for, or if anyone is missing.
Remain with your group until the all-clear is given to return to the building.
Do not leave campus until the exercise has been completed.
Evacuation drills will be conducted between 9 a.m. and 12 p.m. and will follow the schedule below.
Tuesday, June 25
Hamburg Hall and Smith Hall
Collaborative Innovation Center
Wean Hall
Doherty Hall
Hamerschlag Hall
Scott Hall
FMCS-Physical Plant Building
Thursday, June 27
Porter/Baker Halls
Scaife Hall
Roberts Hall
College of Fine Arts
Margaret Morrison Carnegie Hall
Skibo Gym
Hunt Library
Monday, July 1
Gates/Hillman Center
Newell-Simon Hall
Purnell Center for the Artrs/Miller Gallery
Cyert Hall
Cohon University Center
Bramer House
Alumni House
Wednesday, July 10
Information Networking Institute
Software Engineering Institute
UTDC Building
Whitfield Hall
4721 Fifth Ave.
GATF Building
Friday, July 12
Integrated Innovation Institute
205 S. Craig St.
300 S. Craig St.
311 S. Craig St.
407 S. Craig St.
417 S. Craig St.
Monday, July 15
6555 Penn Ave.
National Robotics Engineering Center
Pittsburgh Technology Center
Questions? Contact Thomas Plietz, fire safety manager, at tplietz@andrew.cmu.edu.
Nominate Your Deserving Colleagues for the Andy Awards
Nominations for the Andy Awards, the university's staff recognition program, are now being accepted. Take the time to nominate your colleagues whose outstanding work is deserving of this special recognition. All materials must be submitted by July 8.
For more information on the awards program, including category descriptions and criteria, and how to nominate, visit the Andy Awards website at https://www.cmu.edu/andyawards/.
Questions? Send email to AndyAwards@andrew.cmu.edu.
Kenner Room Creative, Educational Development Grants Now Open
The Kenner Global Languages and Cultures classroom is inviting faculty and students to apply for creative and educational development grants. Projects applying for funding should support the room's initiatives related to strengthening our communities understanding of global and cultural awareness. Multimedia projects should contribute original content to the room's resources. Proposals researching effectiveness of multimedia technology on intercultural competency development also will be considered.
Applications will occur through a two-stage process. Stage one will have applicants write a short proposal overview due on Sept. 1 with feedback received within a week. Stage two will include a detailed proposal with specific funding requirements, learning outcomes, etc. These detailed proposals will be due on Sept. 15. Decisions and feedback will be rendered by Oct. 1. Find out more about the Kenner Global Languages and Cultures Room.
Register Your Child for SUCCEED High School Summer Program
The SUCCEED High School Summer Program for rising 10th and 11th grade students will be held July 8-12. Organized and run by Ph.D. students in the Department of Engineering & Public Policy, the free summer camp explores issues related to energy, climate change and the environment through activities, presentations, field trips and a final project. Breakfast, lunch and snacks will be provided for all students. The camp also offers students Port Authority bus passes for the week for transportation to and from campus.
Applications are reviewed on a rolling basis, and may be completed online. 
CMU To March in People's Pride Festival, Sunday
CMQ+, Carnegie Mellon's LGBTQIA+ graduate student organization, invites the CMU community and friends to march in People's Pride 2k19, Sunday, June 9. People's Pride is a two-day, multi-venue festival celebrating the multifaceted power and strength of Pittsburgh's local LGBTQIA+ communities of color.
All relevant details are in the RSVP form, and once you RSVP, you'll receive updates on the event as they evolve.
Register Your Child for Gelfand Summer Outreach Classes
The Gelfand Center still has openings for its summer outreach classes. Spots are available for the Science and Engineering Sampler, Engineer Your World, and Air and Climate classes. There also are openings in the After Care program that takes place from noon to 4 p.m., Monday through Thursday. After Care is available with the morning class or just as an afternoon activity time on campus. A variety of physical and recreational activities are planned. The programs are for K-9 students. Classes are conducted June and July. Registration is first-come, first-served. To apply, register online.
Applications for ULS Co-Sponsorship Events Due June 14
The University Lecture Series (ULS) is inviting applications for fall 2019 co-sponsorship events that complement and enhance the vibrancy of campus conversations on salient issues crossing disciplinary boundaries. ULS co-sponsorship aims to amplify important conversations occurring in departments, centers and student groups at Carnegie Mellon.
Due to high demand and limited funding, ULS co-sponsorship is shifting from a rolling application process. The deadline for the first round of fall reviews is Friday, June 14. The ULS Committee will review and notify applicants of their co-sponsorship status after July 1. Though priority will be given to first-round applications, late-round applications will be accepted up until Friday, Aug. 9, with a status notification sent before Aug. 26. Fall co-sponsored lectures will be announced in a campus-wide e-mail at the start of the semester with additional communication support of lectures provided by ULS.
Find out more information and apply for co-sponsorship on the ULS website.