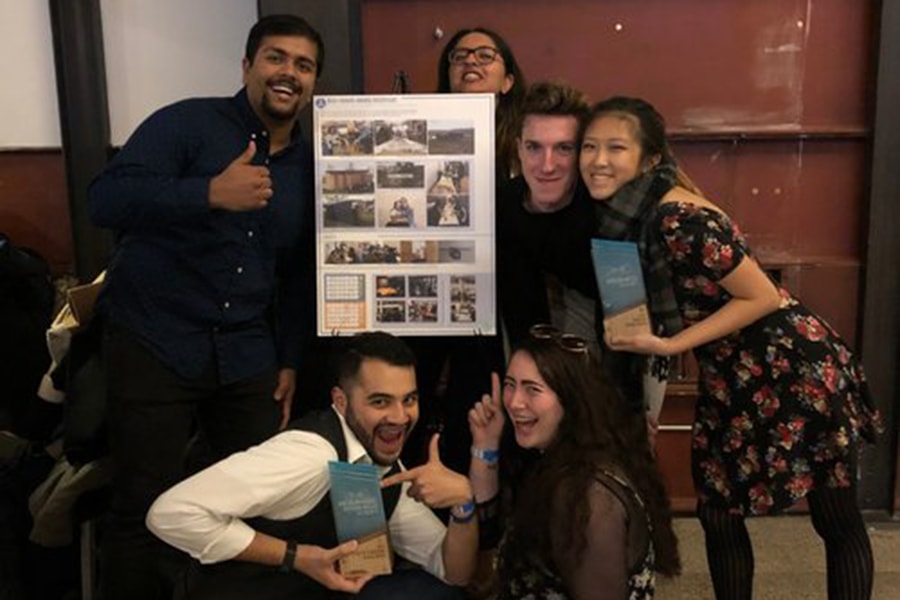 January 30, 2019
News Briefs
CMU AIAS Chapter Earns National Awards
Carnegie Mellon's chapter of the American Institute of Architecture Students (AIAS) was honored with several awards from the national AIAS organization this past year. CMU was named winner of the 2018 Chapter Honor Award and last year's chapter president, Zain Islam-Hashmi, was named winner of the 2018 Chapter President Honor Award.
Islam-Hashmi also was named a 2019 AIAS CRIT Scholar, a research-based program supported by the AIA that promotes student research and serves as an exclusive opportunity for students to receive further guidance in their own research from a professional adviser. The long-term objective is to encourage students to be actively involved in furthering architectural innovation in support of the design profession through mentored research projects embedded in academia and practice. The scholars will present their final projects at the CRIT Live: AIAS Research Symposia at CMU on March 30.
Students from the CMU AIAS chapter traveled to Seattle over the winter break to receive the awards during the Forum 2018 Conference. Find out more.
Prospective Students Get a Taste of Life at Carnegie Mellon
High school students around the world are about to make one of their most important decisions as a young adult — where to go to college. And with choices ranging from major courses of study to extracurricular activities, the decision can be daunting.
To help ease the pressure, Carnegie Mellon invited prospective students to campus for Celebration of Diversity Weekend, a weekend designed to introduce them and their families to everything CMU has to offer. From Saturday through Monday, they had the opportunity to talk with campus representatives from their major of interest, learn more about campus life, and even get a taste of college with an overnight stay hosted by a current student.
On Saturday evening, the prospective students and their families gathered for a reception where they heard from members of the CMU community.
"Little did I know then that attending CMU would be the most impactful decision of my life," said alumna Sasha Urquidi, who at 26 became one of the youngest vice presidents on a portfolio management team at Goldman-Sachs. "The people I would meet at Celebration of Diversity Weekend and my time here would come to be my best friends, my family away from home, and some of the most influential people in my life."
Alumni Awarded Advancing Black Arts in Pittsburgh Grant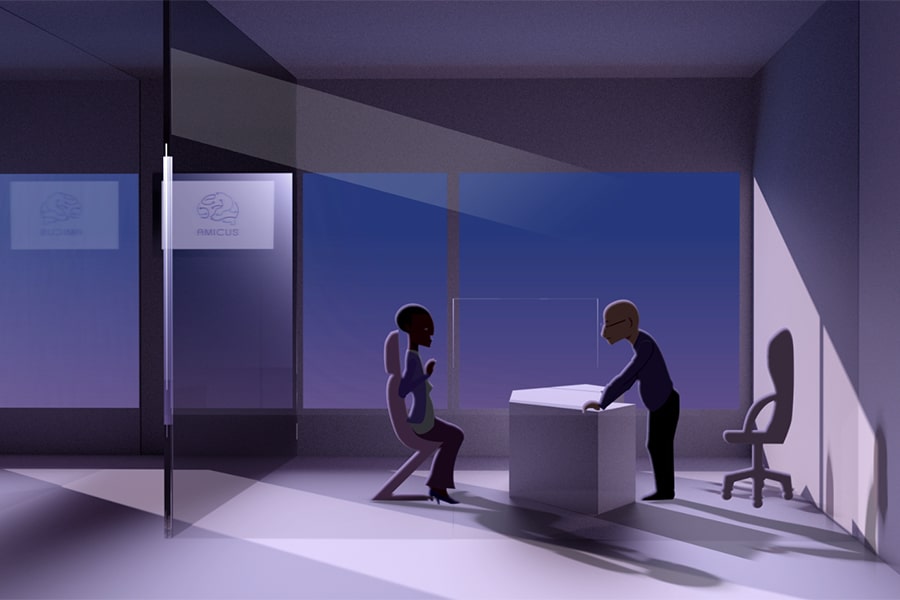 Carnegie Mellon's Kelli Clark and Andrew Edwards are among the recipients of the latest round of Advancing Black Arts in Pittsburgh grants. Clark, who graduated with a bachelor's degree of fine arts in December, and Edwards, a fifth-year scholar, will use the funds to further develop their animated film "Calypso."
Following a prestigious older black woman, "Calypso" confronts issues surrounding artificial intelligence, race, and the future of technology, stressing the importance of having minorities represented in tech corporations.
Clark and Edwards initially worked on "Calypso" as part of the Senior Studio course, and an initial version was exhibited at the annual senior exhibition. With the grant, they will bring accomplished actors and musicians into their project to further bring their story to life.
Relying on Karma: Why Outrage Doesn't Usually Result in Revolution
If you're angry about the political feud that drove the federal government to partially shut down, or about a golden parachute for a CEO who ran a business into the ground, you aren't alone — but you probably won't do much about it, according to new research by Carnegie Mellon's Tepper School of Business. 
The research, co-authored by Rosalind Chow, associate professor of organizational behavior and theory, and Jeffrey Galak, associate professor of marketing, outlines how people respond to two types of injustices: when bad things happen to good people, and when good things happen to bad people.
In the first instance — a bad thing happening to a good person, such as a hurricane devastating a town — human beings are reliably motivated to help, but only in a nominal way, according to the research. But the converse is not necessarily true: When the universe rewards bad people despite their rotten behavior, people are usually reluctant to do anything about it, even when they're angry at the unfairness of the situation.
That's because people often feel that the forces at play in creating the unfair situation are beyond their control, or would at least be too personally costly to make the effort worthwhile, Galak says. So, we stay angry, but often we settle for the hope that karma will eventually catch up.
Team Uses Drones To Inspect Irrigation Canals for Japanese Rice Farms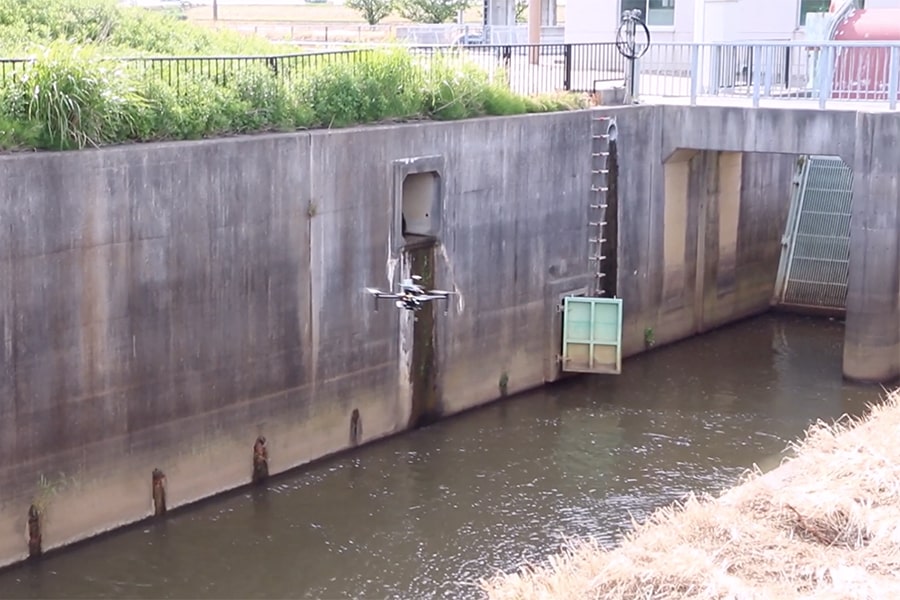 Mechanical Engineering Professor Kenji Shimada and his team of engineers are using drones to detect damage to agricultural water canals in a town in Niigata, an agricultural district on the northwest coast of Japan's main island. These canals are essential for the rice farming economy in the region and total approximately 40,000 kilometers throughout Japan.
Damage to the canals accumulates annually due to age, earthquakes and extreme weather. They can only be analyzed and repaired during the two-month dry season each year. Of these two months, one and a half of them are devoted to laborious inspection by technicians who walk along the canals to manually identify, measure and record damaged areas. This leaves only half a month for repairs.
"40,000 kilometers are equivalent to the equatorial circumference of Earth, and the manual labor for inspecting and evaluating the condition of water canals is enormous," Shimada said. "We automate the work by flying autonomous drones equipped with high-resolution cameras and detecting cracks and wear with machine learning algorithms."
Attention: Online Content Managers
If you manage content for a Carnegie Mellon website using the university's content management system (CMS), this is a reminder that Feb. 8, is the last day to access your preview site(s) to get familiar with the new interface before the CMS version 6 launch. Use your current credential to log in to preview your site(s). If you need help getting acquainted with the new V6 interface, review the Quick Start Guide. If you have any questions, please stop by the CMS team's office hours or email it-help@cmu.edu. For more information about CMS Version 6, visit cmu.edu/web.
Annual Recycling Contest Starts Feb. 3
RecycleMania, a competition and benchmarking tool for college and university recycling programs to promote waste reduction activities, begins Feb. 3, and runs through March 30. Over a 10-week period, schools report recycling and trash data, which are then ranked according to:
largest amount of recyclables per capita;
largest amount of total recyclables;
least amount of trash per capita; and
highest recycling rate.
Please recycle your office paper, bottles and cans, cardboard and compost where available. As a free service provided by Facilities Management and Campus Services, you can order a 95-gallon paper recycling bin by placing a service request with fixit@andrew.cmu.edu. Changes have been announced in some local recycling programs, but CMU is staying the course with the materials it has been collecting for recycling. Find out more. And remember, not generating waste to begin with, is a better choice than recycling!