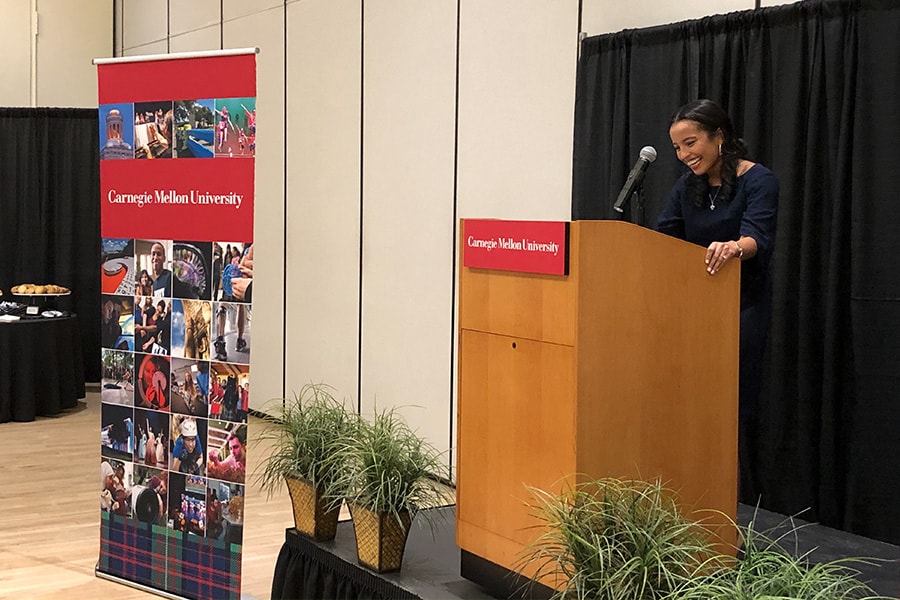 January 29, 2019
Prospective Students Celebrate Diversity at Carnegie Mellon
By Laura Kelly laurak(through)andrew.cmu.edu
Media Inquiries
Laura Kelly
Associate Director, Social Media
High school students around the world are about to make one of their most important decisions as a young adult — where to go to college. And with choices ranging from major courses of study to extracurricular activities to consider, the decision can be daunting.
To help ease the pressure, Carnegie Mellon University invited prospective students to campus for Celebration of Diversity Weekend, a weekend designed to introduce them and their families to everything CMU has to offer. From Saturday through Monday, they had the opportunity to talk with campus representatives from their major of interest, learn more about campus life, and even get a taste of college with an overnight stay hosted by a current student.
On Saturday evening, the prospective students and their families gathered for a reception where they heard from members of the CMU community.
"Diversity is a hallmark of a great university," said Michael Steidel, dean of Admission at CMU. "Carnegie Mellon's commitment to diversity and inclusion is an important part of the fabric of this institution. It's part of our strategic plan, and the commitment really comes from the highest levels of this institution."
Angela Campbell, executive director of CMU's Center for Student Diversity and Inclusion, welcomed students and emphasized why diversity is so important to the success of CMU.
"We are here because we believe that through diversity and inclusion, and through equity, we can build a better, brighter world," she said.
"Diversity is fun. Diversity allows us to mix things up and become multicultural. Diversity also serves a primary function in innovation, which is a key theme to what we do at CMU," Campbell said. "Our hearts are in the work, as Andrew Carnegie said. Our hearts are in the work of innovating and creating and building a world in which you will want to lead."
The students also got to hear from alumna Sasha Urquidi who was a senior in high school not too long ago. She told the audience about her prospective student weekend.
"Little did I know then that attending CMU would be the most impactful decision of my life," Urquidi said. "The people I would meet at Celebration of Diversity Weekend and my time here would come to be my best friends, my family away from home, and some of the most influential people in my life."
Urquidi, who at 26 became one of the youngest vice presidents on a portfolio management team at Goldman-Sachs, told the students about her academic journey at CMU, including studying abroad in Brazil instead of taking a summer internship with her future employer.
While at the time studying abroad seemed like a great idea, Urquidi doubted her decision when her peers began to get full-time job offers.
"Fast forward to November of that year. I'm in Brazil and I'm absolutely terrified because I don't have a full-time job lined up. All I could think was, 'Why didn't I take that summer internship? What is wrong with me?'"
Jennifer Frick, Urquidi's career counselor at the time, offered this advice.
"The experience abroad more than takes the place of an internship. Don't let your job search anxiety get in the way of having a fabulous experience in another country."
Urquidi said CMU thinks about students' development holistically, prioritizing life experiences above cookie cutter definitions for success.
She told students the work ethic she learned at CMU has led her to a seat at the table, where she is often the youngest person, only female and only person of color. Urquidi encouraged them to take the lessons in college and carry them throughout their lives, no matter what institution becomes their home for the next four years.
To learn more about Carnegie Mellon's admission process, diversity and inclusion initiatives, and more, visit https://www.cmu.edu/student-admission/index.html.