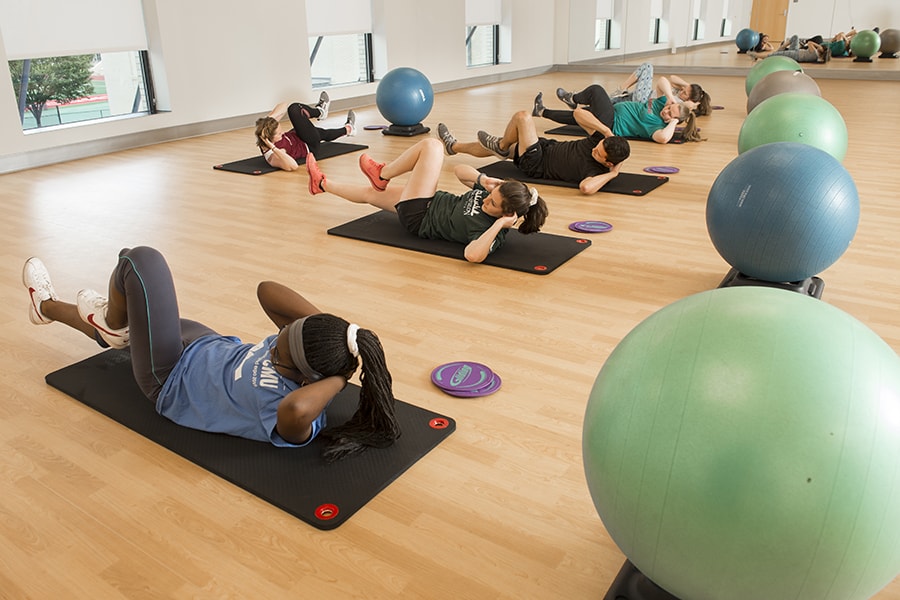 January 23, 2019
News Briefs
Fitness Challenge Begins Monday, Jan. 28
Having trouble getting started on your New Year's resolution to get fit? Here's a little motivation.
Carnegie Mellon's annual Fitness Challenge begins Monday, Jan. 28, and runs through March 20. During the six-week program, students, faculty and staff are challenged to exercise 20 minutes a day, four days a week. CMU's fitness centers and programs provide many options for you to meet the challenge. For example, you can lift weights, run or walk on the various cardio machines, play racquetball or basketball, swim or take a group exercise class. Remember group exercise classes are free for all members of the campus community. 
Register for the challenge and track your workouts on the challenge board in the Cohon University Center's second-floor hallway by the fitness studios. Prizes will be awarded March 20 in Danforth Lounge.
Questions? Contact Pattye Stragar at pls@andrew.cmu.edu.
CMU To Use State Grant To Support Green Dot Initiative
Pennsylvania Governor Tom Wolf has announced a $1 million grant for "It's On Us PA," a state-wide initiative to combat sexual assault at college campuses. Thirty-eight colleges across the commonwealth, including Carnegie Mellon, will receive funding to create or enhance programs ranging from campus-wide training for students, faculty and staff, to institutional campaigns to raise awareness of the reporting process and the resources available to survivors of sexual violence.
CMU will use its portion of the funding to further support its Green Dot initiative, a bystander intervention program that helps students, faculty and staff feel empowered to act to protect individuals from sexual intimidation and violence. The Health Promotion Unit within University Health Services at CMU plans to expand its reach across campus by training one-to-two Green Dot facilitators from each of the university's seven schools and colleges. The training aims to provide program participants with a more relatable and impactful connection to violence prevention. Funding also will increase the department's ability to evaluate the program's results and make further refinements.
Find out more about Health Promotion at CMU.
Annual Recycling Contest Starts Feb. 3
RecycleMania, a competition and benchmarking tool for college and university recycling programs to promote waste reduction activities, begins Feb. 3, and runs through March 30. Over a 10-week period, schools report recycling and trash data which are then ranked according to:
largest amount of recyclables per capita;
largest amount of total recyclables;
least amount of trash per capita; and
highest recycling rate.
Please recycle your office paper, bottles and cans, cardboard and compost where available. As a free service provided by Facilities Management and Campus Services, you can order a 95-gallon paper recycling bin by placing a service request with fixit@andrew.cmu.edu. Changes have been announced in some local recycling programs, but CMU is staying the course with the materials it has been collecting for recycling. Find out more. And remember, not generating waste to begin with, is a better choice than recycling!
Staff Sustainability Committee Takes to Twitter
To improve its campus communication, members of the Staff Council Sustainability Committee have created a unified Twitter account to distribute information relating to sustainability. The account will include recycling or energy-saving tips, composting information, green events and speakers, campus environmental organizations and initiatives, green research, alumni efforts in sustainability and varioius other types of information.
If you have sustainable information or news to share send it to dabneyg@andrew.cmu.edu or add it directly online. Follow the Sustainability at CMU Committee @sustainCMU.
Help Center To Continue Sunday Support Pilot Program
The Computing Services Help Center will continue a pilot program for both email and voicemail support on Sundays, from Jan. 27 through the end of the spring semester. Help Center consultants will be available from 9 a.m. to 5 p.m. to answer emails sent to it-help@cmu.edu, and voicemails left at 412-268-4357 (HELP).
"The pilot program follows a successful test last year," said Tiffany Frank, senior manager of the Computing Services Help Center. "And, we're adding voicemail support for urgent requests, so that university students, faculty and staff will have a same-day response to their computing needs on Sundays."
Visit the Computing Services Help and Support webpage for current hours, and the service board for real-time updates, 24/7.
Enjoy $6 Lunches at 16 Eateries During Oakland Restaurant Week
Sixteen eateries have teamed up to provide $6 lunches for six days, allowing patrons to save on lunch without compromising taste during Oakland Restaurant Week, Jan. 28-Feb. 2. Participants who take advantage of this deal also can enter to win free lunch for one month along with other great prizes from participating Oakland retail businesses. Participating restaurants are:
CHiKN - 3712 Forbes Ave.
Fuel & Fuddle - 212 Oakland Ave.
Golden Palace Buffet - 3607 Forbes Ave.
Hanami - 3608 Fifth Ave.
Hello Bistro - 3605 Forbes Ave.
Original Milano Pizza - 3606 Fifth Ave.
Pamela's Diner - 3703 Forbes Ave.
Pie Express - 148 Oakland Ave.
Prince of India - 3614 Fifth Ave.
Sciulli's Pizza - 3404 Fifth Ave.
Sorrento's Pizza - 233 Atwood St.
Stack'd Oakland - 3716 Forbes Ave
Sushi Fuku - 120 Oakland Ave.
The Garden Grille and Bar - 3454 Forbes Ave.
Thirsty Scholar - 3610 Fifth Ave.
Top Shabu-Shabu & Lounge - 114 Atwood St.
For more information regarding Oakland Restaurant Week, including the $6 menu options, visit www.OnlyinOakland.org. This event is funded by the Oakland Business Improvement District with additional support provided by Sustainable Pittsburgh.
Recognize and Nominate Your Exceptional Student Employees
Nominations are now being accepted through Feb. 17 for the Student Employee of the Year (SEOTY) Award sponsored by the Northeast Association of Student Employment Administrators and the National Student Employment Association. This is the 21st year that Carnegie Mellon is participating in this award program which recognizes the outstanding contributions of students who work on campus while attending college.
Acknowledge the work ethic and contributions of your exceptional student performers via an SEOTY nomination.  Complete the nomination form, save as a PDF, and attach in an email to Pati Kravetz at pk13@andrew.cmu.edu.
Nominees will be judged on reliability, quality of work, initiative, attitude and contribution to the department. Students should have a track record of producing quality work and communicating effectively with students, staff, faculty and/or parents. All nominated student employees will be recognized and honored at the Student Employee Appreciation Lunch on April 2. Each department that nominates a student employee for the SEOTY will be eligible to win a free breakfast for up to 25 staff and students. The winning department will be announced at the SEOTY lunch.
Register for University Libraries' Spring Workshops
The University Libraries' Spring 2019 Workshops are now open for registration. Workshops are available at no charge and are open to Carnegie Mellon faculty, staff and students. Seating is limited and registration is required. All workshops are held in the Den at Sorrells Library, located on the fourth floor of Wean Hall. Interested participants can view descriptions and register online for over 20 workshops, including Oral History 101, Introduction to Tableau and Introduction to 3D Printing at http://library.cmu.edu/workshops.
Swartz Center Seeks Teams for Spring I-Corps Program
Looking to jumpstart your business idea? The Swartz Center for Entrepreneurship is recruiting teams for its spring 2019 NSF Innovation Corps (I-Corps) customer discovery training program. Teams are open to CMU faculty, staff, students and recent alumni and can be reimbursed up to $2,500 for eligible expenses to assist researchers in commercializing their technology. Further details on the program and eligibility can be found online. There have been 125 teams in the program since fall 2014 and they have received more than $31 million in additional funding for their ideas. The application deadline for teams is Jan. 28 at https://bit.ly/2S7t0Wu.