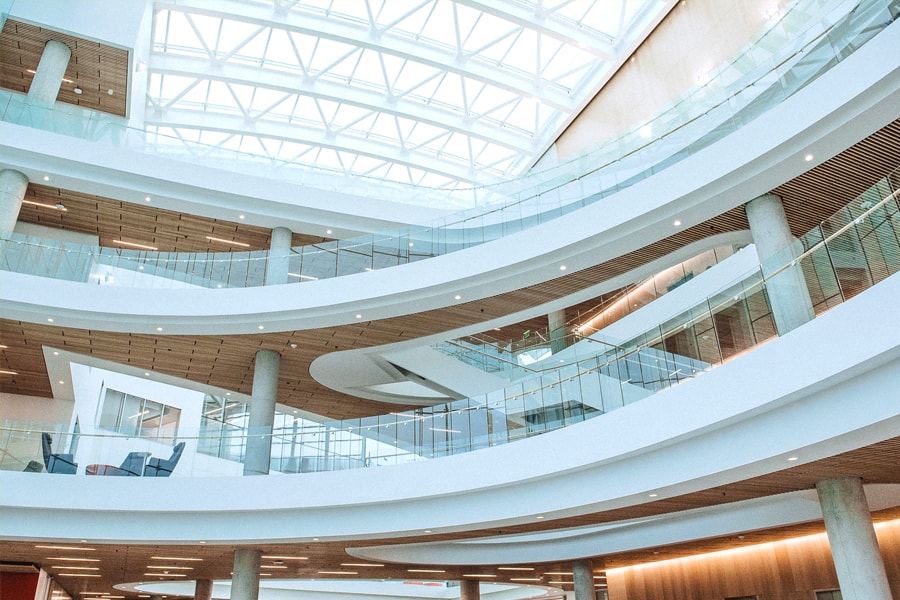 February 20, 2019
News Briefs
Tepper Building Wins Commercial Project of the Year
The Tepper School building recently won the Commercial Project of the Year Award from the Engineering Society of Western Pennsylvania. Honored at the annual awards banquet was the design team from Carnegie Mellon's Campus Design and Facility Development, Moore Ruble Yudell Architects & Planners, and construction manager P. J. Dick. The award noted the five-story, 315,000 square-foot building was completed on time and on budget. The society cited several of the building's features, including its 11,000 square-foot skylight above the atrium and its innovative BubbleDeck system, which used hollow plastic balls in the floor slabs, reducing the amount of concrete needed by nearly 25 percent and the building's carbon footprint by 30 percent. The Tepper building's BubbleDeck is the largest in North America and the first in Pittsburgh. The Tepper building also recently earned LEED Gold Certification for its energy efficiency and sustainability.  Watch the video.
CMU, Lockheed Martin Sign Research Agreement
Carnegie Mellon and Lockheed Martin have entered into a new master research agreement that will guide future joint research projects and enable the organizations to respond quickly to new opportunities.
Lockheed Martin and its Sikorsky subsidiary have sponsored research and supported student groups at Carnegie Mellon since 1986, including a wide range of projects in the School of Computer Science and College of Engineering. Like a number of leading companies, Lockheed Martin recently has expressed interest in partnering with Carnegie Mellon on research into artificial intelligence, which President Donald Trump declared a national priority in an executive order signed last week.
"Carnegie Mellon and Lockheed Martin have enjoyed a long, productive relationship, and this new master research agreement will help us expand and accelerate collaborations between our organizations on a range of important research topics," said Michael McQuade, CMU's vice president for research. "We are especially pleased that Lockheed Martin is joining our CMU AI ecosystem, advancing a technology that will be critical for our nation's welfare." Find out more.
Retirement Benefits Open Forum Set for March 7
Staff Council and the Office of Human Resources will host a Retirement Benefits Open Forum from noon to 1 p.m., Thursday, March 7 in the Cohon University Center's McConomy Auditorium.
The forum is open to employees of all ages who are interested in learning more about the benefits available to Carnegie Mellon employees after retirement. Members from the Human Resources Benefits team will be on hand to present a summary of benefits and address any questions.
To help prepare for the session, presenters are soliciting questions in advance. Please submit your questions by Thursday, Feb. 28.
If you have questions about the forum, please contact Kim Sestili or Lynn DeFabio, Staff Council Benefits Committee co-chairs, at ke26@andrew.cmu.edu or defabio@cmu.edu, or Shawn Graham, HR — Retirement Administrator, at shawngra@andrew.cmu.edu or 412-268-5077.
"Woman at War" Sneak Preview Friday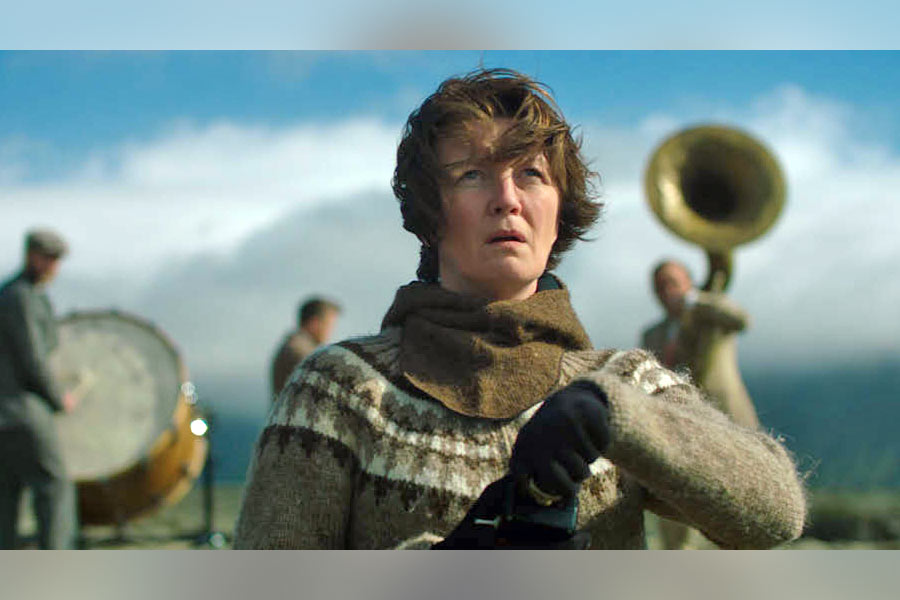 Carnegie Mellon's 2019 International Film Festival, "Faces of WO/MEN," is right around the corner, but movie buffs can view a sneak preview of "Woman at War" at 6:30 p.m. Friday, Feb. 22 in the Cohon University Center's McConomy Auditorium.
Winner of "Best Feature" at the 2018 Hamburg Film Festival and Iceland's 2019 Oscar selection for Best Foreign Language Film, "Woman at War" is the second feature film from Icelandic director, author and actor Benedikt Erlingsson. The film follows Halla, a 50-year-old choir director who leads a double life as a passionate environmental activist. Known as "The Woman of the Mountain," Halla wages a one-woman-war on the local aluminum industry. Her actions grow from petty vandalism to industrial sabotage, even halting official industrial negotiations. As she prepares her boldest operation yet, Halla receives some unexpected news that may force her to abandon her role as savior of the Highlands. In response, she decides to plot one final attack that will deliver a crippling blow to the aluminum industry. Find out more.
Buy a Reusable Mug, Get a Discount on Coffee All Year
Dining Services invites you to purchase a ScottySIPS reusable mug for only $14.99 in February — that's $3 off the regular price — and enjoy $1 and $2 discounts on coffee all year long when you use your mug at 11 participating dining locations on campus. It's a win-win situation — sustainable and economical.
EHS Launches Quarterly Newsletter
The Environmental Health and Safety (EHS) Department has published the first edition of its new EHS Quarterly, a newsletter that aims to keep the university community informed and up to date on safety-related information and programs. Each issue will cover a range of health and safety topics of interest, including laboratory safety, fire safety, workplace safety, hazardous waste disposal, upcoming safety training events and more.
The inaugural issue features:
The Floor Marshal program;
The new HazMat PCard;
A review of hazardous waste accumulation and disposal;
The new Energy Control Procedure (Lockout/Tagout/Tryout);
Important tips for avoiding distractions and walking safely both on and off campus; and
An introduction to two new hires within EHS – Nathan Newsom and Aaron Riddle.
EHS is committed to supporting a safe working environment for the university community, and fostering a culture of safety throughout the university. The EHS Quarterly is available on the EHS webpage.
Open House Lunch for Staff: Become a More Effective Writer, Communicator
The English Department's master's degree in professional writing (MAPW) program is hosting an open house lunch at 12 p.m., March 6 for staff members interested in this popular course of study to become a more effective communicator. The MAPW teaches professional students to create and execute verbal and visual information strategies (including print, online, social and multimedia) with the goal of preparing them for careers as writers, communication specialists and information designers. The deadline to apply for the MAPW progam this fall is April 30.
The open house lunch will be hled in the Dean's Conference Room, Baker Hall 145R. RSVP for the lunch by sending email to jackson1@andrew.cmu.edu.
Register for CPR/AED Training
CMU's Department of Environmental Health and Safety is offering a CPR/AED class at 10 a.m., March 5 in Rangos 2, Cohon University Center.
Attendees will learn how to recognize the signs of a sudden cardiac arrest, when to activate the EMS system, and how to do CPR. Hands-on training will enable those who attend this class to become familiar with an AED and to successfully operate it in an emergency. Training also teaches the operator how to avoid potentially hazardous situations. 
If you would like to attend the class, please register through BioRaft.
Volunteers Needed for Take Our Daughters & Sons to Work Day
CMU Staff Council is looking for staff, faculty, students and groups to present a session on what they do at CMU, a hobby or a topic of interest for Take Our Daughters and Sons to Work Day on April 25. Sessions are held from 1:15 - 2 p.m. and from 2:15 - 3 p.m. with groups of 10 to 20 children. More than 350 children participate, and these sessions provide them with an opportunity to explore, imagine, innovate and see the amazing CMU community and what it has to offer. If you are interested in presenting, please complete the online form. Volunteers are also needed to help the kids navigate around campus, as well as support event logistics.