December 04, 2019
News Briefs
Hamerschlag Hall Project Achieves LEED Gold Certification
The MakerWing project in Hamerschlag Hall, now home to Tech Spark, is the latest creative expression of CMU's Sustainability Initiative.
The 40,000 square-foot, complex, multi-phase renovation of the B and C levels in Hamerschlag Hall has earned LEED (Leadership in Energy and Environmental Design) Gold Certification from the U.S. Green Building Council for its sustainability and energy-efficient features. 
The project, which consolidated machine shops in mechanical engineering, chemical engineering, civil and environmental engineering, and electrical and computer engineering, provides a community space where students, faculty and staff from across campus can build and create to bring their ideas to life. The completed project includes machining, a wood shop and carbon fiber shops, and labs for electronics assembly, rapid prototyping, advanced manufacturing, micro manufacturing, micro-electro-mechanical systems and robotics, to name a few.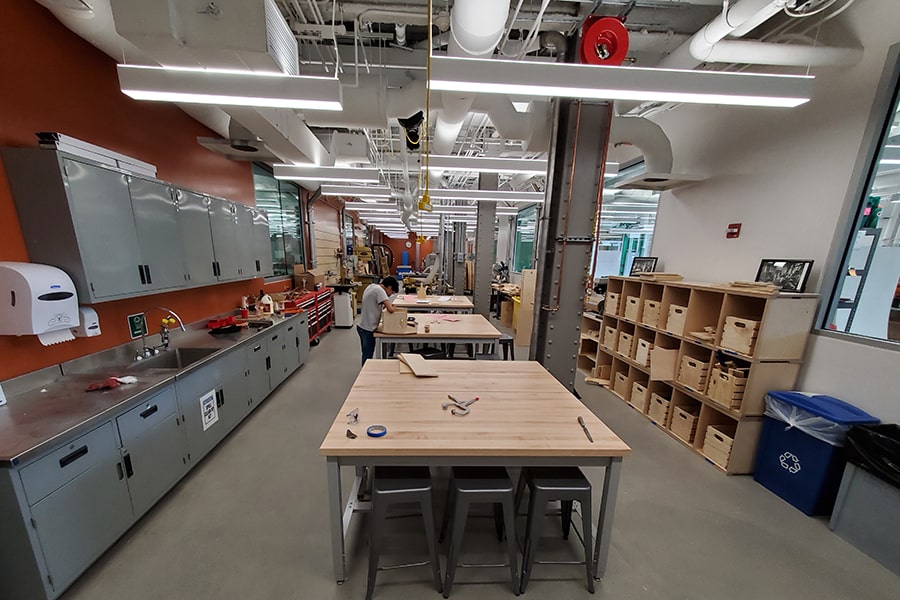 The MakerWing's wood shop.
Among MakerWing's green highlights are water efficient fixtures that reduce water usage by 30% over conventional levels; energy efficient heating and cooling systems that reduce energy consumption by 20%; energy efficient lighting that saves approximately 50% of electricity usage; and over 30% of the building materials were manufactured regionally and with recycled materials. 
The MakerWing is now among the more than 20 CMU buildings and renovation projects that have received LEED Certification.
Learn more about Tech Spark and CMU's Sustainability Initiative. 
Support the Children's School Book Fair, Dec. 7-13
Do your holiday shopping at the Barnes & Noble at the Waterfront and support the Children's School! The Children's School Book Fair will run from 10 a.m. - 2 p.m., Saturday, Dec. 7, and will feature activities, storytime and a concert. Can't make it that day? Any purchases made online at bn.com/bookfairs Dec 7-13 will benefit the Children's School when you use the book fair #12562096 at checkout.
Who's New at CMU?
Carnegie Mellon welcomes the following new staff members, who recently joined the university.   
Christina Grogan, Temporary Employment Service;
Felicia Lucot, social media producer, Marketing & Communications;
Ryan Pasko, training specialist, Finance Training and Communications;
Gary Russell, technician II, Robotics Institute;
Shay Badolato, event planner II, SEI, OCOS Communication Services;
Maria Deiuliis, MICV Lab Technician, MCS Dean's Office;
Suzanne Aleva, senior administrative coordinator, Electrical & Computer Engineering; and
David Blauth, transportation manager, shuttle/escort, Parking & Transportation Services.

Talk to the Provost Dec. 12
Provost Jim Garrett's last open office hour this fall is from 11 a.m. – 12:30 p.m., Thursday, Dec. 12 in the CCR East on the first floor of Warner Hall. No appointment is necessary; first-come, first-served.

Garrett has held several open office hours this fall. He encourages members of the university community to use the time to discuss what's on your mind,  and to share your experiences, ideas and aspirations for Carnegie Mellon. 
Last Call: Please Support Toys for Tots Through Dec. 13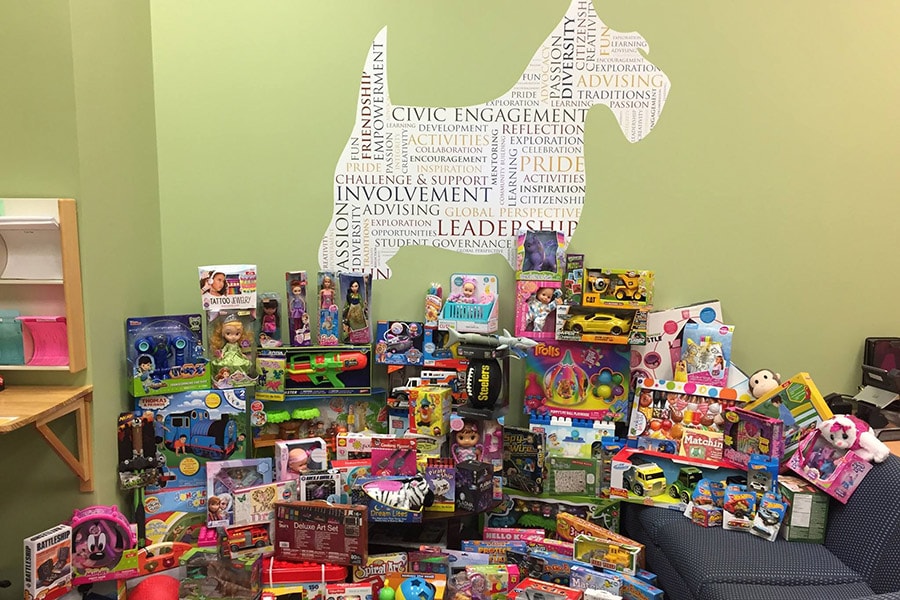 Carnegie Mellon Police and the Office of Student Leadership, Involvement and Civic Engagement (SLICE) are once again teaming up to support the U.S. Marine Corps' Toys for Tots program. The program collects new, unwrapped toys and distributes them as Christmas gifts to less fortunate children in the local area. New unwrapped toys can be dropped off at several locations around campus. You also can make a monetary donation to the program by dropping your gift in the cash box in Entropy in the Cohon University Center. Additionally, you can shop the Amazon Wish List and the toys you purchase will be delivered directly to the SLICE Office.
Donations are being accepted now through Friday, Dec. 13. The drop-off locations are:
University Police (300 South Craig Street);
SLICE Office (Cohon University Center);
CyLab (CIC Second Floor);
FMSB (Service Response Desk);
Wean Hall (Room 4212);
Pittsburgh Technology Center (Technology Drive);
Tepper Quad (3rd Floor Graduate Office);
Mellon Institute (3rd floor Security Desk);
UTDC (Henry Street);
Software Engineering Institute (Main Lobby);
Warner Hall (Enrollment Services);
Hamburg Hall (Room A-101);
Hunt Library (Main Lobby);
NREC (40th Street); and
Posner Hall (Room 150).
For more information, email the SLICE Office at slice@andrew.cmu.edu