August 21, 2019
News Briefs
CMU Honored for Supporting Military Guards, Reservists
Carnegie Mellon's Office of Human Resources has received the Seven Seals Award for its support of employees who serve in military guard and reserve organizations. The award is presented by the Employer Support of the Guard and Reserve (ESGR), a Department of Defense program that develops and promotes supportive work environments for military reservists. Employer support of employees who serve in the military reserve enhances retention rates in the Armed Forces and, ultimately, strengthens national security.
Receiving the award on behalf of CMU at the Aug. 8 ceremony in Annville, Pennsylvania, were Stephen McCarty, director of safety and security at CMU-Qatar (above, second from left), Human Resources manager Jamell Mihalik (center) and Richard Mundy, chief operations officer and associate dean of management and operations at CMU-Qatar (second from right). Pictured on the far left is Wesley Craig, state chair of ESGR, and at far right is Major General Anthony Carrelli.
Schatz Dining Room Opening Soon
The Schatz Dining Room, which has been closed for renovation this summer, is now in the final stages of its transformation and will be re-opening to the campus community soon. The anticipated opening is Wednesday, Sept. 18. 
The renovated Schatz Dining Room will offer a fast-casual restaurant experience, open exclusively to faculty, staff and graduate students during lunch, Monday – Friday. It will provide additional and flexible seating in a modern and updated space. The menu will feature upscale lunch entrées, a chef action station, made-to-order salads, soups and desserts. Schatz is open to all members of the university community for breakfast, dinner and brunch on the weekends.
A Schatz Dining Room Grand Opening Celebration is scheduled for Friday, Oct. 4. Find out more.
Tepper Building Earns American Architecture Award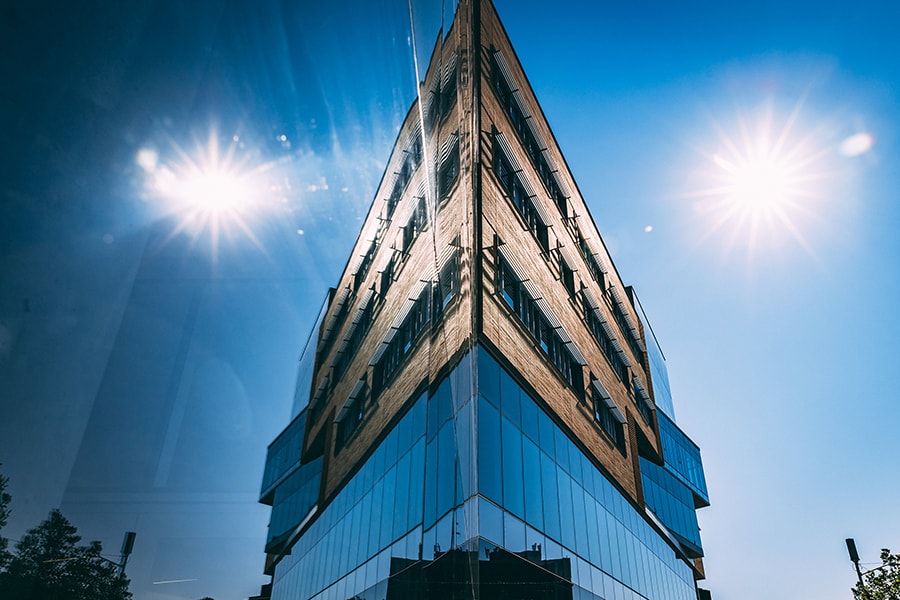 The Tepper School of Business building is among the projects receiving a 2019 American Architecture Award. Over 100 buildings are being honored for their design excellence and for their innovative contributions to contemporary American architecture. Now in its 25th year, the American Architecture Awards are organized by The Chicago Athenaeum: Museum of Architecture and Design, and The European Centre for Architecture Art Design and Urban Studies. They are among the nation's most prestigious public awards given by a non-commercial, non-trade affiliated, public arts, culture and educational institution. The Tepper Quad was designed by Moore Ruble Yudell Architects. Find out more.
Tuition Benefits Open Forum Sept. 5

Staff Council and the Office of Human Resources will host a Tuition Benefits Open Forum from noon to 1 p.m., Thursday, Sept. 5 in Rangos 1 in the Cohon University Center.
This forum is open to all staff members who are interested in learning more about the tuition benefits available to Carnegie Mellon staff members. Members from the Human Resources benefits team will be on hand to present a summary of benefits and address any questions. 
To help prepare for this session, we are soliciting questions in advance. Please submit your questions by Thursday, Aug. 29.
If you have questions about the forum, please contact Lynn DeFabio, chair of the Staff Council Benefits Committee,  at defabio@cmu.edu, or Becky McGhee, senior benefits administrator, at rmcghee@andrew.cmu.edu or 412-268-5076.
CMLH Seeks Applications for Fellowships in Digital Health
The Center for Machine Learning and Health (CMLH) is seeking applications for its 2020 Fellowships in Digital Health. Each fellowship provides one year of full support for a graduate student at Carnegie Mellon who is pursuing cutting-edge research that advances digital health, broadly defined. Full-time Ph.D. students with a primary research project related to digital health are eligible. Master's degree students are encouraged to contact the CMLH to determine their eligibility before they submit an application.
Applications that involve diverse approaches and disciplines that apply to health care, including machine learning, computer science, robotics, language technologies, computational biology, electrical and computer engineering, economics, psychology, sociology, public policy, business administration, law, human-computer interaction and statistics are welcome. Applications are due on Friday, Nov. 15. Find out more. 
Swartz Center Seeks NSF Innovation Corps Teams
The Swartz Center for Entrepreneurship is currently recruiting teams for its fall 2019 NSF Innovation Corps (I-Corps) customer discovery training program. Teams are open to CMU faculty, staff, students and recent alumni and can be reimbursed up to $2,500 for eligible expenses to assist researchers in commercializing their technology. Further details about the program and eligibility can be found online. There have been 139 teams in the program since fall 2014 and they have received more than $37 million in additional funding for their ideas. The deadline for teams to apply is Sept. 11 at http://bit.ly/cmu_icorps.