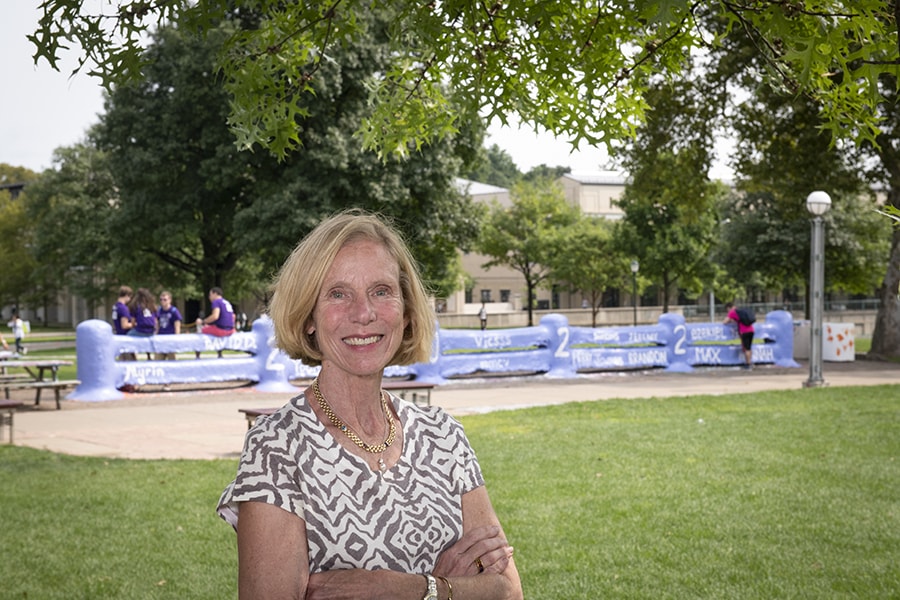 August 19, 2018
Witchner Has Led Orientation to National Prominence
By Bruce Gerson bgerson(through)cmu.edu
First-year Orientation at Carnegie Mellon University is synonymous with Anne Witchner.
Witchner, associate dean for Student Affairs, is the architect of Carnegie Mellon's nationally recognized, award-winning undergraduate orientation program. She started it from scratch in 1989, and has played a vital role in developing it into a program that's the envy of schools from coast to coast.
Before the shift to an on-campus orientation program for all new students, orientation was split between the Pittsburgh campus and rural, woodsy campsites in Butler outside of the city for up to 300 new students.
"When Michael Murphy became dean of Student Affairs, he allowed us to move in a different direction," said Witchner, a 1973 CMU graduate who earned a bachelor's degree in English. "All students needed to have a formal introduction to the university and be able to meet peers, upperclass students, faculty and staff. Our goal was to have students be excited about their new home, understand the CMU culture and what was expected of them."
Today, orientation has developed substantially and is now a comprehensive nine-day event with Witchner working alongside seven head orientation counselors and 250 orientation counselors, resident assistants and housefellows. About 200 academic, developmental, social, recreational and cultural events take place over eight days that aim to introduce students to their residential community, their academic studies, campus life and the Pittsburgh community. Hallmark events include Community Collage, Playfair, Making Your Mark, the Class Photo, Academic Convocation, Last Lecture discussions, House Wars, Community Service and Craig Street Crawl.
"Other schools aspire to have the program we have," said Witchner, who has been invited to speak about CMU's orientation at national and regional conferences. "Stanford, Princeton, Lehigh and Case Western Reserve have reached out to us to ask about how we have developed our orientation and involve so many constituents. And smaller schools have inquired about different components, such as details for setting up a class photo and how to integrate faculty and academic programming into the schedule."
Witchner credits CMU's culture and commitment to the student experience for elevating the program to national prominence.
"What also makes our orientation unique is the collaborative nature of CMU and our ability to leverage that asset by partnering with many departments and individuals who share a common goal," she said. "Where we have landed today with orientation is not just my vision. It is a shared understanding of the valuable role that orientation plays in the lives of our new students as well as their family members."
In addition to first-year orientation, Witchner, who joined CMU in 1977 as director of Student Activities, helped to develop several university-wide staples, such as the winter activities fair, the Senior Leadership awards, MLK Day programming, the Graduate Student Orientation, the Graduate Student Leadership and Service awards, and the Kiltie Band Holiday Concert.
"I came to CMU at the right time in terms of being able to — hopefully — have an impact. But it has always been the students who helped enable and create much of what I have been involved with," Witchner said. "I also was able to partner with others who recognized there were quality of student life issues that needed to be addressed."
Witchner, who earned her master's degree at the University of South Carolina and her doctorate in higher education from the University of Pittsburgh, will be relinquishing her formal duties as orientation director this year. Julie Schultz, associate dean of Student Affairs, and Gwen Stevens, coordinator of Residential Education for Orientation, will be leading the effort moving forward.
"But I'm not retiring. There are lots of places where I hope I can be of value," said Witchner, who plans to work on special projects within Student Affairs.
At last year's Andy Awards ceremony, Witchner was honored for her 40 years of service to the CMU community.
"It's been rewarding and humbling to be part of such a vibrant and diverse community," she said. "Being surrounded by the best and brightest students, and some of the best colleagues one could have has kept me young and on my toes. It has been a privilege to be part of this great community."
Have a suggestion for Staff Spotlight? Send it to piperweekly@andrew.cmu.edu.