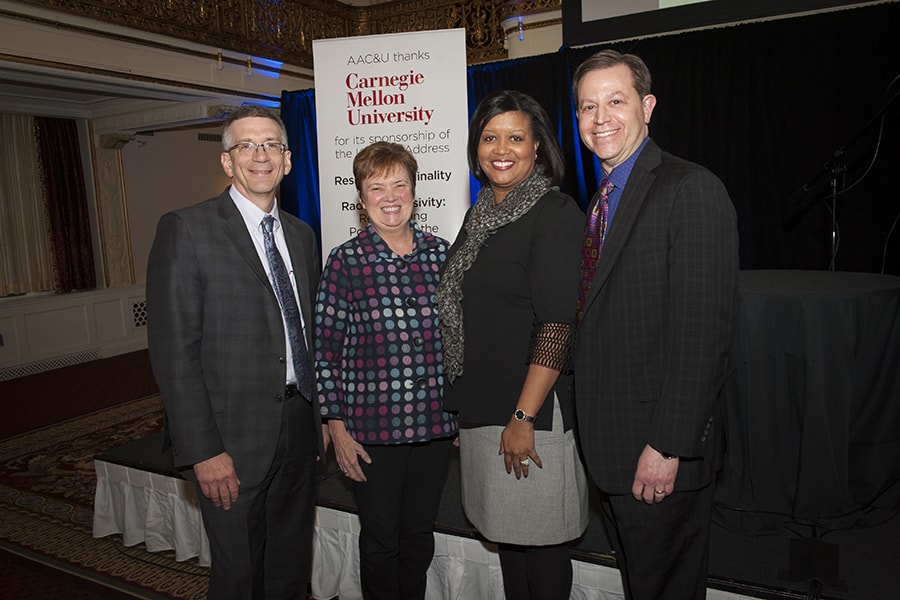 April 03, 2019
News Briefs
Garrett Extols Virtues of Inclusion at AAC&U Conference
Provost Jim Garrett spoke of Carnegie Mellon's commitment to diversity, inclusion and equity within the university community in his remarks at the Association of American Colleges & Universities (AAC&U) Conference in Pittsburgh last week. The conference theme was "Diversity, Equity and Student Success — Engaged Inclusivity: Perceptions, Realities and Aspirations." 
"Embedding the values of diversity and inclusion is critical to realizing the promise of higher education, and is, in fact, the purpose behind the founding of many of our institutions — Carnegie Mellon being one of them," said Garrett, who noted that Andrew Carnegie founded CMU to provide educational opportunities for the general public at a time when few existed.
He spoke about the benefits from a learning and working environment that includes different viewpoints and backgrounds. He said through interdisciplinary and multi-cultural collaborations and partnerships, a community can come together to solve problems more effectively. 
"The best results at our institution — and each of yours — can be derived at the intersection of different values and life experiences that are shared and respected," he shared with an audience of educators, students and administrators from the nation's top colleges and universities.
In closing, Garrett said diversity, inclusion and equity is an area at the forefront of improving CMU's learning and work culture.
"There are unlimited possibilities for us to discover, with so much for our students and colleagues to gain," he said.
Carnegie Mellon was a gold-level sponsor of the conference.
CMU-Africa Holds First Meeting of the Minds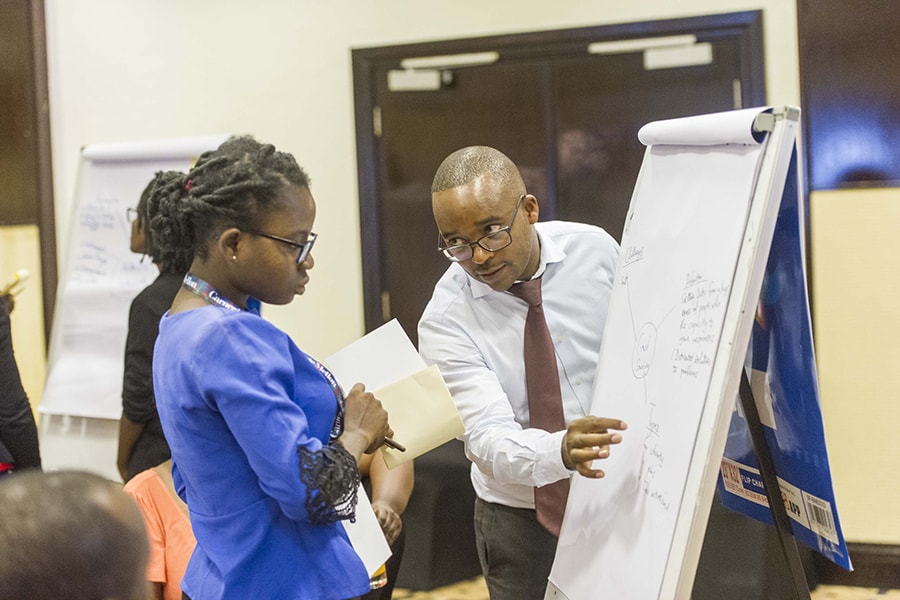 In partnership with the Mastercard Foundation Scholars Program, CMU-Africa in Kigali, Rwanda, held its first Meeting of the Minds in mid-March under the theme "Harnessing Africa's potential through research." Seventy participants from 18 countries and eight academic institutions explored ways in which academia can catalyze Africa's innovation economy through research with a specific focus on STEM innovations that can address problems and opportunities in Africa. The best research paper was awarded to Natalia Dambe of the University of Cape Town, second place went to Maxwell Aladagoa of Ashesi University  and third place winner was Hilary Muramira, an alumnus of CMU-Africa.
Watch the video and see the gallery of photos.
Register Your Child for Take Our Daughters & Sons to Work Day
Registration is open for Carnegie Mellon's Take Our Daughters & Sons to Work Day on Thursday, April 25.  This is the 26th anniversary of the National Take Our Daughters and Sons to Work program, and the theme is Workforce Development for All. Find out more about this year's tracks and sessions.
The Take Our Daughters & Sons to Work program introduces girls and boys between the ages of 8 and 15 to what a parent or mentor in their lives does during the work day. The program also aims to show children the value of their education and make them aware of some of the many professions and fields they can pursue.
 
In the morning, the children "shadow" their campus host. Lunch includes a welcome from the campus community and entertainment. In the afternoon, participants can attend a variety of short presentations in areas such as the fine arts, business, robotics and science and technology. Each presentation features engaging activities facilitated by faculty, staff and students. 
Volunteers Needed:  Members of the campus community are needed to assist with registration, serve as lunch aides, chaperone guided tours across campus, and monitor the children waiting to be picked up from the gym. The time commitment for each role is detailed below.
Registration volunteers are needed from 10:45 a.m. through about 12:15 p.m.;
Lunch aides are needed from 11:45 a.m. through 1 p.m.;
Guides are needed from 1 to 3:30 p.m.;
Session Presenters are needed from 1 to 3:30 p.m.; and
Monitors are needed at pick-up from 3 to 4 p.m.
Since these positions include direct contact with children as defined by the Pennsylvania Child Protective Services Law (as recently amended by "Pennsylvania Act 153") you will be required to obtain certain clearances prior to participating in the event.  Information about these clearances and how to obtain them will be provided in a separate message.
If you are interested in volunteering in any capacity, please contact Gloria Gruber at ggruber@andrew.cmu.edu or 412-268-9685.
CMU's Air Pollution Reporting App Goes National
Smell PGH, the smartphone app developed by the Carnegie Mellon's CREATE Lab that helps Pittsburghers report foul odors to health authorities, is going national with the help of Seventh Generation, an environmentally conscious household and personal care products company.
The Smell MyCity app is being rolled out in Louisville, Kentucky, with plans to do the same in Portland, Oregon, later this year. The free app is available from Apple's App Store and from Google Play.
The idea is that if the air smells bad, there's a good chance it's not healthy to breathe. By reporting stinky air via the app, users can alert local health authorities while collectively tracking its spread across a community, helping to pinpoint its origins. In Pittsburgh, where the app has been used since 2016, smell reports are forwarded immediately to the Allegheny County Health Department.
"Human noses are the sensors for Smell MyCity, which prioritizes and highlights citizens' concerns regarding local air pollution issues," said Illah Nourbakhsh, professor in the Robotics Institute and director of the CREATE Lab. "In Pittsburgh, app users have helped build awareness about rapidly changing air events and provided the local regulatory agency with a higher resolution of air pollution data."
CMU Toolkit To Kickstart Global Revolution in Educational Effectiveness
For decades, Carnegie Mellon has developed new technology-based learning techniques that have improved student performance and teaching skills for its campus community and select partners. Now the university is making them more widely and openly available for all post-secondary and K-12 institutions.

Carnegie Mellon has announced it will unveil a major release of tools, software and content that is intended to catalyze a new era of progress in educational effectiveness that is equal to the challenge of rapid change and growth in 21st century educational needs. The suite of tools is the product of over $100 million of research and development from a wide variety of funders.

The suite of tools will be released in stages over the next year and represents a major departure from the "silver bullet" or "moon shot" efforts to revolutionize education with technology in recent years. Instead, the contribution is intended to democratize the science of learning and empower educators across the world to become citizen scientists. Carnegie Mellon's goal is to provide knowledge of how to conduct applied educational research that classroom educators, researchers and educational technology companies can learn, apply, extend and share with the global educational community.
Swartz Center Innovation Fellows Program Seeks Applications
The application period is now open for the 2019 Swartz Center Innovation Fellows program. The program is offered to graduate students, postdoctoral fellows and young faculty — the research personnel working directly with faculty investigators on university research.
Along with entrepreneurial program content, specialized cohort activities and expert mentoring, Innovation Fellows receive a $50K contribution from the Swartz Center (with a $50K match from another source) to support the fellow's tuition, stipend or salaries and benefits in the process of commercializing university research. The deadline to apply is Friday, April 12. 
Contact Program Manager Melanie Simko with questions about the program.
EH&S Offers Fire Safety Courses for Faculty and Staff
The Environmental Health & Safety Department's fire safety team is taking its show on the road with two new course offerings for groups of faculty and staff. 
Fire Safety Best Practices
This course provides an overview of fire and life safety best practices within the workplace. The program can be tailored for a specific building or group and contains information covering various emergency situations and an overview for how to respond. Topics included in this training are: lockdown, shelter in place, how fire works, building design elements, and building specific information to help you respond during an emergency.
The one-hour agenda allows for a 40-minute presentation, followed by a 20-minute Q&A session. 
Fire Extinguisher Training
This classroom course includes a brief review of recommended actions during a fire emergency, the types of fire extinguishers found on campus and the fires they extinguish. Attendees will then take part in the practical use of a fire extinguisher with the use of a fire simulator. 
To request a session for your group, send email to safety@andrew.cmu.edu.