March 29, 2019
CMU's Smell PGH Air Pollution Reporting App Goes National
Seventh Generation helps roll out new Smell MyCity app
By Byron Spice bspice(through)cs.cmu.edu
Media Inquiries
Byron Spice
School of Computer Science
Smell PGH, the smartphone app developed by the Carnegie Mellon University's CREATE Lab that helps Pittsburghers report foul odors to health authorities, is going national with the help of Seventh Generation, an environmentally conscious household and personal care products company.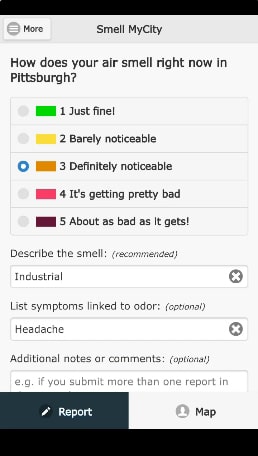 The Smell MyCity app is being rolled out today in Louisville, Kentucky, with plans to do the same in Portland, Oregon, later this year. The free app is available from Apple's App Store and from Google Play.
The idea is that if the air smells bad, there's a good chance it's not healthy to breathe. By reporting stinky air via the app, users can alert local health authorities while collectively tracking its spread across a community, helping to pinpoint its origins. In Pittsburgh, where the app has been used since 2016, smell reports are forwarded immediately to the Allegheny County Health Department.
"Human noses are the sensors for Smell MyCity, which prioritizes and highlights citizens' concerns regarding local air pollution issues," said Illah Nourbakhsh, professor in the Robotics Institute and director of the CREATE Lab. "In Pittsburgh, app users have helped build awareness about rapidly changing air events and provided the local regulatory agency with a higher resolution of air pollution data."
Last year, the CREATE Lab expanded its Breathe Cam network of cameras - which provide 24-hour monitoring of visible air pollution in Pittsburgh — to include several industrial sources in the Monongahela Valley, based on a history of citizen reports via Smell PGH. The Heinz Endowments sponsored the development of Smell PGH and Smell MyCity, and also underwrites Breathe Cam.
Any community in the U.S. now can use the Smell MyCity app to document and monitor pollution odors in their neighborhoods. Community-sourced smell report data can be easily accessed through the Smell MyCity website. With the support of Seventh Generation, CMU's CREATE Lab is exploring additional partnerships with grassroots organizations across the country to ensure that local smell report data shared in the app is sent to the appropriate local regulatory agencies and decisionmakers.
Both Seventh Generation and the CREATE Lab hope that Smell MyCity helps people in every community join together as a nationwide network that actively works toward cleaner air for all.
"We believe that everyone deserves access to clean, healthy air," said Ashley Orgain, global director of advocacy and sustainability for Seventh Generation. "Seventh Generation has long been an advocate for people and planet health, and this partnership helps give the power back to people across the country and enable them to be the catalyst for creating change that can have an immediate, positive impact on the health of their community."
Carnegie Mellon University is committed to educating, empowering and aligning its community around the world to address the Sustainable Development Goals, also known as the Global Goals, which aim to create a more peaceful, prosperous planet with just and inclusive societies. Recognizing the critical contributions that universities are making through education, research and practice, CMU publicly committed to undertaking a Voluntary University Review of the Global Goals. The 17 Global Goals cover wide-ranging issues, including reducing violence, ending extreme poverty, promoting equitable education, fighting inequality and injustice, advancing economic growth and decent work, and preventing the harmful effects of climate change by 2030.

The preceding story demonstrates CMU's work toward attaining Global Goals 11 and 13.