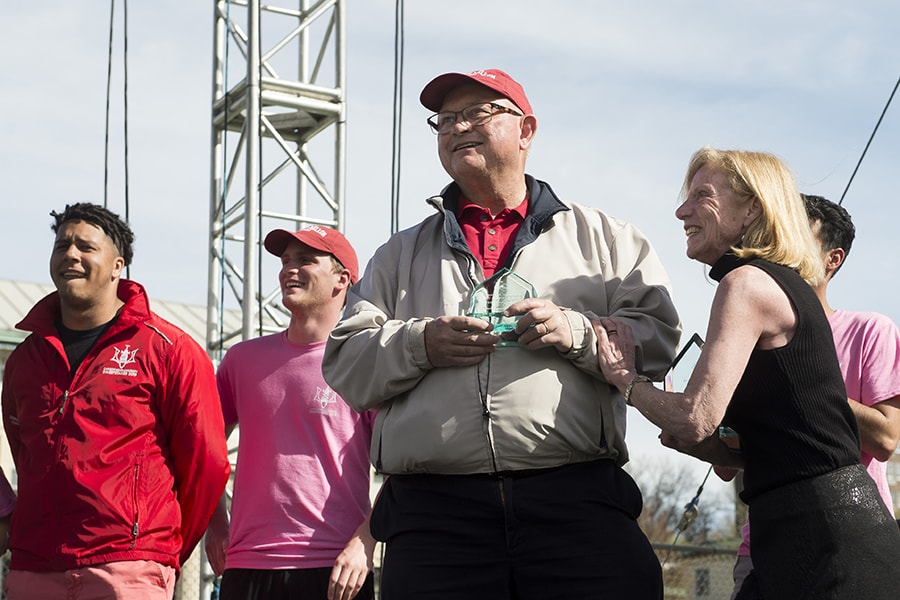 April 17, 2019
Personal Mention
Trophies and awards are often named for legendary figures. At Carnegie Mellon's Spring Carnival this year, alumni Anne Witchner and Tom Wood became living legends. Witchner, associate dean of Student Affairs, and Woods were honored for their longstanding impact on the Sweepstakes Races at the Spring Carnival awards ceremony. Witchner was presented with a Lifetime Chairman's Choice Award, and Wood received a Lifetime Spirit of Buggy Award. Beginning next year — Sweepstakes' 100th anniversary — the annual awards will bear their names.

In addition to Sweepstakes, Witchner is known for her leadership of Carnegie Mellon's highly successful first-year orientation program, and for her work in establishing several university-wide staples, such as the winter activities fair, the Senior Leadership awards, MLK Day programming, the Graduate Student Orientation, the Graduate Student Leadership and Service awards, and the Kiltie Band Holiday Concert. She earned an Alumni Association Service Award in 2013.

Wood earned his bachelor's degree in materials science and engineering in 1974 and since his freshman year, the Pi Kappa Alpha fraternity brother hasn't missed a buggy race in 51 years.  He was the Sweepstakes Committee's Safety Chair during his junior and senior years. Wood has been involved with the Buggy Alumni Association since its founding in 2008, and has become CMU's buggy historian, giving annual presentations about the tradition to reunion groups during Homecoming and Spring Carnival. Wood received an Alumni Association Distinguished Service Award in 2009. Find out more.

Edmund Russell, a renowned historian of the environment and technology who joined Carnegie Mellon University this year, has been named a recipient of a 2019 Guggenheim Fellowship. Russell, a professor of history, is one of 168 scholars, artists and writers selected by the John Simon Guggenheim Memorial Foundation this year from a pool of nearly 3,000 applicants. Guggenheim Fellows are appointed on the basis of prior achievement and exceptional promise. As a Guggenheim Fellow, Russell will conduct research and write a book titled "United by Lightning: The U.S. Transcontinental Telegraph of 1861." This project grows out of Russell's longstanding interest in the interaction among people, technology and environments. Find out more.

Helen Zhou, a Ph.D. student in the Machine Learning Department, has received a Paul and Daisy Soros Fellowship for New Americans. She is one of 30 students to be named a 2019 fellow out of more than 1,700 applicants. Selected for their potential to make significant contributions to U.S. society, culture or their academic field, the Soros Fellows are all children of immigrants, Deferred Action for Childhood Arrivals (DACA) recipients, green card holders or naturalized citizens. The fellowship, which includes up to $90,000 in funding for graduate education, will support Zhou's research into problems at the intersection of machine learning and health care. Through the lens of machine learning, Zhou hopes to develop trusted and accessible methods that will allow scientists to shed new light on poorly understood aspects of health care and medicine. Learn more.


David Shribman, a scholar-in-residence at the Dietrich, led The Pittsburgh Post-Gazette team that won the 2019 Pulitzer Prize for Breaking News Reporting. The judges commended the newspaper's staff "for immersive, compassionate coverage of the massacre at Pittsburgh's Tree of Life synagogue that captured the anguish and resilience of a community thrust into grief." Shribman, former executive editor of The Pittsburgh Post-Gazette, joined the Dietrich College in January. He previously won a Pulitzer Prize in 1995 for analytical reporting on Washington developments and the American political scene. Learn more.

Martin Aurand, principal librarian and architecture archivist at University Libraries, was recently awarded the Distinguished Service Award for distinction in the profession from the Association of Architecture School Librarians (AASL). The award recognizes outstanding and sustained service to the profession through active participation, advocacy, and leadership in AASL; outstanding and sustained service to a library serving an academic architectural program in a manner consistent with the highest standards of the field; and significant research or publication that demonstrates the value of architecture librarians and their profession. As the University Libraries' liaison to the School of Architecture, Aurand offers reference and research consultation services, provides curriculum-based research instruction, acquires and manages information resources, and engages issues around scholarly communications. As archivist, Aurand manages the collections and operations of the Carnegie Mellon University Architecture Archives, a repository of architectural drawings and other records documenting the architects and architecture of Pittsburgh and its vicinity, including the Carnegie Mellon campus. He has been with Carnegie Mellon since 1987.

Associate Professor of Physics Rachel Mandelbaum has been elected as the spokesperson for the Large Synoptic Survey Telescope's (LSST) Dark Energy Science Collaboration (DESC). Mandelbaum will serve as spokesperson-elect until her two-year term begins on July 1. "LSST is going to be a game-changer for our understanding of the cosmological model of the universe. I am very excited to lead the LSST DESC at such a critical time in its preparation for this amazing new dataset," Mandelbaum said. Since July 2015, Mandelbaum has served as the DESC's analysis coordinator, making her responsible for overseeing the collaboration's high priority analysis tasks and seven analysis working groups. Before that she served as a co-leader of the weak lensing working group. Find out more.

Leo Galvan was named the Carnegie Mellon Student Employee of the Year at the Student Employee Appreciation Lunch on April 2.  He also was named the Pennsylvania Student Employee of the Year by the Northwest Association of Student Employee Administrators (NEASEA). Galvan has worked for SLICE (Student Leadership, Involvement, and Civic Engagement) as a student assistant throughout his four years at Carnegie Mellon. A business administration major from Los Angeles, he will earn his bachelor's degree this May. After graduation he will be moving back to Los Angeles to pursue a career in music management. "Leo has completely changed the position of SLICE Student Assistant and has shown us how valuable student employees can be to our success as an office," said his nominators Kate Ickes and Dawn Sienko. "He has set the standard for what we look for in a student employee, and has expanded our expectations for what student employees can successfully accomplish."