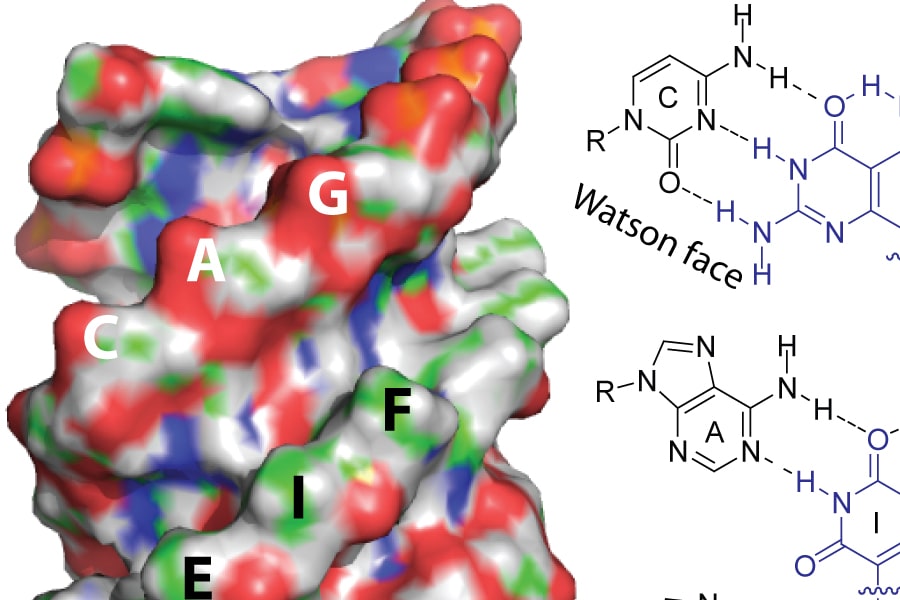 September 26, 2018
News Briefs
Two-Faced Molecule Could Lead to Treatment for Huntington's Disease
Carnegie Mellon researchers have developed a two-faced synthetic nucleic acid that shows promise as a treatment for Huntington's disease and other neurodegenerative and neuromuscular diseases.
Huntington's disease is a genetic disorder that causes the progressive degeneration of nerve cells in the brain. Symptoms, which include changes in personality, mood and mobility and the ability to speak and swallow, normally appear between the ages of 30 and 50 and worsen over the course of 10 to 25 years. Huntington's disease is fatal and there is no cure.
"Diseases like Huntington's, ALS and muscular dystrophy, which have complicated, life-stealing symptoms, are caused by the repeat of only three nucleobases, which seems so simple," said Chemistry Professor Danith Ly. "If we can stop proteins from being sequestered in this hairpin, we believe we can help improve the symptoms of these diseases."
Ly and CMU's Institute for Biomolecular Design and Discovery (IBD) and Center for Nucleic Acids Science and Technology (CNAST), are leaders in the creation and development of peptide nucleic acids (PNAs). PNAs contain the same nucleobases as RNA and DNA and are synthetic analogs to the genetic molecules. PNAs can be programmed to correspond to genetic sequences that cause disease, allowing them to hunt down and bind with detrimental sequences to block the gene from malfunctioning.
52 Individuals,Teams Nominated for Andy Awards; Winners Named Oct. 3
More than 50 individuals and teams have been nominated for this year's Andy Awards, CMU's recognition program that honors staff for their significant contributions to the university and outstanding job performance. Winners will be announced at noon, Wednesday, Oct. 3 in the Cohon University Center's McConomy Auditorium.
Staff are nominated in five categories — Commitment to Excellence; Commitment to Students; Spirit; Innovative and Creative Contributions; and Teamwork and Collaboration.
In addition to the Andy Award presentations on Oct. 3, Staff Council will present service awards to 78 staff members celebrating their 30-, 35-, 40- and 45-year anniversaries at CMU.
See this year's nominees and service award recipients.
Low-Level Exposure to BPA Unsafe, Experts Say
Carnegie Mellon scientists disagree with the FDA's dismissal of research findings that showed low levels of BPA exposure caused serious health effects in an animal model. In a webinar organized by Carnegie Mellon's Institute for Green Science and Environmental Health Sciences, a group of leading BPA researchers strongly expressed their disagreement. 
"Research from many investigators in many labs have shown that BPA exposure has serious health risks," said Terry Collins, director of Carnegie Mellon's Institute for Green Science and Teresa Heinz Professor of Green Chemistry. "Endocrine disrupting chemicals, among which BPA is a poster child, disrupt normal development and could be stealing away the health and reproductive ability of our species, even rapidly."
CMU Experience Initiative Offers Free Fitness Classes for Faculty, Staff
A new initiative, announced in an update from the Task Force on the CMU Experience last week, will provide greater access to recreation and fitness classes for faculty and staff.
Starting Oct. 1, all CMU faculty and staff will be able to take Group-X fitness classes at no cost. The Athletics Department will refund faculty and staff with outstanding balances. Group X fitness classes are already free for students. 
The Group-X program offers aerobics- and strength-based training exercise classes in campus facilities. The current Group-X schedule has nearly 60 weekly classes,  including Zumba, high intensity interval training (HIIT), indoor cycling, yoga, kickboxing and dance.
Visit the Group-X webpage for class descriptions, schedules, locations and instructor bios.
Historians To Host Yearlong Seminar on Urban Food and Water
The Andrew W. Mellon Foundation has granted Carnegie Mellon University $225,000 for a prestigious 2019-2020 Sawyer Seminar on "Bread and Water: Access, Belonging and Environmental Justice in the City." The seminar will bring together a set of international scholars and Pittsburgh-area practitioners to explore policies and practices that promote access to urban food and water systems based on equity, inclusion and resiliency.
Sawyer Seminars are temporary research centers that bring together faculty, postdoctoral fellows, graduate students and other experts to intensely study historical and cultural issues of critical importance.
"Bread and Water" was the brainchild of Abigail Owen, visiting assistant professor of history, and John Soluri, associate professor of history, who will seek to demonstrate that challenges associated with provisioning urban residents with clean water and food go far beyond boosting agricultural yields and tapping new sources of clean water. Individual lectures and events will focus on rights to food and water and how to build infrastructures of inclusion to achieve equitable access. Along with physical infrastructures, such as sewers and urban gardens, the seminar will consider the cultural, economic and political contexts in which such infrastructure is created and maintained.
Headspace Guided Meditation Free to CMU Community
Studies, including several from CMU's Psychology Department, show the benefits of practicing mindfulness and meditation — from reduced stress and increased creativity to better immune response and improved relationships. Headspace, a popular guided meditation app, is offered for free to the CMU Community. Faculty, staff and students can redeem their free subscription using their Andrew ID at CMU's landing page.
Here are some statistics from the last 30 days:
The number of CMU faculty, staff and students using Headspace increased by 572.
The CMU community used 2,548 meditation sessions.
The average user listened to 3.3 sessions per week.
The most popular themed sessions included meditation basics, sleep, managing anxiety and self-esteem.
If you are a CMU Headspace subscriber, you receive full access to the 900 hours+ of content for free. If you are having any issues with logging in, or if you are being prompted that your free subscription is ending, please visit our CMU launch pages on your laptop/PC:
At the above launch pages, use your Andrew ID to redeem the code shared. This will reconnect you to your existing dashboard. You may have to uninstall or reinstall the app on your phone once this is complete. For any additional concerns, you can also reach out to teamsupport@headspace.com for further assistance.

For information about Headspace, visit headspace.com. Feedback on the Headspace app can be directed to Angie Lusk, program director for CMU's Student Affairs Wellness Initiatives, at alusk@andrew.cmu.edu.
Center for Machine Learning & Health Seeking Proposals, Fellowship Applicants
The Center for Machine Learning and Health (CMLH) is soliciting proposals for Fall 2018 research projects. The CMLH is looking for compelling science that creates value for stakeholders, including patients and caregivers, providers, payers and health care institutions. This is an internal call for Carnegie Mellon faculty-led projects. (Additional co-PIs or collaborators from the University of Pittsburgh and/or UPMC are welcome research team members). Proposals are due Oct. 22.
 
Applications for the 2018 CMLH Fellowships in Digital Health also are being accepted. Each fellowship provides full support for one year for a Carnegie Mellon graduate student who is pursuing cutting-edge research that advances digital health, broadly defined. Applications for the fellowships are due Dec. 7.
 
Full details are available on the CMLH website.