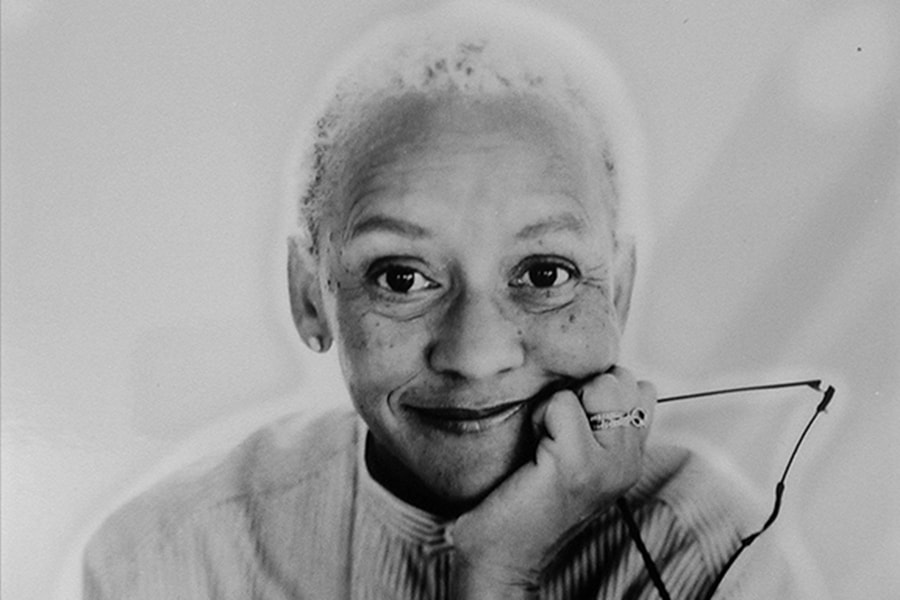 September 12, 2018
News Briefs
University Lecture Series Revival Begins with Critically Acclaimed Author, Poet
Carnegie Mellon's re-envisioned University Lecture Series kicks off Monday, Sept. 17 with renowned author, poet and activist Nikki Giovanni. Her talk, "Dying by Ignorance, Living by Words, Creating by Grace," will begin at 4:30 p.m. in Simmons Auditorium in the new David A. Tepper Quadrangle.
Giovanni, a distinguished professor of English at Virginia Tech, will share her eloquent words of wisdom, spanning the civil rights movement, politics, love and art. She will discuss the ideals of equality, and present experiences and thoughtful poetry that embody her activism and passion for the arts within the framework of current events and news cycles.
The recipient of numerous awards and honors, including Woman of the Year by Mademoiselle Magazine, Ladies' Home Journal and Ebony Magazine, Giovanni is the first speaker in Carnegie Mellon's ULS revival.
Undergraduate Business, Engineering Move Upward in US News Rankings
Carnegie Mellon's undergraduate business and engineering programs both moved upward to No. 6 in U.S. News and World Report's 2019 Best College Ranking. The computer engineering program was named No. 1 this year, up from fourth last year. The following undergraduate programs in the College of Engineering also were ranked: 7th in environment/environmental health; 9th in electrical/electronic/communications; 10th in mechanical; 11th in materials; 12th in civil; 14th in chemical; and 26th in biomedical.
Undergraduate business retained its No. 2 spot in management information systems and quantitative analysis, while productions/operations management was ranked 5th and finance was ranked 8th. Additional specialty rankings include: 10th in supply chain/logistics; 20th in entrepreneurship; 28th in management; and 37th in accounting.
CMU was once again named among the top 25 national universities and ranked 15th in a new category recognizing the best universities for undergraduate teaching. CMU also was named among top universities for first-year experiences, internships/co-ops, senior capstone and undergraduate research/creative projects.
For more on U.S. News undergraduate rankings, go to https://www.usnews.com/best-colleges.
For more on Carnegie Mellon rankings, visit http://www.cmu.edu/about/rankings-awards/rankings/index.shtml.
CMU Community Can Find Help, Offer Services Through CareLink
Need help? Want to earn extra money? Carnegie Mellon's CareLink can help you find both within our own campus community.
All faculty, staff, students and affiliates can use this convenient forum to offer or acquire a wide range of services. Through the CareLink website, you can post needs for child care, pet care, tutoring, music lessons, lawn care, odd jobs and other services listed on the site.
You also can offer to provide services to the university community by creating a profile and posting your resume or skills summary to the site. You can recommend a service provider, and there is even an option to meet people who are willing to barter services or create a coop group.
The more people who use CareLink to find and post jobs, the more useful and dynamic it will be for the CMU community. To date, CareLink has over 2,000 users and the hope is to continue to grow the service through word-of-mouth and recommendations. Check out the website often and help spread the word!
CareLink was spearheaded by the Committee on Faculty Diversity, Inclusion and Development and is sponsored by the Office of the Vice Provost for Faculty. 
Dining Features Grand Openings, Taste of the Tartans
Dining Services is hosting two grand openings and its annual Taste of the Tartans event next week.
The grand openings are:
Market C at Mellon Institute, from 11 a.m. – 2 p.m., Monday, Sept. 17. Join MCS Dean Rebecca Doerge for a special ribbon-cutting ceremony and sampling event to celebrate the grand opening of this new 24-hour self-service micro market.
Cohon Center Marketplace and Resnik Servery, from 11 a.m. – 2 p.m. and 5 -7 p.m., Thursday, Sept. 20. The grand opening celebrations include food sampling, discounts and giveaways, as well as a meet-and-greet with the catering staff. Resnik will be transformed into a unique dining experience across the Food Hall and café with food sampling, live entertainment and music.
The popular Taste of the Tartans event is from 11 a.m. – 2 p.m., Tuesday, Sept. 18 in the Cohon Center's Rangos Ballroom. A Dining Services tradition, Taste of the Tartans is the biggest sampling event of the year featuring food from all campus dining vendors. Taste and vote for your favorite dish and enter our raffle for a chance to win incredible prizes.
Please Note: SEIber Café will be closed Monday, Sept. 17 through early November for maintenance repairs. Catering services will continue to be available by contacting the SEIber Café at seibercafe@gmail.com or 412-551-3020.
Scott Institute Selected To Expand American-Made Solar Prize
The Wilton E. Scott Institute for Energy Innovation at Carnegie Mellon is one of five organizations selected by the U.S. Department of Energy's National Renewable Energy Laboratory (NREL) to facilitate and grow the American-Made Solar Prize. As a "Power Connector," the Scott Institute will receive $100,000 to ensure the success of the Solar Prize, which is designed to encourage innovation and revitalize U.S. solar manufacturing.
The American-Made Solar Prize is a $3 million competition designed to revitalize U.S. solar manufacturing through a series of contests and the development of a diverse and powerful support network that leverages national laboratories, energy incubators and other resources across the country. The prize is directed and administered by the NREL and funded by the U.S. Department of Energy Solar Energy Technologies Office.
The NREL selected Power Connectors for their vision, strength of networks, track record of success and geographic diversity, among other factors. The Scott Institute will bring faculty and staff expertise in technology and entrepreneurship and connections in the Mid-Atlantic and Mid-West regions to the program, helping to achieve the program's goal of growing the solar innovation ecosystem and revitalizing American solar manufacturing.
"We are thrilled to have been selected as a Power Connector in the inaugural cohort, through which we have been presented a unique set of opportunities to work directly with renewable startups and technology innovations in the southwestern Pennsylvania region and nationally," said Scott Institute Executive Director Anna J. Siefken.
September is Fire Safety Awareness Month
September is national Fire Safety Awareness Month and Environmental Health and Safety is taking the opportunity to ask you the following questions:
Do you know what to do in the event of a fire in your office building, dorm room or home?
Do you know how fast fire can travel?
Do you know what to do if you are trapped?
If you don't know or are unsure, visit the Environmental Health and Safety website for the answers you need.
EH&S is conducting fire evacuation drills for all campus housing units this month. In addition, EH&S is offering fire extinguisher training on Tuesdays and Wednesdays and a floor marshal training program is scheduled for Thursday, Sept. 13. Register for the training sessions.
Questions? Send email to safety@andrew.cmu.edu.
Flu Vaccine Clinics Now Underway
Once again, the university is offering flu vaccines at no cost for faculty and staff members. The flu vaccine clinics are hosted by the Office of Human Resources and administered by Giant Eagle Pharmacy.
Visit the Flu Vaccine Clinic webpage for the on-campus clinic schedule. To obtain your flu vaccine, you will need to present your Carnegie Mellon ID card. While walk-ins are welcome, for faster service we recommend you schedule an appointment.

As an added incentive, employees who are vaccinated at a mobile clinic are eligible to receive $5 off their next visit to Giant Eagle. You must present your Giant Eagle Advantage Card at the clinic to receive the $5 credit.
Questions? Contact Stephanie Longmire at longmirs@andrew.cmu.edu or 412-268-2047.