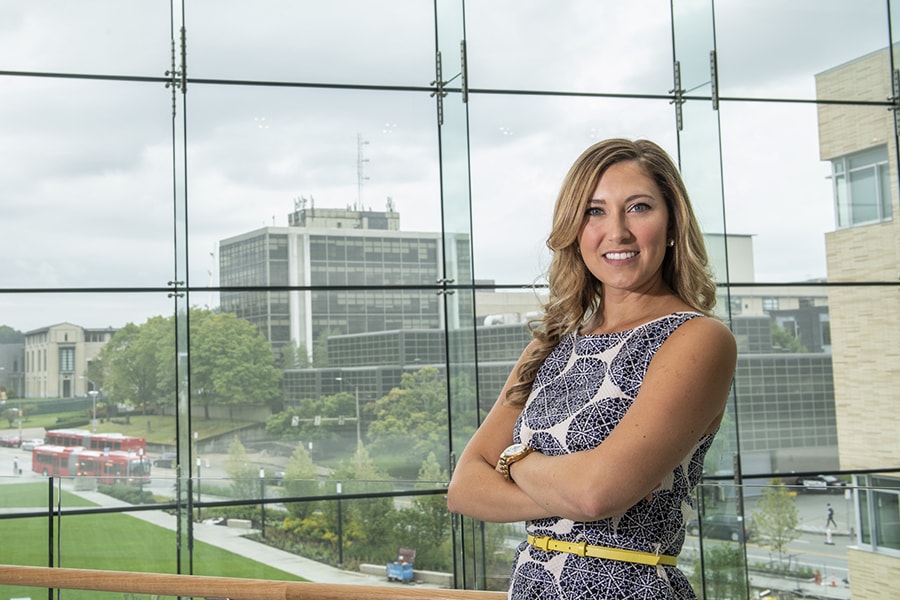 September 13, 2018
Brewer Helps Usher Tepper's Move to the Quad
By Bruce Gerson bgerson(through)cmu.edu
Brianna Brewer is a team player in a building built for teamwork.
Brewer joined Carnegie Mellon's Tepper School of Business this past January as assistant director of Event Services and Planning. Her first daunting assignment was to coordinate the school's move from Posner Hall and the GSIA building to the David A. Tepper Quadrangle. She handled the logistics for more than 300 faculty, staff and students in 15 Tepper School units — from the Business Office and Dean's Office to the undergraduate, graduate and Ph.D. programs.
"It was a chance to dive into a role and run with it," said Brewer, who is part of the five-member Building Operations team. "There was a lot of communication involved, countless emails, and a lot of late nights re-reading things to make sure everything was covered and handled properly. And there were a lot of spreadsheets. I worked out of Excel constantly for about four months."
Brewer said while the move posed a big challenge, it was a great opportunity.
"Being a new employee, I was learning about the Tepper School, my group within the school, CMU, and how all of these groups were connected," she said. "Because of my role, I had the opportunity to speak with every faculty member and a chance to meet many of the staff. I wouldn't have had that opportunity in another role."
After six months of planning and preparation, the Tepper School moved into the Tepper Quad in July.
"I was the crate queen for a while. I created a labeling system to ensure every Rent-A-Crate was accounted for and delivered to the correct location," she said.
Brewer said the move went very well and the feedback has been "overwhelmingly positive."
"But, I couldn't have done it myself. The entire Building Operations group deserves credit, especially Charlie Nash, assistant director of Facilities, and Cathy Bilak, assistant director of Building Operations," she said.
Brewer said the move reflected the building's theme.
"The building is all about teamwork and collaboration, and that really was highlighted in the move. It's a beautiful story about everyone pulling together for this new home for the business school. I hope our students love it," she said.
When she's not working, you may find Brewer in the Tepper Quad's fitness center. An avid runner, she has completed the Pittsburgh Marathon and several half-marathons in Pittsburgh, Nashville and Annapolis, Maryland.
"There are a lot of cardio machines in the fitness center, so it fits right in my wheelhouse," she said.
Brewer is a new board member of the Carnegie Mellon Women's Association. She was recently named co-vice president of Programs and Marketing.
"It's an amazing opportunity to be involved in a university that allows you to not only enrich yourself, but also to grow as a person and to grow within your career," she said. "I love CMU. Every day is exciting and different."
Have a suggestion for Staff Spotlight? Send it to piperweekly@andrew.cmu.edu.