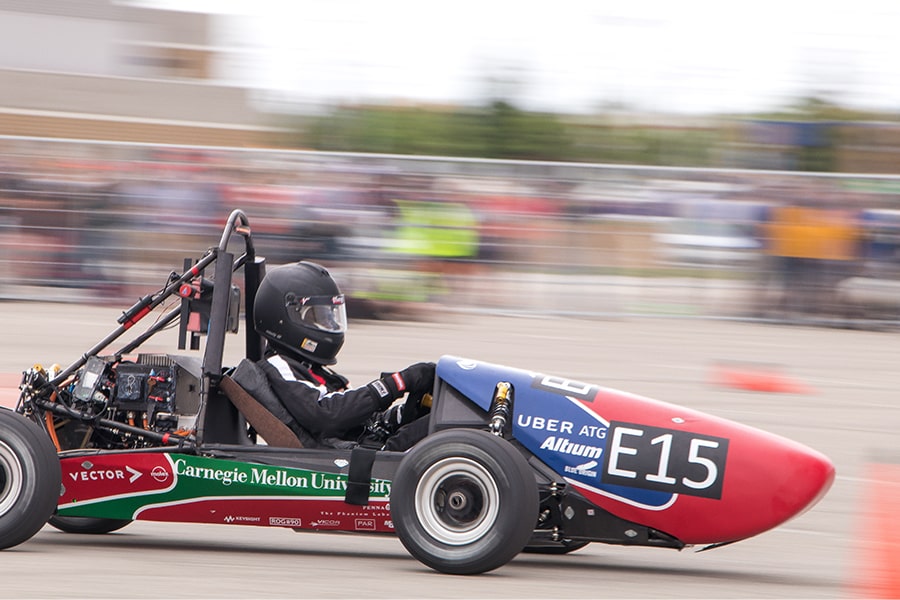 October 24, 2018
News Briefs
Carnegie Mellon Racing Charges to Finish Line
As the 2018-2019 racing season gets ready to begin, the Carnegie Mellon University Racing team is sitting in the pole position.
This summer the team took first place in the 2018 Formula Society of Automotive Engineers (FSAE) Electric Vehicle Competition and first in the Electric Vehicle category at Formula North in Barrie, Ontario. They also managed to capture first in both Formula North's Endurance category and the overall Dynamics category, which encompasses all events related to vehicle performance.
"The outpouring of support by our alumni once we announced that we had won was incredible," said Sam Westenberg, team president for the 2017-2018 season, who graduated this spring with a degree in electrical and computer engineering. "They were all so excited that the race car platform they had worked on for several years previously was finally paying dividends and performing at a high level."
Calling All Veterans!
Carnegie Mellon is honoring the veterans in the CMU community this Veterans Day through a photo series. If you or someone in your office is a veteran and interested in participating, please contact Laura Kelly at laurak@andrew.cmu.edu by Tuesday, Nov. 6. Thank you for your service!
Benefits & Fitness Fair Is Wednesday, Nov. 7
Carnegie Mellon's 2018 Benefits & Fitness Fair will be held form 10 a.m. to 2 p.m., Wednesday, Nov. 7 in the Cohon University Center's Rangos Ballroom.  Learn more about your benefits, wellness and fitness options from more than 75 vendors representing CMU beneift plans and wellness and fitness services. Free hearing screenings and massages will be offered.
Giant Eagle will be administering flu vaccines at no cost to faculty and staff (you must bring your CMU ID card). Appointments are not required for flu vaccines at the Benefits & Fitness Fair. Remember to bring your Giant Eagle Advantage Card to receive a $5 credit.
The fair also will include free giveaways and raffles. Representatives from the Office of Human Resources will be present to help you make your 2019 Open Enrollment benefit plan elections in Workday. Please be prepared with your Workday login information.
If you have questions about the fair, contact the Human Resources CMUWorks Service Center at 412-268-4600 or cmu-works@andrew.cmu.edu.
Libraries' New Speaker Series Kicks Off Nov. 2
The University Libraries have announced a new speaker series beginning this fall. The University Libraries Speaker Series features speakers from a wide range of backgrounds who embody at least one of the Libraries' core values of context, curiosity or access. The lecture series delivers experiences that inform, delight and enlighten the CMU community, contributing to a campus atmosphere that enriches the university's mission. All events are open to the public and admission is free.
The inaugural event is from noon to 2 p.m., Friday, Nov. 2 in the Posner Center, featuring Ingrid Schaffner, curator of the Carnegie International, and Carnegie Museum of Art Associate Registrar Elizabeth Tufts Brown. The 57th Carnegie International opened Oct. 13 at the Carnegie Museum of Art. It is the oldest North American exhibition of contemporary art from around the globe. Hear Schaffner and Tufts-Brown speak about the Carnegie International: the history, the artists, the files, and the research that make this exhibition a vital resource and entity. A lunch reception with the speakers will follow the talk.
Register for Floor Marshal, Active Shooter Training
The Environmental Health & Safety Department is offering two upcoming Floor Marhal/Active Shooter training sessions for the Carnegie Mellon community. You do not have to be a floor marshal or facility coordinator to attend these sessions. This training is appropriate for all faculty and staff. The first hour is dedicated to fire safety topics and appropriate actions during an emergency, while the second hour specifically addresses an active shooter scenario.
The first session is at 1 p.m., Wednesday Oct. 31 in Rangos 2, Cohon University Center. The second session is at 1 p.m., Thursday Dec. 6 in the Cohon Center's Connan Room. Register online. 
HR To Host Benefits Information Sessions
The Office of Human Resources will conduct benefits information sessions on the second and fourth Tuesday of each month beginning on Oct. 23. These sessions, geared toward new — and newly benefits eligible — employees, will take place from 11 a.m. to noon in Cyert Hall, Room 100D. The sessions are an opportunity to learn about the various benefits available to the Carnegie Mellon campus community.
Members from the Human Resources Benefits and CMUWorks Service Center teams will be present to answer questions and provide assistance. Computers will be available to access your benefit elections through Workday at the end of the session — please come prepared with your Andrew ID login credentials and DUO Two Factor Authentication device (mobile phone or key fob).
Visit the Human Resources website for the session schedule. For questions, please contact Brad Truxell, benefits administrator, at btruxell@andrew.cmu.edu or 412-268-8197.