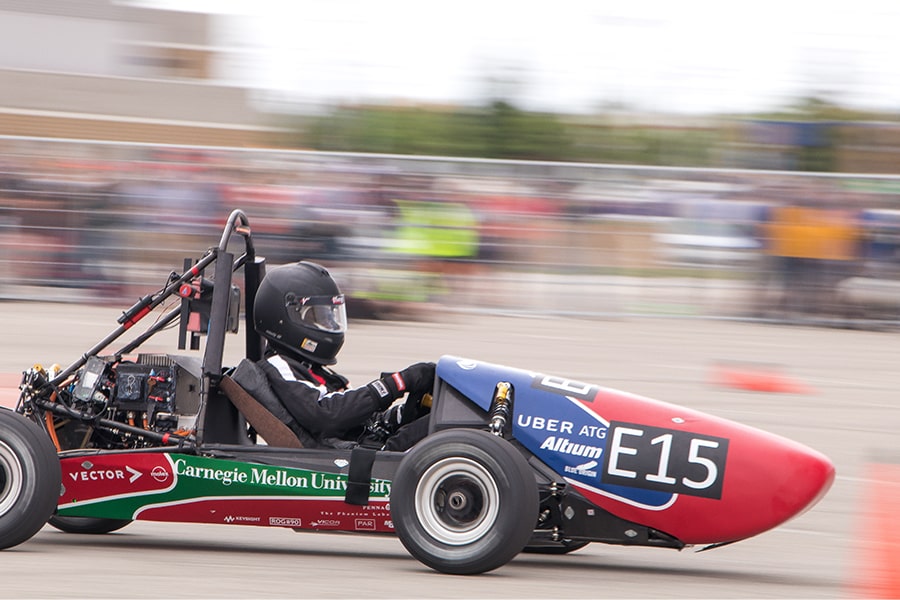 October 16, 2018
Carnegie Mellon Racing Charges to Finish Line
Team captures first place in several electric vehicle categories
By Daniel Carroll dccarrol(through)andrew.cmu.edu
Media Inquiries
As the 2018-2019 racing season gets ready to begin, the Carnegie Mellon University Racing team is sitting in the pole position.
This summer the team took first place in the 2018 Formula Society of Automotive Engineers (FSAE) Electric Vehicle Competition and first in the Electric Vehicle category at Formula North in Barrie, Ontario. They also managed to capture first in both Formula North's Endurance category and the overall Dynamics category, which encompasses all events related to vehicle performance.
"The outpouring of support by our alumni once we announced that we had won was incredible," said Sam Westenberg, team president for the 2017-2018 season, who graduated this spring with a degree in electrical and computer engineering. "They were all so excited that the race car platform they had worked on for several years previously was finally paying dividends and performing at a high level."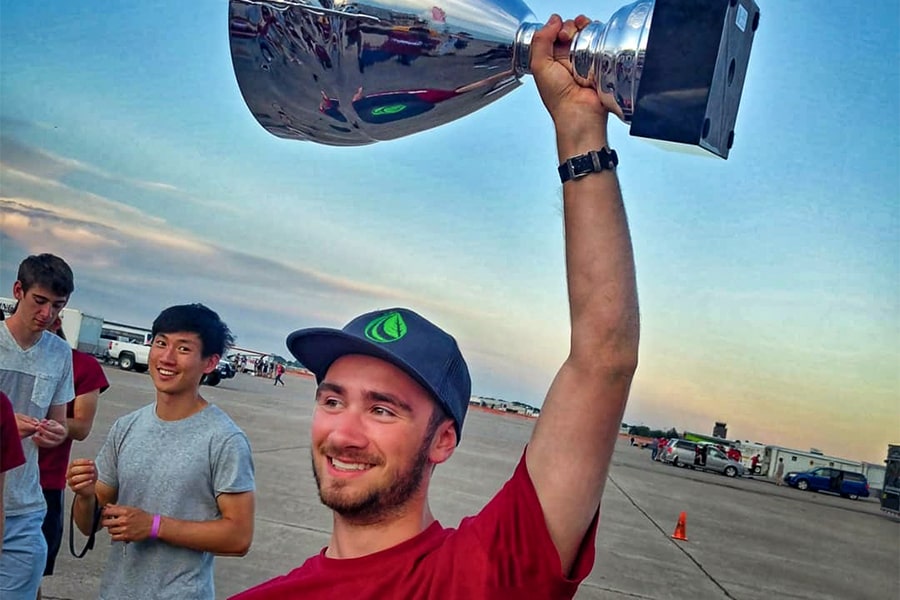 Mechanical Engineering student Aidan Honnold, sporting a hat from sponsor Hyliion, hoisting the first place trophy after the team's victory at Formula SAE Electric 2018. Image courtesy of Carnegie Mellon Racing
It was one of these alumni who had first introduced Westenberg to the team. While it was the technical challenge of building a competitive electric vehicle that drew him in, what truly impressed him was the skill and achievements of the students working at CM Racing.
He joined the team his sophomore year in 2015. At the time, the team had made the switch to an electric vehicle but had yet to drive one competitively. In fact, the all-electric class of FSAE itself was only three years old.
Since graduation, Westenberg has been working in the automotive industry. He credits much of his interest and decision to enter the field to his involvement with the team, and the skills and connections that came with it.
"Most of our team members will say that the majority of their relevant engineering experience comes from participating in FSAE," he said. "Many potential employers see it as the most important field on a resume."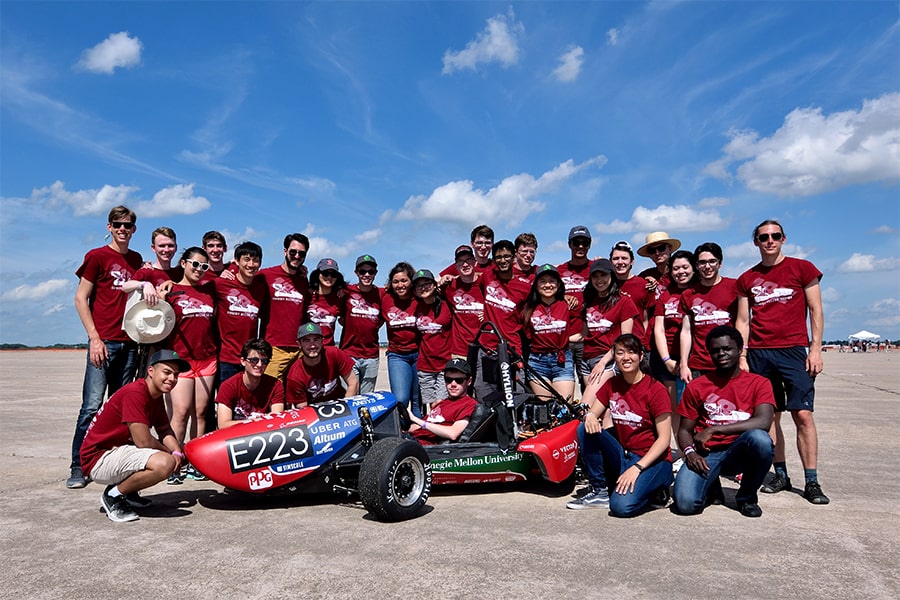 Carnegie Mellon Racing team
The team has developed strong relationships with a number of industry leaders, and members are often recruited by sponsors and friends such as UBER ATG, SpaceX, Tesla, Boeing, Hyliion, Blue Origin, Ford and General Motors.
Though still young in comparison to the internal combustion class of FSAE, the electric class is catching up in leaps and bounds. Teams that struggled just a few years ago to field an electric car are now working to adopt advanced features that could put them on par with their gas-burning cousins in performance. While the competition is ultimately an innovation-driving win-win situation for university teams and industry partners alike, the CM Racing team will have to work hard to maintain their edge in an increasingly competitive environment.
But that is a task for future classes of engineering students. Westenberg has handed over the reins to senior Katie Lam, confident that this year's team will be able to meet the high bar set by their predecessors.
"Now the minimum expectation is that the car will be competitive," Westenberg said. "The goal isn't just to drive — it's to win."