October 03, 2018
Andy Awards Honor Staff for Excellence, Spirit, Creativity, Commitment and Teamwork
By Bruce Gerson bgerson(through)cmu.edu
The Andy Awards are the Oscars of Carnegie Mellon University.
The university-wide recognition program, now in its 24th year, honors staff for their exceptional performance in five categories: Commitment to Excellence; Commitment to Students; Spirit; Innovative and Creative Contributions; and Teamwork and Collaboration.
Forty-one individuals and 11 teams were nominated this year, and winners were selected by a committee of their peers.
In front of a standing-room-only crowd, Wednesday, Oct. 3 in McConomy Auditorium, President Farnam Jahanian presented this year's recipients and praised the important, everyday contributions staff make to the success of the university.
And the winners are …
Commitment to Excellence
Andrew Lawson
Biological and Radiation Safety Officer
Environmental Health & Safety Department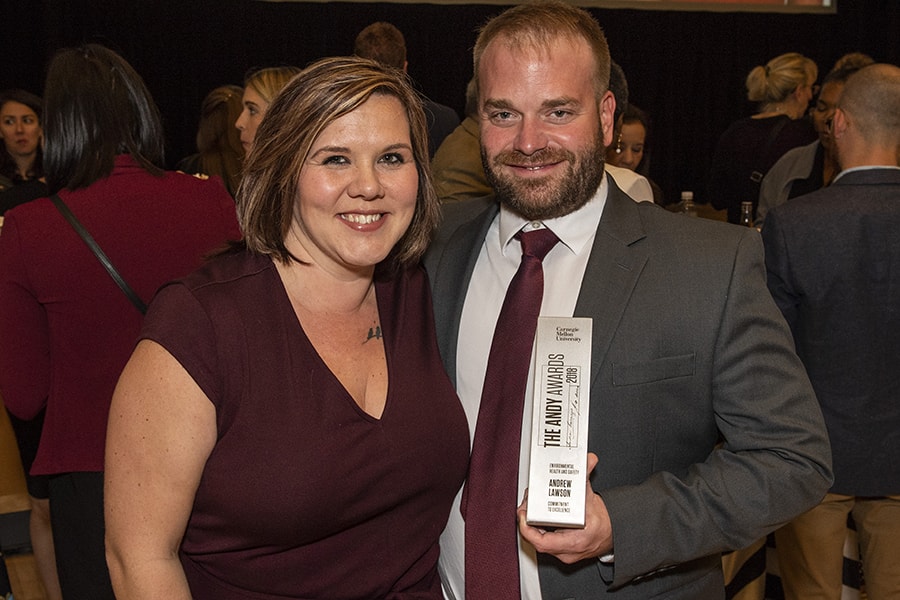 Andrew Lawson with his wife, Patti.

Lab safety is the top priority for Andrew Lawson, who provides training and support for faculty, staff and students to conduct their research in a safe, effective and efficient manner.
In her nominating letter, Natalia Luisa Hiller, assistant professor of biological sciences, commended Lawson for his "outstanding performance, dedication and reliability." She wrote about his knowledge and expertise in helping to set up her laboratory in Mellon Institute, where she works with potentially hazardous materials. She noted his significant contributions as a member of CMU's Institutional Biosafety Committee (IBC).
"I moved into a space that was originally designed with input from Andrew. The space is excellent, ideally set up for biosafety cabinets, incubators with multiple sources of gases, and safety features," she said. "He read and edited all my protocols before they went to committee, thus making sure that everything was set up correctly and in an extremely timely fashion."
When she introduced radioactive materials in her lab, Hiller said Lawson conducted individual training sessions and guided the necessary safety procedures.
"The quality of environmental safety at CMU is above any I have experienced. I credit this to Andrew's outstanding performance," she said.
In a supporting letter, IBC Chair Carol Woolford, said Lawson keeps up with the everchanging safety guidelines and regulations, and seamlessly ensures the university is in compliance. She complimented him for streamlining training modules and making them available online.
Misti West, lab manager in biomedical engineering, said Lawson "goes above and beyond" to answer questions and develop best practices.
"It's hard to imagine operating our lab spaces without him," West said.
Commitment to Students
Christine Asenjo
International Program Coordinator
Office of the Vice Provost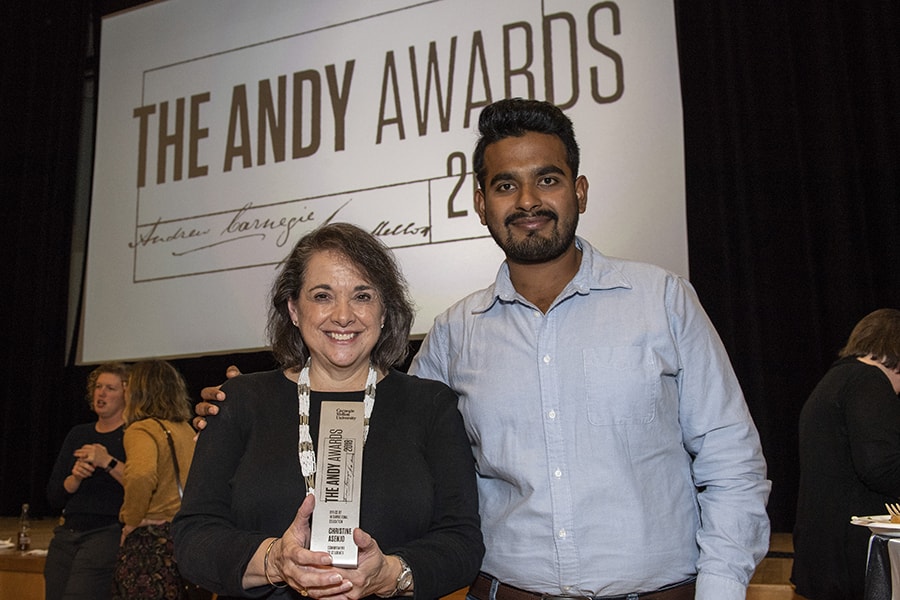 Christine Asenjo with Mohammad Rehan Uddin Khan, who supported her nomination.

Christine Asenjo is the driver of CMU's successful Host Family Program for International Students.
Initiated in 2016 as part of a university-wide effort to enhance the student experience, the Host Family program aims to facilitate greater engagement between international students and faculty, staff, alumni and local families. The program gives students the opportunity to explore Pittsburgh with their hosts, engage in social activities and enjoy a personal connection. In essence, the program gives international students a home away from home.
"Chris put her heart into it from the very beginning, spending many hours, including evenings and weekends, sending emails to international students and using her connections with the OSHER group to recruit hosts," wrote former Vice Provost Jimmy Hsia in his nominating letter.
Through Asenjo's efforts, the pilot program matched 95 students with 48 hosts in the first year and 138 students with 114 families during the second year. Asenjo's family is a host, and she often invites students to her office to talk, and to her home on weekends.
Affectionately called their "American Mom" by international students, Asenjo has organized events, such as pizza parties during CMU football and basketball games, for the Host Family program. She has prepared "welcome goodie bags" for new students in the program and "treat bags" for students during the week of final exams.
Asenjo was a host to graduate student Mohammad Rehan Uddin Khan, who is an intern with Campus Design and Facility Development.
"She has helped change the very definition of home for a lot of international students," Khan said in a supporting letter. "In Christine's words, 'Home is not where you live, but where they simply understand you!'"
Innovative and Creative Contributions
Anna J. Siefken
Associate Director for Innovation and Strategic Partnerships
Wilton E. Scott Institute for Energy Innovation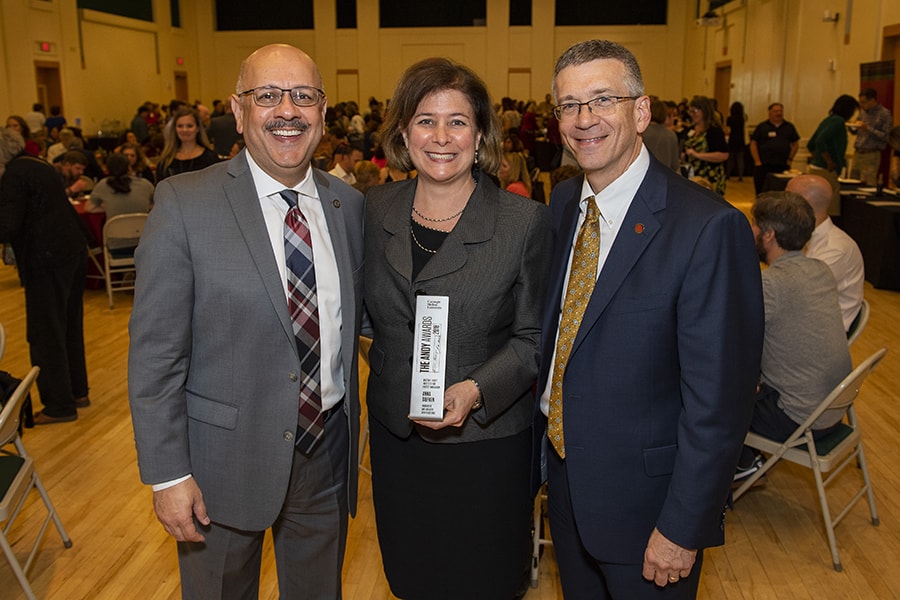 Anna Siefken with President Farnam Jahanian and College of Engineering Dean James Garrett Jr.

Anna Siefken has brought new energy and a novel way of thinking to the Scott Institute, says her nominator, Amanda King.
Siefken has fostered new partnerships, brought energy-related events to Carnegie Mellon and spearheaded Energy Week, one of the largest annual university symposiums with nearly 100 speakers and 1,000 attendees.
King, the communications analyst for the Scott Institute, praised Siefken for building relationships with industry, startups, regional and nonprofit organizations, corporate foundations and government agencies.
"In 2017, Siefken initiated outreach and partnership exploration with more than 40 new corporate industrial partners, including BNY Mellon, Chevron Appalachia and Cisco," King wrote in her nominating letter. "She developed a tiered CMU Energy Week 2017 Sponsorship Program, and solicited partnerships in a very short period of time. Six of the eight new corporate partners were new to the university and to the Scott Institute."
King complimented Siefken's engagement with government agencies. She noted several new government-sponsored programs Siefken brought to CMU, including the Pennsylvania Department of Environmental Protection's "Finding PA's Solar Future," the National Renewable Energy Laboratory/Department of Energy's "Smart Cities, Energy and Mobility" symposium and the City of Pittsburgh's "Future of Work" event.
"She is a mentor who encourages me to embrace change and creativity," King said. "She constantly pushes me to think about how we can do things differently to increase efficiency."
Scott Institute Director Jay Whitacre supported Siefken's nomination.
"In her relevantly short time here, she has had a profound impact on the way energy research is conceived, promoted and implemented at the Scott Institute," he said.
Spirit
Meredith Blobner
Academic Programs Coordinator
Mechanical Engineering Department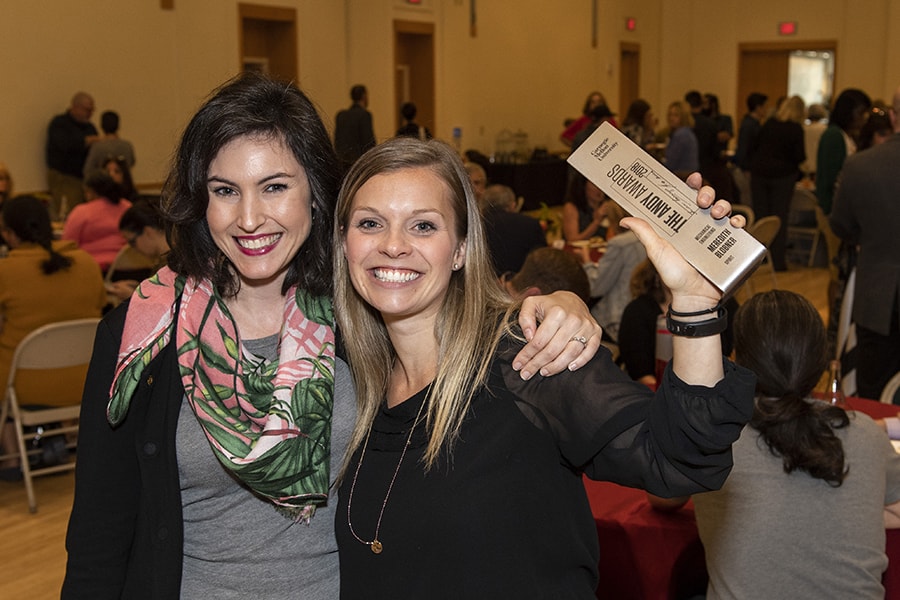 Meredith Blobner celebrates with her nominator, Katherine Tucker.

Meredith Blobner is the unofficial captain of the Mechanical Engineering Department, said her nominator Katherine Tucker. She's a leader who fosters diversity, inclusion and cooperation. She's an inspiration to everyone around her.
"She is just plain fun to be around," wrote Tucker, executive assistant to the department head, in her nominating letter. "Her enthusiasm begets enthusiasm in those around her, her openness begets openness in others, and her inspirational leadership inspires others to contribute to the culture of joy and excellence that she models. … We are stronger together, and Meredith plays a critical role in fostering that togetherness."
Blobner manages many of the department's activities, from special events to Ph.D. qualifier exams and the department's speaker series.
"It is her meticulous attention to detail, her phenomenal organizational skills, and her experience that ensure each event seems to materialize effortlessly out of thin air, but it is her spirit that makes them special," Tucker said.
A champion for fellow staff members, Blobner seeks out those in need and is the first to welcome new members to the department. She chairs the College of Engineering's Staff Awards Committee.
"She not only exemplifies what it means to be a CMU staff member dedicated to excellence, but she challenges everyone around her to be as welcoming and inclusive as she is," Tucker said.
A co-worker called Blobner the department's brightest star.
"Life in MechE would be bland without its colorful personalities. And Meredith Blobner shines the brightest," a colleague said.
Teamwork and Collaboration
The Office of International Education
(Linda Gentile, Chris Menand, Elena Gruzdeva, Judy van Rheenen, Erin Swift, Elena Papadakos, Alison Day, Kelly Holman, Nick Hernandez, Mary Ganska, Erin Hubbard, Jordan Febbraro and Beth Dongilli)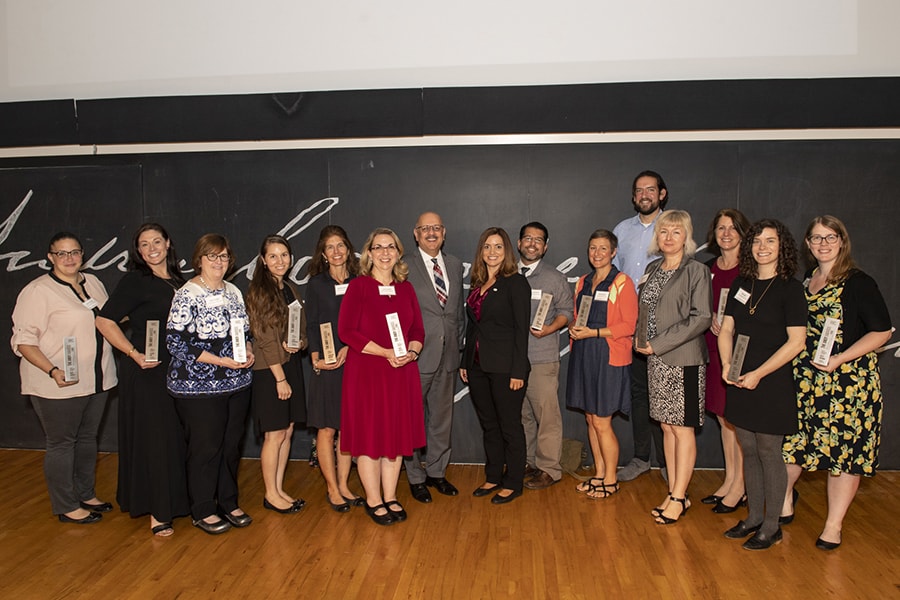 Members of the Office of International Education accept their awards. In the center is President Farnam Jahanian and Staff Council President Jessica Owens.

The Office of International Education is committed to supporting Carnegie Mellon's growing population of international students "every step of the way," said Barbara Fecich in her nominating letter.
"A great team is one that can deliver results, wow customers and become a model of success to others in their field," wrote Fecich, academic program manager in the Robotics Institute. "One of their primary purposes is to assist with bringing world-class talent to our community and finding ways to keep it here. Without the proficient, resourceful, and often weary individuals within OIE, the CMU ethos would not be what it is today."
Fecich praised the team for helping students with their documentation, their legal status for employment after graduation and even assisting them to obtain driver's licenses. She lauded OIE for hosting cultural awareness training sessions for the CMU community and for building personal relationships with many of the students they serve.
"The members of the OIE team genuinely want to help people," she said. "The respect and sensitivity they show for each student is exceptional."
Last year, when federal immigration issues arose, the OIE team worked diligently to keep international students and the campus community informed of the latest information.
"They answered every email and offered to meet with every student," Fecich said. "They responded. They listened. They supported. Above all else, they advocated."
In a supporting letter, Lindsay Olshenske, employment processes manager for the Human-Computer Interaction Institute, said the OIE provides a positive experience for students and visitors.
"With 300+ students and visitors stopping by their office daily, they work as a unit to do what is in the best interest for them, and they always do it with a smile," Olshenske said.
Staff Honored for Years of Service
In addition to the Andy Award presentations, Staff Council presented service awards to 78 staff members celebrating their 30-, 35-, 40- and 45-year anniversaries at CMU. See the list of this year's service award recipients.