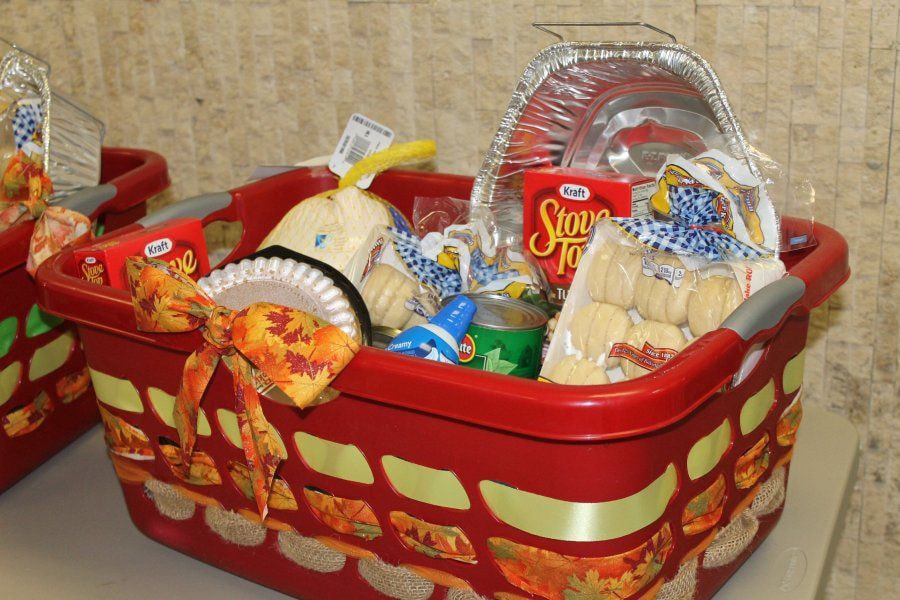 October 31, 2018
News Briefs
Annual Thanksgiving Basket Drive Benefits Area Families
It's time for one of Carnegie Mellon University's great civic engagement traditions, the Thanksgiving Basket Drive. Each Thanksgiving basket provides all of the ingredients for a nutritious Thanksgiving meal that will be donated to a family in the Pittsburgh area. This year, the drive will support organizations in our community including Light of Life Rescue Mission, Sojourner House, Rainbow Kitchen and Operation Better Block.
Interested in putting together a basket? Follow these steps:
Download the Ingredient List and Sign-Up Sheet.
At the top, write in the name of the person coordinating the basket and the date by which you are requesting the items.
Decide how many baskets you or your group will contribute to the drive and complete this form no later than Wednesday, Nov. 7.
Completed baskets should be delivered to Rangos Hall on Tuesday, Nov. 13, between 9 a.m. and 4 p.m.
For more information or questions, please contact SLICE Project Administrator Jazmin Nixon Cartwright.
Support Carnegie Mellon's 25th Annual Food Drive Through Nov. 13
This year marks a milestone 25th anniversary for Carnegie Mellon University's annual Food Drive, sponsored by Staff Council. Since its inception, the university-wide drive has donated $71,264.83 and 137,272 lbs. (68 tons!) of nonperishables to the Greater Pittsburgh Community Food Bank. This year's goals are ambitious: $25,000 in honor of the 25th anniversary and a minimum of 6,200 lbs. of nonperishables (to match last year's total).
Please attend an all-campus event to acknowledge this milestone:
When: 11:30 a.m. to 1:30 p.m., Today, Thursday, Nov. 1
Where: CUC East-West Walkway (Rain Location: Kirr Commons)
What: Refreshments, trivia, small speaking program, and more!
** All nonperishables collected at this event will go directly to CMU's new Food Pantry **
You can support the drive by dropping off nonperishables at various collection sites across campus, participating in events scheduled through Nov. 12, or by making a gift online. Gifts made on this site go directly to the Greater Pittsburgh Community Food Bank and may be tax deductible.
Students Celebrate Inauguration Day at "Farnival"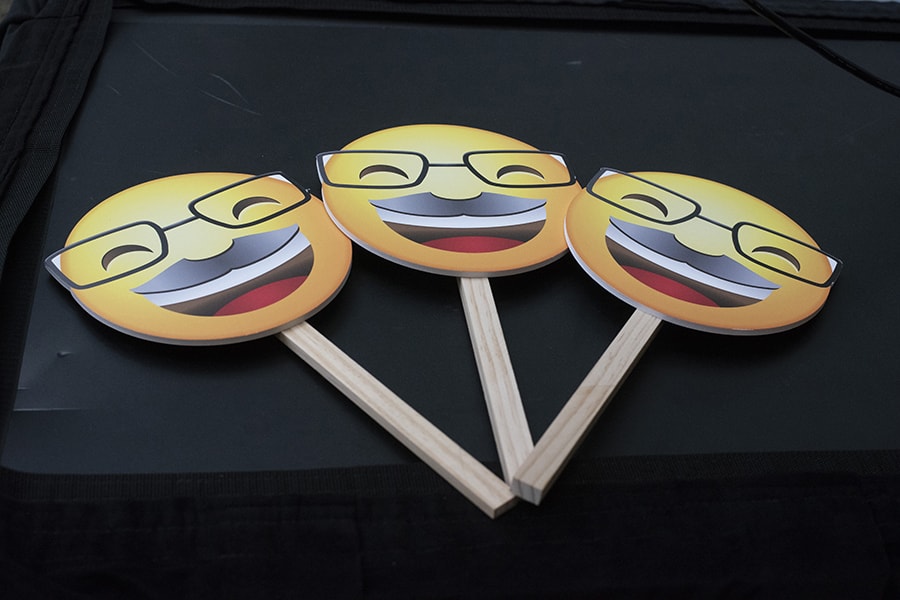 Students loved the Farnam emoji.
While pageantry and tradition marked the official investiture ceremony last Friday for Carnegie Mellon's new President Farnam Jahanian, fun and festivities colored the student Watch Party to make an event many students called "Farnival."
Students gathered for breakfast, CMU trivia and #CMUFarnam selfies before the Watch Party for the official investiture. The celebration continued at the campus-wide picnic where guests were entertained by the Pipe & Drum Band, The Tartan Tuba Band and CMU Bhangra.
"My favorite thing was the Farnam emoji," said Amanda King, a graduate student in the Heinz College's Master of Public Management program. "I wish I had it on my keyboard!"
Learn more and view the watch party video.
Stage Presence: Schwartz Returns To Coach Student Cabaret
Celebrated Grammy and Academy Award-winning composer Stephen Schwartz returned to his alma mater, Carnegie Mellon University, to accompany School of Drama students in the ninth annual Singer-Songwriter Cabaret at Greer Cabaret Theater on Oct. 19.
Schwartz, who graduated from CMU's College of Fine Arts in 1968, is the first of the composers in this series to return to work with junior music theater students on songs from his repertoire, including "Morning Glow" from "Pippin"; "For Good" from "Wicked"; and "The Spark of Creation" from "Children of Eden."
"I come back to Carnegie Mellon every year if I can," Schwartz said. "It makes me very happy to be able to continue the cycle [of alumni coming back to work with current students]. I think that's one of the great things about this school is that people who went here had a positive enough experience that they want to give back."
Find out more and watch the video.
Calling All Veterans!
Carnegie Mellon is honoring the veterans in the CMU community this Veterans Day through a photo series. If you or someone in your office is a veteran and interested in participating, please contact Laura Kelly at laurak@andrew.cmu.edu by Tuesday, Nov. 6. Thank you for your service!
Register for Floor Marshal, Active Shooter Training
The Environmental Health & Safety Department is offering a Floor Marhal/Active Shooter training session for the Carnegie Mellon community at 1 p.m., Thursday, Dec. 6 in the Cohon Center's Connan Room. You do not have to be a floor marshal or facility coordinator to attend the session. This training is appropriate for all faculty and staff. The first hour is dedicated to fire safety topics and appropriate actions during an emergency, while the second hour specifically addresses an active shooter scenario.

Register online.