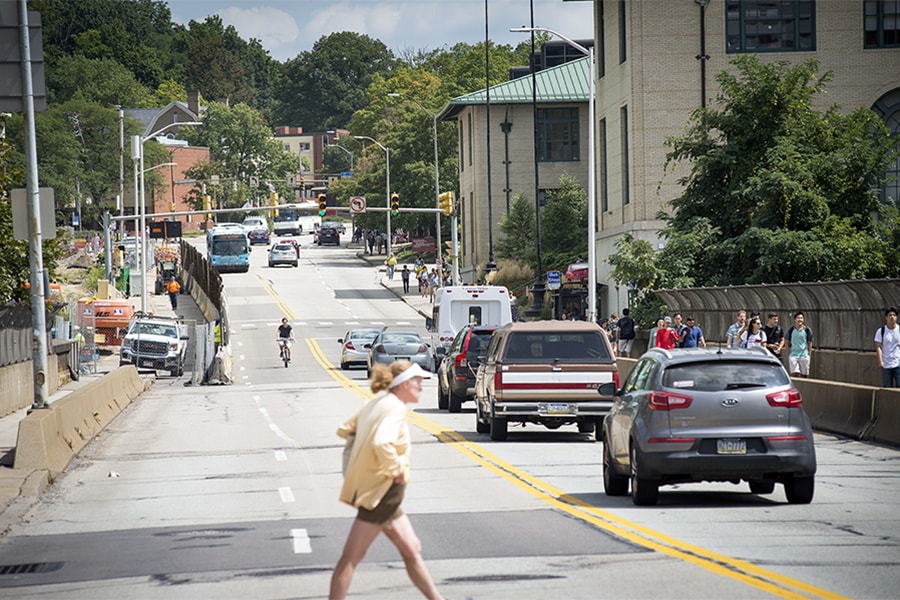 March 07, 2018
News Briefs
Construction Begins for Forbes Avenue Improvement Project
Construction for PennDOT's Forbes Avenue Betterment Project is scheduled to begin this month. The project will greatly improve Forbes Avenue from the Birmingham Bridge to Margaret Morrison Street for pedestrians, motorists, bicyclists and those using public transportation.
Work in Zone 3 of the project — S. Craig Street to Margaret Morrison Street — is tentatively scheduled to begin March 16 (weekdays, 9 a.m. - 3 p.m. and 8 p.m. - 6 a.m.). The first phase of construction through June will include intersection work for traffic signals and utility infrastructure, and ADA curb ramps.
From June to late August, milling and asphalt paving will take place. In August traffic signals will be installed. The project will wrap up during September and October, when final pavement markings, sign installation and traffic signal testing will be done.
Work in Zone 1 of the project — Birmingham Bridge to Craft Avenue — will take place through April 30. Work in Zone 2 — Craft Avenue to S. Craig Street — is scheduled from April 2 through Sept. 21.
Traffic delays and restrictions along Forbes can be expected, except during CMU's commencement (May 20-21) and move-in day for students (Aug. 18 and 22-26). The construction schedule is subject to change based on weather conditions and the availability of materials.
Read more about the project in the Piper.
Find out more from the Oakland Management Transportation Association.
Autonomous Rotorcraft System Nominated for Top Aerospace Award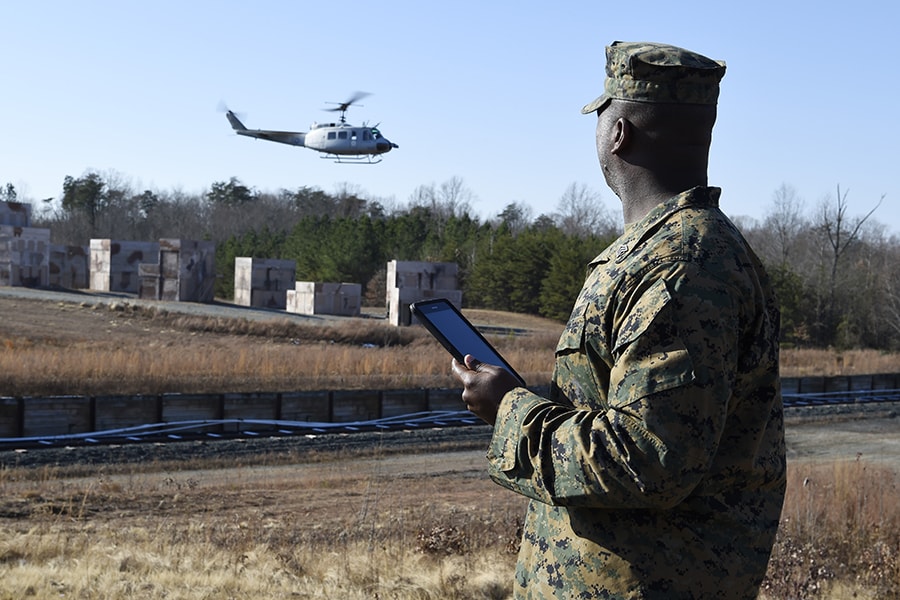 A U.S. Marine uses a tablet computer to direct a resupply missions involving an autonomous helicopter this past December.
An Office of Naval Research project to develop fully autonomous helicopters, which included significant contributions by Carnegie Mellon University's Robotics Institute, has been nominated for the aerospace industry's most hallowed award, the Collier Trophy. Previous winners include the crews of Apollo 11, the Mercury 7 and Orville Wright.
The ONR's Autonomous Aerial Cargo/Utility System, or AACUS, is a package of sensors and software that can be integrated into any existing rotary-wing aircraft to provide autonomous capabilities, including obstacle avoidance, approaches, landings and takeoffs.
ONR said such a system could be used to perform automated military resupply missions in the field, even in contested environments. The technology, however, could have much broader applications.
"AACUS was an open-ended program that did for autonomous flight what the DARPA challenges did for self-driving cars," said Sanjiv Singh, research professor of robotics. The project leveraged decades of research in perception and planning for autonomous flight and prompted Singh and his colleagues to spinoff their own company, Near Earth Autonomy, to help accomplish the project's goals.
"This technology will revolutionize the way we move people and goods," he added.
Proofpoint Acquires CMU Spinoff for $225 Million
Proofpoint Inc., a leading cybersecurity company, has completed its acquisition of a Carnegie Mellon spinoff, Wombat Security Technologies Inc., for $225 million. Wombat, founded 10 years ago by three CMU computer science professors to leverage innovative university research on preventing cyber attacks, is widely recognized as a leader in cybersecurity awareness training.
Wombat founders are Norman Sadeh, professor of computer science and chairman and chief scientist of Wombat, Lorrie Faith Cranor, the FORE Systems Professor of Computer Science and Engineering and Public Policy, and Jason Hong, associate professor of computer science.
"Carnegie Mellon consistently produces world leaders in cybersecurity, whose work protects all of us from cyber threats. Their mastery of both the technology and the human elements of computing make us all safer, as individuals, as organizations, and as a nation," said CMU President Farnam Jahanian. "This sale is a tribute to the faculty who created Wombat, as well as to the alumni who are key leaders at Proofpoint, and to all those who are helping to ensure CMU expertise benefits society more broadly."
Nominate Your Divisional Staff Council Reps
Nominations are open for the 2018 divisional elections until 12 p.m., Friday, March 16. You can nominate up to five candidates. Refer to the email sent on Monday, Feb. 26 to access your unique link.
Learn more about the 2018 Staff Council Divisional Elections. 

If you have any questions or concerns, please contact the Governance, Elections and Membership Committee at staff-council@andrew.cmu.edu.
Register for Student Employee Appreciation Lunch
Registration is now open for the Student Employee Appreciation Lunch from noon to 1 p.m., Wednesday, April 11 in the Cohon Center's Rangos Hall. Campus supervisors can host their student employees and join them for lunch to celebrate the great work they do while attending college. Entertainment will be provided by The Originals, one of Carnegie Mellon's all-male a cappella group. Registration deadline is March 31. Admission fee is $7.50
Energy Week is April 4-6; San Juan Mayor To Attend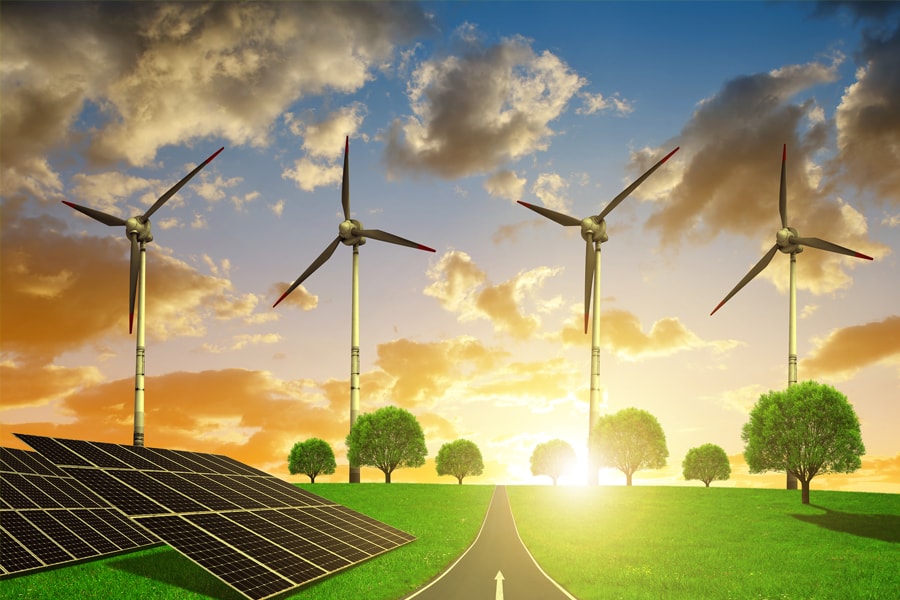 Carnegie Mellon's Wilton E. Scott Institute for Energy Innovation will host its third annual Energy Week, April 4-6. Open to the public, this year's symposium brings together thought leaders from industry, government, academia and the nonprofit sector to engage and collaborate on energy research, trends, innovative technologies and opportunities to tackle pressing energy challenges.
Keynote speakers include:
David Danielson, managing director for Science at Breakthrough Energy Ventures and former DoE assistant secretary of Energy Efficiency & Renewable Energy;
Don Anderson, operating partner and chief sustainability officer in the Private Equity Group at Blackstone;
Andrew Moore, dean of CMU's School of Computer Science; and
Alex Laskey, founder and president of Opower.
An evening forum on how smart cities are preparing for the future will feature distinguished mayors from around the world, including San Juan Mayor and CMU alumna Carmen Yulín Cruz and Pittsburgh Mayor William Peduto. Ten panels will focus on topics, such as smart grids, battery technologies, building performance and the energy humanities.
Register and find out more at cmuenergyweek.org. Participants should register for lunchtime keynote presentations by Wednesday, March 28.
University Libraries Announces New Integrated Library System
On March 13, 2018, University Libraries will launch a new integrated library system that will include a new library catalog. The new catalog will improve how users browse, search, and discover materials on library.cmu.edu.
 
The Libraries implemented its current online catalog in 1995. In that time, standards in web design have changed, technology has advanced, and the needs of users have evolved. It is against this background that the online system has become quite outdated.
 
The updated system, Ex Libris' Primo, chosen after a rigorous selection process, allows for a more integrated approach to library system management that streamlines tasks for the Libraries' employees.  This results in a better online experience for users, who will experience greater ease of searching and accessing resources, as well as a more seamless integration with Interlibrary Loan and equipment booking services. In addition, the responsive design is optimized for smartphones and tablets.
 
The March 13 go live date was timed to coincide with Spring Break and thus minimize disruption. The old catalog (with limited features) will remain available during the early transition, but will no longer be available as of May 31, 2018.
 
Visit library.cmu.edu/new-catalog for more information about the transition.
Swimming Team Offers Lessons for Kids
Carnegie Mellon's swimming team is offering 30-minute swimming lessons for children 3 years-old and up beginning this April. Lessons, which will be taught by members of the team, will follow this schedule:
April 2-5 and 9-12: 4:30 - 5 p.m., 5 - 5:30 p.m., 5:30 - 6 p.m., 6-6:30 p.m.
Lessons are $25 each for one to four lessons, and $20 each for five to eight lessons.
Those interested should send email to assistant coach Myles Oliver at myleso@andrew.cmu.edu with the dates and times you would like, as well as the name of the swimmer(s), age, and a brief description of their ability level. A waiver form must be completed and returned prior to the first lesson.
First Tee Offers Golf Special for CMU
The First Tee of Pittsburgh is offering CMU students, faculty and staff discount prices for practice time in its indoor golf simulator at the Bob O'Connor Golf Course at Schenley Park.
Regularly $25/hour, foursomes can play two hours in the simulator for $10 each. The cost is $15 per person for one to three players.
You must reserve tee times. Call 412-622-6959 and ask for the "College Special."