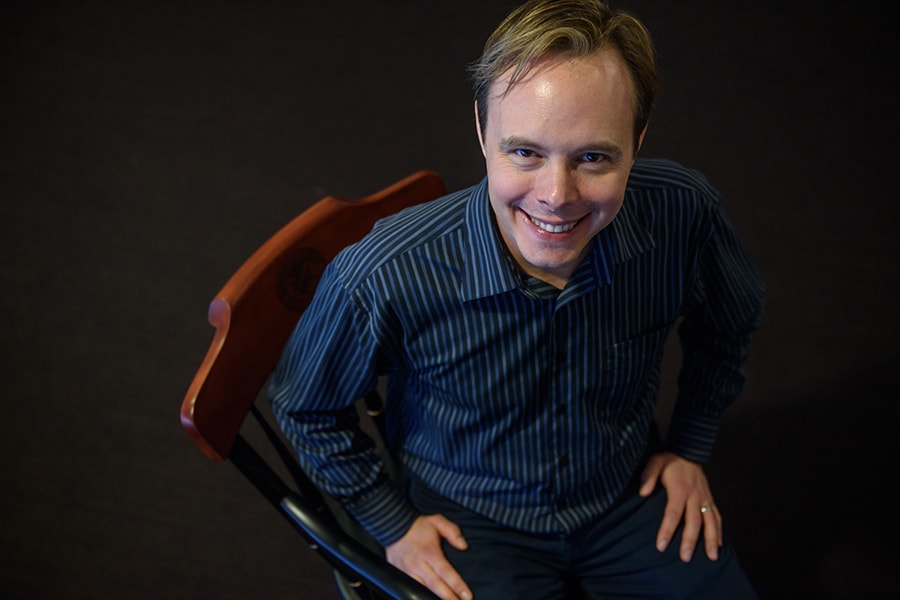 February 28, 2018
Personal Mention
Louis-Philippe Morency of the Language Technologies Institute has received a three-year Finmeccanica Career Development Professorship in Computer Science. Morency joined the LTI in 2015 as an assistant professor and director of the Multimodal Communication and Machine Learning Laboratory. His research focuses on enabling computers to analyze, recognize and predict subtle human communicative behaviors, such as facial expressions, during social interactions. Morency previously was on the research faculty of the University of Southern California's Computer Science Department. He received a Ph.D. in computer science from MIT's Computer Science and Artificial Intelligence Laboratory in 2006. The Italian conglomerate Finmeccanica has endowed the chair to support outstanding young faculty members in the School of Computer Science since 1989.
Anna J. Siefken, associate director for Innovation and Strategic Partnerships in Carnegie Mellon's Wilton E. Scott Institute for Energy Innovation, is one of 22 recipients of a Women of Achievement Award from Cribs for Kids, a national infant safe-sleep education program. Siefken is being recognized for her dedication to promoting a sustainable community, her work with the Pittsburgh 2030 District and for being an exemplary role model for women and girls. "The work that she has done with Carnegie Mellon University, Green Building Alliance, and the international 2030 Districts Network Board of Governors will make a significant and sustained difference in the Pittsburgh area," said Cribs for Kids Program Coordinator Maggie Phoenik. "Anna is an advocate and leader for the promotion of energy efficiency, green initiatives and environmental practices. She is strategic, highly educated, and an overall great role model for women everywhere." Siefken will be honored tonight (March 1) at an awards ceremony at the Omni William Penn Hotel. Find out more.

Melanie Lucht, assistant vice president for Enterprise Risk Management, recently completed the first offering of the Chief Risk Officer (CRO) Executive Education Program at the Heinz College. The only woman in the class of 16 executives, Lucht was a member of the project team that achieved top honors in the program. The CRO Certificate program is a five-month offering, co-administered by the CERT Division of CMU's Software Engineering Institute. It is designed to deliver what CROs need to flourish in their current positions and further develop in their risk management careers, including strategies for effectively communicating risks to executive leadership professionals, and tools for analyzing and addressing enterprise risks. Lucht joined CMU in 2013 to head the university's efforts in disaster recovery and business continuity. She was promoted to AVP for Enterprise Risk Management in August 2017. Learn more about Lucht. And find out more about the CRO Certificate program.

Francisco Molina has joined CMU as its new director of Disaster Recovery and Business Continuity Services (DR/BC). He succeeds Melanie Lucht, who was promoted to assistant vice president for Enterprise Risk Management in August 2017. In his role, Molina will be responsible for all aspects of DR/BC, including emergency preparedness and response. He comes to CMU from the CUNA Mutual Group in Madison, Wisconsin, where he was business resiliency manager since 2012. He was business resiliency and information security officer at Transamerica in Cedar Rapids and Kansas City from 1995-2012. Molina is a project management professional and a certified organizational resiliency manager. He earned a doctorate in information sciences at Nova Southeastern University and a master's degree in administration from Central Michigan University.