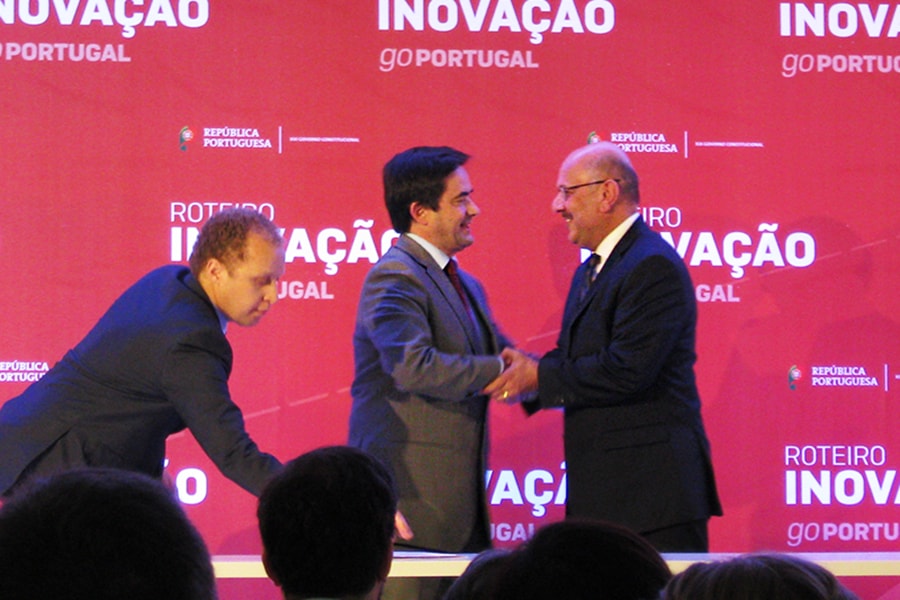 February 28, 2018
News Briefs
Carnegie Mellon, Portugal Renew Partnership
Carnegie Mellon and the Government of Portugal have signed a cooperation agreement to extend the successful CMU Portugal Program for an additional 10 years.
CMU Interim President Farnam Jahanian joined the Portugal Minister of Science, Technology, and Higher Education Manuel Heitor and Prime Minister of Portugal António Costa at a signing ceremony in Matosinhos, Portugal, on Feb. 15, to celebrate the partnerships between academia and industry in Portugal's innovation economy. The event was titled "GoPortugal: Global Science and Technology Partnerships Portugal."
Phase III of the CMU Portugal Program will focus on the data economy, emphasizing data analytics, artificial intelligence, machine learning, robotics and autonomy. This phase will promote industry-technology relationships as agents of change for social and economic impact, fostering collaborations with cities, regions and companies that are strongly invested in the program.
"This next chapter of the CMU-Portugal program will create a dynamic and productive ecosystem in Portugal, fueled by a relentless drive to innovate and enabled by the tools and resources to turn entrepreneurial ideas into tangible social and economic impact," Jahanian said.
Vote for CMU Faculty, Ph.D. Student in #StatMadness Tournament
Jana Kainerstorfer and Constance Robbins, and Baruch Fischhoff are competing in StatMadness, an NCAA bracket-style tournament hosted by Stat News to select the best ideas in biomedical science.
Kainerstorfer, an assistant professor of biomedical engineering, and Robbins, a Ph.D. candidate in biomedical engineering, is in the competition with their first-of-its-kind handheld breast cancer lesion monitor that uses near-infrared light to detect and track cancer lesions that form in mammary tissue. Former Biomedical Engineering Professor Jim Antaki, now a professor at Cornell University, is a collaborator on the project.
Fischhoff, the Howard Heinz University Professor in the Institute for Politics and Strategy and Department of Engineering and Public Policy, is part of a team with UPMC physicians that has created a video game, called Night Shift, that improves doctors' recognition and triage of severe trauma patients. The team created the game with Schell Games, an educational and entertainment game development company founded by CMU's Jesse Schell.
With 64 competitors, this annual contest consists of six rounds of innovations with the winner of each round moving forward to face a new competitor.
The first round of the competition closes at 11:59 p.m. tonight, Thursday, March 1.
Vote early and vote often from as many devices as possible.
Nominate Your Divisional Staff Council Reps
The Staff Council Divisional Elections for the 2018-2020 term are underway. An email was sent to each staff member this past Monday with your unique link to nominate individual reps for your division. You can nominate up to five candidates. The nomination period runs through 12 p.m., Friday, March 16.
Learn more about the 2018 Staff Council Divisional Elections. 

If you have any questions or concerns, please contact the Governance, Elections and Membership Committee at staff-council@andrew.cmu.edu.
Energy Week is April 4-6; San Juan Mayor To Attend
Carnegie Mellon's Wilton E. Scott Institute for Energy Innovation will host its third annual Energy Week, April 4-6. Open to the public, this year's symposium brings together thought leaders from industry, government, academia and the nonprofit sector to engage and collaborate on energy research, trends, innovative technologies and opportunities to tackle pressing energy challenges.
Keynote speakers include:
David Danielson, managing director for Science at Breakthrough Energy Ventures and former DoE assistant secretary of Energy Efficiency & Renewable Energy;
Don Anderson, operating partner and chief sustainability officer in the Private Equity Group at Blackstone;
Andrew Moore, dean of CMU's School of Computer Science; and
Alex Laskey, founder and president of Opower.
An evening forum on how smart cities are preparing for the future will feature distinguished mayors from around the world, including San Juan Mayor and CMU alumna Carmen Yulín Cruz and Pittsburgh Mayor William Peduto. Ten panels will focus on topics, such as smart grids, battery technologies, building performance and the energy humanities.
Register and find out more at cmuenergyweek.org. Participants should register for lunchtime keynote presentations by Wednesday, March 28.
Nominations Open for Watts Humphrey Award
Nominations are now open until June 1 for the 2018 IEEE Computer Society/SEI Watts S. Humphrey Software Process Achievement Award. Since 1994, the SEI and the Institute of Electrical and Electronics Engineers (IEEE) Computer Society have co-sponsored the award, which recognizes outstanding achievements in improving an organization's ability to create and evolve high-quality software-dependent systems.
The award, named for Watts S. Humphrey, recognized as the "Father of Software Quality," honors achievements in any type of process-improvement activity. These achievements need not have been based on a specific framework, model, or body of software engineering principles, practices, techniques or methods.
Humphrey followed his long career at IBM with an equally distinguished career at the SEI, where he served from 1986 until his death in 2010. Humphrey worked to improve the profession of software engineering by focusing on software quality. In 2005, he received the National Medal of Technology for his work in software engineering.
Buggy Practices Begin Saturday
Buggy practices will begin this Saturday, March 3, and continue every Saturday and Sunday during the spring semester through Sunday, April 15. Tech Street, Frew Street and Schenley Drive will be closed to vehicles and parking will not be allowed from 5 a.m. to 9 a.m. on weekends. Vehicles parked on these roads will be towed. Please save the date for the annual Sweepstakes Races, held during Spring Carnival on Friday, April 20 and Saturday, April 21.
First Tee Offers Golf Special for CMU
The First Tee of Pittsburgh is offering CMU students, faculty and staff discount prices for practice time in its indoor golf simulator at the Bob O'Connor Golf Course at Schenley Park.
Regularly $25/hour, foursomes can play two hours in the simulator for $10 each. The cost is $15 per person for one to three players.
You must reserve tee times. Call 412-622-6959 and ask for the "College Special."