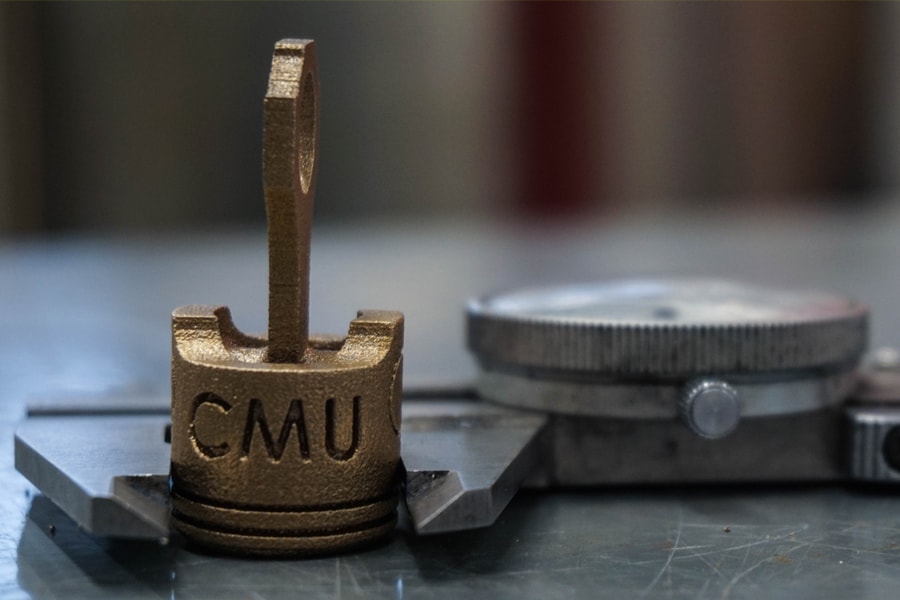 June 27, 2018
News Briefs
Driving Toward the Intersection of 3D Printing and Machine Learning
Applications of metal additive manufacturing, otherwise known as 3D printing, have primarily been confined to prototyping, but researchers are now pushing closer to developing metal 3D printing as a reliable form of industrial manufacturing. However, major obstacles still need to be addressed, especially in high-risk applications such as aviation components.
"One of the biggest hurdles between just making a part that looks good and actually putting it on an aircraft is making sure that the part you're producing doesn't have flaws in it," said Carnegie Mellon University alumnus Luke Scime.
Scime, who graduated with a doctorate in mechanical engineering and is now a post-doctoral researcher at Oak Ridge National Laboratory in Tennessee, worked with Mechanical Engineering's Jack Beuth, director of the NextManufacturing Center, to develop a machine learning algorithm that detects anomalies within a part as it's being printed — a practice known as process monitoring. The specific type of printing they worked with, laser powder bed fusion, involves spreading a thin layer of powder — 30 to 60 microns in diameter — and melting it in select areas to form a layer of the printed object. The process is then repeated for the next layer, with each build containing hundreds of thousands of layers. Many errors that can occur during a build are due to the incorrect spreading of the powder layer.
Dining Services Begins Partnership with Chartwells July 1
Chartwells will become Carnegie Mellon's new primary foodservice vendor, beginning July 1, when several new initiatives will get underway.
"The Chartwells culinary philosophy is elevating CMU's dining program in exciting ways," says Director of Dining Services Pascal Petter. "They cook from scratch, menu seasonally and source responsibly, providing healthier choices and greater customization for the Carnegie Mellon community."
Tartans Post Impressive Academic Numbers
On the heels of achieving their best finish in the Division III Learfield Directors' Cup standings, Carnegie Mellon's student-athletes again earned high praise in the classroom. Continuing the trend that athletics and academics is not mutually exclusive at Carnegie Mellon, 71 student-athletes recorded a perfect 4.0 grade-point average (GPA) for the spring semester. Including the 71 4.0s, more than 50 percent of CMU student-athletes earned a 3.50 GPA or higher during the spring, as the entire department earned a 3.42 for the semester.
"In terms of athletic performance, this was a banner year for our program," said Director of Athletics Josh Centor. "'But most important is the example our student-athletes set by performing at extraordinary levels in the classroom, while representing the university at the highest level of intercollegiate sport."
Weight Watchers at CMU Starts July 11
Carnegie Mellon's next installment of its Weight Watchers program begins at 12:15 p.m., Wednesday, July 11. The cost of the 12-week session is $156 and includes free digital tools, weekly on-campus meetings and 24/7 chat sessions with experts. You can pay by cash, check — made payable to Weight Watchers — or credit card.
For more information about the program and how to register contact Tara Trapani at ttrapani@andrew.cmu.edu.
CMU Offers Employee Perks and Discounts
Did you know Staff Council has negotiated special discounts for CMU faculty and staff? Check out the latest summer discounts to:
Kennywood;
Hershey Park;
Idlewild and Soak Zone;
Pittsburgh Renaissance Festival;
Pittsburgh Passion;
PPG Paints Arena; and
Sandcastle.
And be sure to check out the anytime discounts as well to:
Pittsburgh Cultural District;
Bob O'Connor Golf Course;
Equalli Jewelry; and
MobilityWorks.
Nominations Now Open for 2018 Andy Awards
Nominations are now being accepted for the 2018 Andy Awards, the university-wide staff recognition program that honors individuals and teams for outstanding performance in five categories. The categories are: Commitment to Excellence; Commitment to Students; Innovative and Creative Contributions; Spirit; and Teamwork and Collaboration.
The nomination deadline is July 13. For more information, including how to submit a nomination, go to the Andy Awards website.
EH&S To Continue Building Evacuation Drills this Summer
The Environmental Health and Safety Department is conducting building evacuation drills this summer between 8 a.m. and 12 noon. The remaining schedule follows.
July 11: 8 a.m., Gates/Hillman Center; 8:30 a.m., Newell-Simon Hall; 9 a.m., Purnell Center and Miller Gallery; 9 a.m. - Noon, Cyert Hall, Cohon University Center, Bramer House and Alumni House
July 19: 8 a.m. - Noon, Pittsburgh Technology Center, Information Networking Institute, Software Engineering Institute, UTDC, Whitfield Hall and 4721 Fifth Ave.
July 27: 8 a.m. - Noon, Integrated Innovation Institute, 205 S. Craig, 300 S. Craig, 311 S. Craig, 407 S. Craig, 417 S. Craig, 6555 Penn Ave., National Robotics Engineering Center and GATF
Dates are subject to change due to weather conditions.