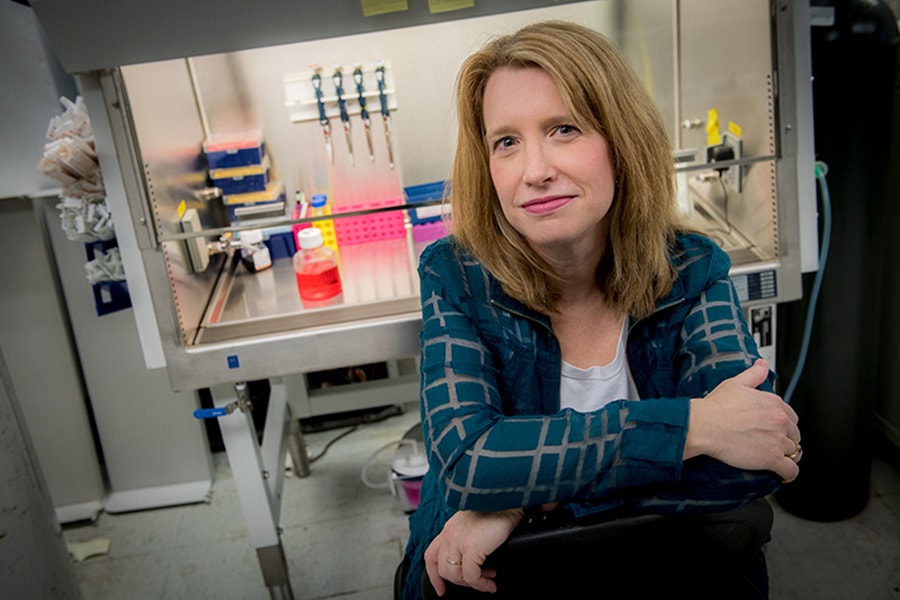 July 25, 2018
Personal Mention
Anne Skaja Robinson has been named head of the Department of Chemical Engineering, effective January 2019. Robinson comes to CMU from Tulane University, where she has been chair of the Department of Chemical and Biomolecular Engineering since 2012. Robinson is an internationally recognized researcher with active programs in membrane protein expression and biophysical characterization, protein refolding and aggregation, and biopharmaceutical protein expression. She has published more than 85 journal articles, authored a chemical engineering textbook, been awarded three patents, and graduated 23 Ph.D. students who have gone on to successful careers in academia and industry. She has received several national accolades, including the National Science Foundation Presidential Early Career Award for Science and Engineering, and has been elected a fellow of the American Institute of Chemical Engineering. Robinson earned her Ph.D. in chemical engineering from the University of Illinois at Urbana-Champaign, and her bachelor's and master's degrees in chemical engineering from Johns Hopkins University.

Ryan Sullivan was named an Emerging Investigator by the Royal Society of Chemistry and was featured in a Q&A in the society's Environmental Science: Process & Impacts blog. The Q&A highlights his work in atmospheric chemistry, the challenges he faces in his research and his advice to young scientists. It also features and links to his recent article, "Determination of biphasic core-shell droplet properties using aerosol optical tweezers." Sullivan is an associate professor of chemistry and mechanical engineering, an associate director of the Institute for Green Science, and a faculty member in the Center for Atmospheric Particle Studies. Sullivan holds a courtesy appointment in the Department of Civil and Environmental Engineering. Find out more.

Marlene Behrmann has been selected as the recipient of the 2018 William E. Brown Outstanding Medical Scientist Training Program (MSTP) Mentor Award. Students in the MSTP nominated Behrmann in recognition of her extraordinary performance and achievement in mentorship. She will receive the award on Friday, Aug. 3, as part of the MSTP Annual Scientific Retreat. Behrmann is the Cowan University Professor of Cognitive Neuroscience and the first female scientist from CMU inducted into the National Academy of Sciences. Her research specializes in the cognitive basis of visual perception, with a specific focus on object recognition.

Assistant Professor of Philosophy Adam Bjorndahl has received the Course Hero-Woodrow Wilson National Fellowship Foundation's Excellence in Teaching Fellowship. Course Hero provides study aids online, and the Woodrow Wilson National Fellowship Foundation administers programs that support leadership development and build organizational capacity in education. Aimed at young faculty members, the program is meant to help tenure-track professors elevate their teaching. Bjorndahl's work focuses on modal logic, game theory and decision theory and formal epistemology.

Melanie Lucht has been promoted from assistant vice president for Enterprise Risk Management to the newly established role of associate vice president and chief risk officer. Lucht will oversee the development and deployment of risk management tools and practices across the university. She also will lead a cross-functional risk working group to provide risk intelligence to executive leadership, and inform strategic decision-making. Lucht joined CMU in 2013 as senior manager for Disaster Recovery and Business Continuity, and also previously served as interim director of Environmental Health and Safety. Prior to joining CMU, she was vice president for Enterprise Business Resiliency at PNC Financial Services and has an extensive background in the insurance industry. In 2017, Lucht was recognized internationally by The Business Continuity Institute as Continuity and Resiliency Professional of the Year for the private sector. The Business Continuity Institute is the world's leading institute for business continuity certification.